December 2007
12/14 -
It's A Wrap - Sydney Morning Herald, December 15
All the on-set delays mean Baz Luhrmann will still be shooting his epic Australia well after Christmas. However, that won't dampen tonight's "wrap" party at a film stage in south Sydney. More than 500 cast and crew are expected at the huge party, including stars Nicole Kidman, Hugh Jackman, Jack Thompson and David Wenham.
Cool, this article's dateline is tomorrow! It came through a wormhole from the future!
It appears to have originated from some sort of technologically advanced civilization. One that has learned how to produce loads of good actors.
12/11 - Update on Children of Huang-Shi/The Bitter Sea, from the
official blog
:
According to Chinese media, the Chinese distributor Cheerland said that Sony Classics is planning for an Oscars qualifying run for the film before the end of December. By the Academy's rules, a film has to have a run of at least seven consecutive days in a commercial motion picture theater in Los Angeles County between January 1, 2007 and midnight of December 31, 2007 in order to qualify to be considered for the next year's Academy Awards.
Sony Pictures has an official website which they'll be updating as the release date moves closer.
12/5 -
Pampering Adds A New Curl To Salons
Renya Xydis may well have the most important job on the face of the earth. She is the Le Notre to the Versailles of David's hair....the Capability Brown to his Blenheim Palace....the Frederick Law Olmsted to his Central Park. Let us bow our heads and give thanks.
November 2007
11/30 - Miwa and Minkey found a few more photos of David assisting the Labor Party during last weekend's federal elections. The voters seem amazingly calm about following instructions, don't they? You'd think the ballots would have ended up being a mess of hanging chads and write-in candidates, and "Diver Dan" would now be Prime Minister of Australia.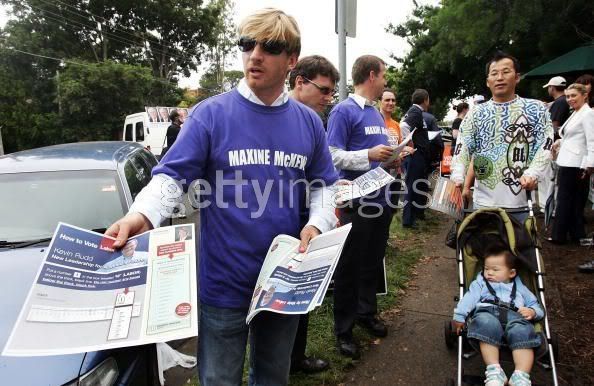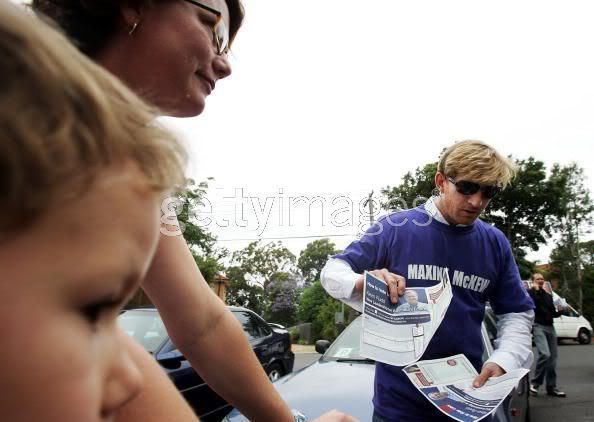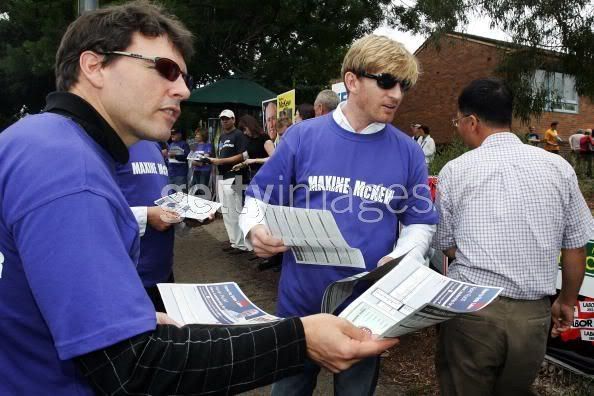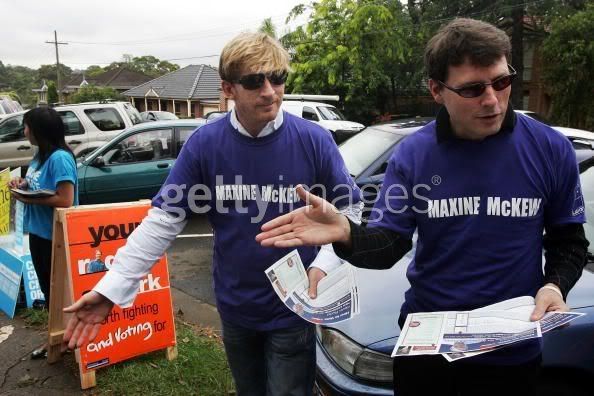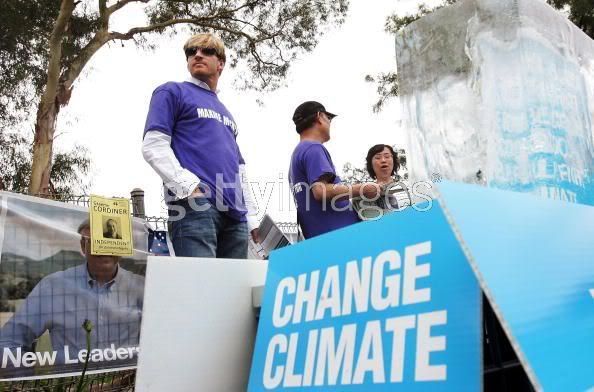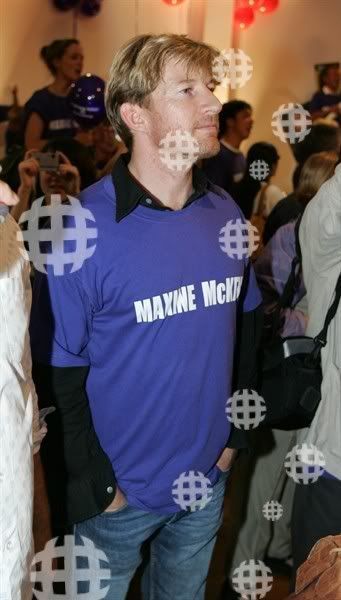 In other news, Australia wraps filming on Dec. 21st.
11/25 - Print, clip, and display prominently on your front door: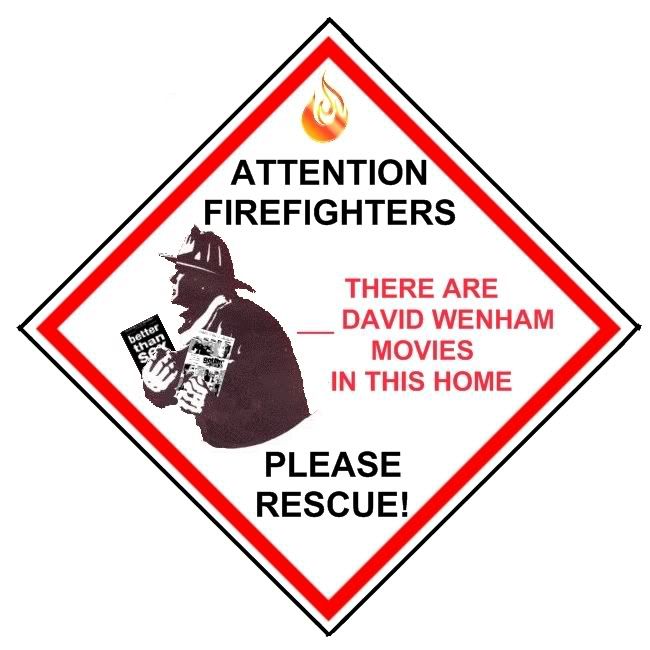 11/24 - David was active in yesterday's Australian federal election, handing out how-to-vote forms for Labor candidate Maxine McKew in the Sydney electorate of Bennelong formerly held by Prime Minister John Howard: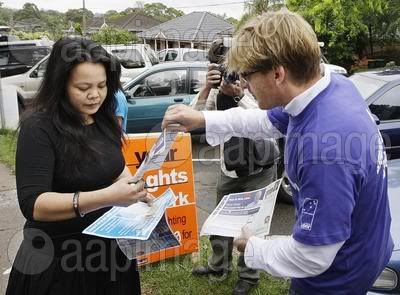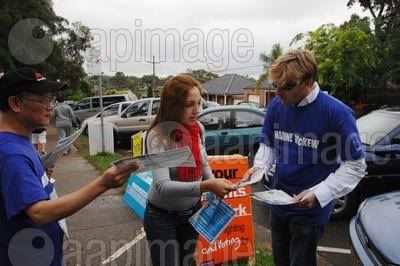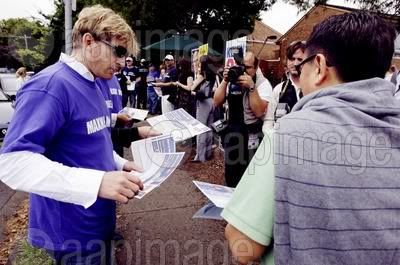 David wished Maxine good luck as she prepared to vote...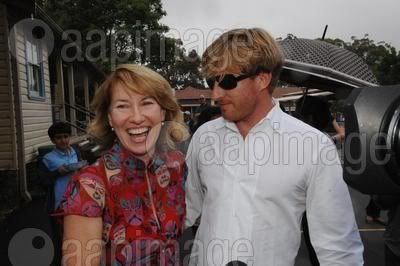 ...and stayed around afterwards for the election party.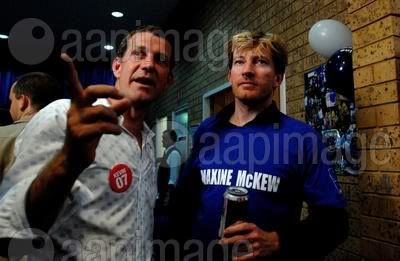 Media snippets:
Sunday Telegraph - ELECTION 2007: AUSTRALIA DECIDES
Aussie actor David Wenham joined in handing out how-to-vote leaflets in support of McKew before giving the Labor recruit a star-powered hug as she cast her vote.
Wenham said he was backing McKew because of Labor's social policy.
However, he said she'd also won his support because ``the current government'' had done nothing for the arts.
Sunday Telegraph - Maxine on the Brink
[McKew's] celebrity brought others into the limelight to support her cause.
Actors David Wenham and Rhys Muldoon yesterday turned out at the Epping school at which McKew casther vote to help distribute pamphlets.
Wenham made what looked like the right call when he said: ``It appears to be a purple patch for Maxine today.''
McKew welcomed the man who was once Diver Dan in theABC drama SeaChange by declaring it was time ``Australia had its own sea change.'"
The Herald Sun - Dan's The Man As McKew Hopes For Seachange
Ms McKew was greeted under wet grey skies by excited children and a few parents, but perhaps the warmest greeting was received from the heartthrob Wenham.
The pair kissed and hugged before Ms McKew, at close quarters to the actor, asked him: "Are you coming tonight?''
It was an invitation to a Labor Party function later tonight.
Wenham shot to stardom in Australia as the character Diver Dan in the ABC series SeaChange.
As the pair broke their embrace, Ms McKew loudly declared: "Let's hope for a seachange for the country.''
In other news, The Children of Huang Shi (Chinese title:The Bitter Sea) has been submitted to Chinese authorities for approval. To appease the authorities, certain scenes may have to be omitted from the final cut, such as a kissing scene between Chow Yun-Fat's communist military officer and westerner Radha Mitchell. We can only hope that the CCP Politburo will approve of, and demand more, scenes containing David. What better way to show you're serious about transitioning from Trotskyite petty bourgeois nationalism to a free market economy than <CONTENT REMOVED BY GOOGLE.CN>
11/18 - Sometime in the late 80s/early 90s, back when hair was big, jeans were acid-washed, and Michael Jackson was still black.... anyway, a long time ago, David appeared in an Australian Shell commercial, a copy of which is
available on YouTube
.
"Pay the man."
Shane Maloney, author of the Murray Whelan series, had a chat with Ian Rankin the other day at the Baptist Church on Collins Street in Melbourne. Topics included crime, social justice, and whether Maloney has benefited from a blurring of the boundaries between protagonist and author, now that Murray is so closely identified with David.
Some people question where the term "thinking woman's sex symbol", as applied to David, comes from. "I didn't have to think too hard about it," they say. Not me. I had to form a think tank, hire mathematicians, write several policy papers, and use up a $63,000 Macarthur grant before finally coming to the conclusion that yes, David is indeed attractive, with a statistical confidence interval of p > 0.95.
No I didn't. Who am I kidding? It took me about one octillionth of a second to notice David. I'm not even sure my brain was consulted. Frankly, it's still a little resentful that it wasn't asked.
11/13 - Photos from Saturday's Labor arts launch, at the Riverside Theatre in Paramatta (thanks, Minkey):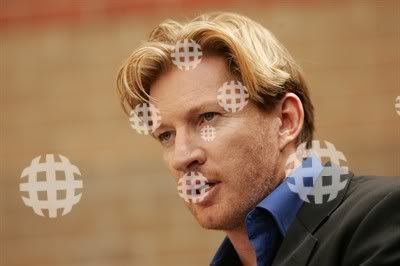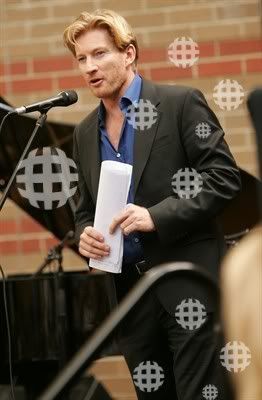 Move over, Hugh Grant...there's a new floppy-haired sheriff in town. And he don't take kindly to the phrase "whoops-a-daisy".
Lhaewin found these at the Australia movie site gallery: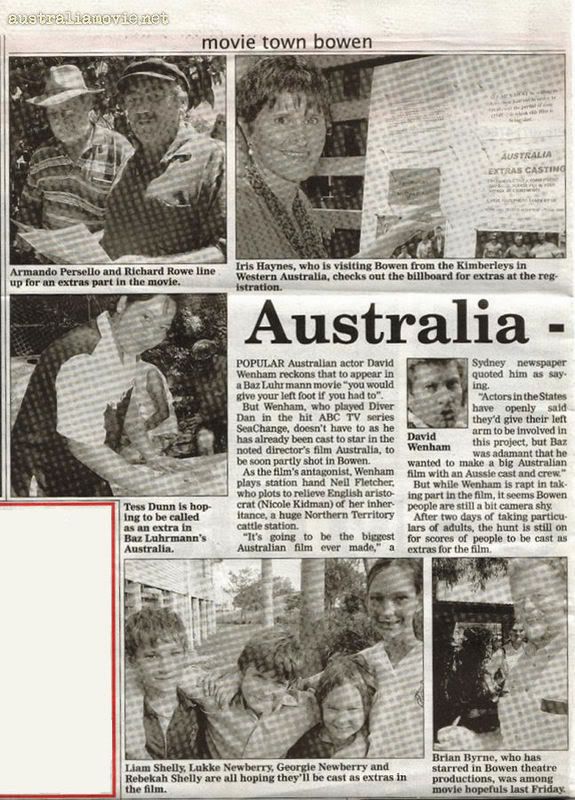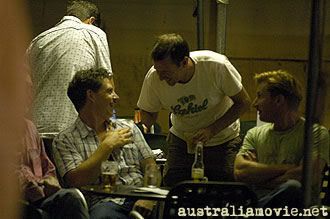 On Saturday, Nov. 10, the Busk for the Wayside Festival was held at Kings Cross, Sydney, to raise money for the Wayside Chapel. David commented: "Our charity is run on donations from the public and sponsors which is why events like this are so important in keeping the Chapel open. It's also great for us to be able to give something back to all the people who have helped us in the past and who want to take part in the future."
Quotes of the Week

"I just felt the earthquake of unparalleled glamour." -- Roman Empress, in response to photos of David
"300: -1 star for dead elephants. +1 star for David Wenham. -.5 stars for criminally undertutilizing him." -- mcgees
11/12 -
Labor announces funding boost in arts policy
"Actor David Wenham and musicians Tim Freedman and Mark Seymour have joined other members of Australia's arts community for the Federal Opposition's official arts policy launch at Parramatta in western Sydney..."
...In script discussions David is astute, generous and relaxed. His suggestions are excellent. He thinks, for example, that instead of a briefcase, Murray should carry his stuff around in a plastic bag because he's that kind of guy and David says he will make this look completely natural. When asked why he is so confident about this, David says because he carries all his own stuff around in a plastic bag. David's instinct in such matters will turn out to be a matter of some significance. Later, during filming, when dangerous things happen to Murray, David will seldom use a stand-in. Once he has got Murray right, David will back himself in.

October 2007
10/31 - Lhaewin has sent us a little treat: two behind-the-scenes Faramir screencaps from the newest extended edition of "The Two Towers".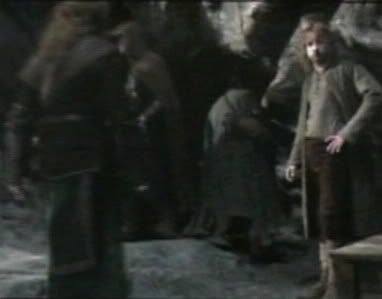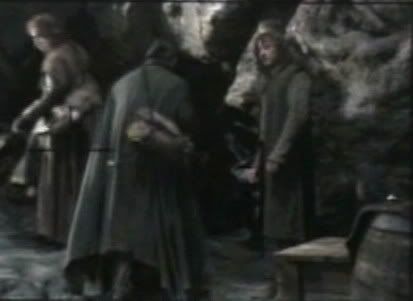 10/18 - Maybe you've been wondering what to be for Halloween. Something David-related. Something scary, yet modern and hip. Something that will leave as much flesh exposed as possible to the chilly October evening. Alert reader Pengwyn has the solution: how about a
Spartan
?
Note the black dress shoes, which were very popular in ancient Greece among the uppercrust toga-and-decapitation set.
Also note that the sword appears to have been forged by a blacksmith with anger management issues.
10/16 - David Wenham Fans Appreciate Photo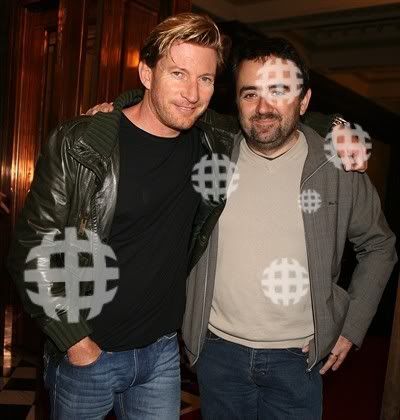 A photo from last Thursday's Melbourne Art Festival opening night was found by Minkey, and appreciated by all. Fans gathered from as far away as Russia, Japan, and Argentina to appreciate the photo. Experts predict the appreciation will continue through the remainder of the week.
10/15 -
Hollywood Returns
(Northern Territory News): Robert Connolly is shooting a new film,
Balibo
, which tells the story of five journalists who were shot dead in East Timor. The article speculates that David might be under consideration to play one of the journalists, but no one connected with the project has confirmed anything.
Redheads on the Verge of Extinction Redheads are vanishing from the human gene pool at an alarming rate. I think it's pretty clear what our moral duty is.
Tra La Laaa, La La La Laaaa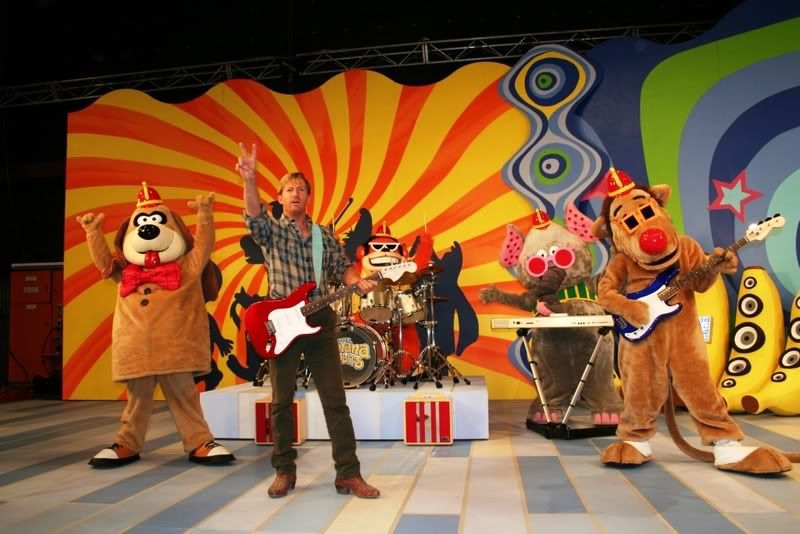 David drops by the 'Banana Splits' remake being shot at Fox Studios in Sydney. (Hugh Jackman was also spotted cavorting 'midst the Splits. More details here)
One banana, two banana, three banana, four
Five bananas make a bunch and so do many more
Over hill and highway the banana buggies roam
Comin' on to bring you the Banana Splits show....
I can't even remember my own social security number, but the theme song is certainly welded into my synapses.
10/10 - Minkey found some more photos from the "Priscilla" opening. (Yes, the watermarks are distracting, but think of them as nature's way of protecting your retinas.)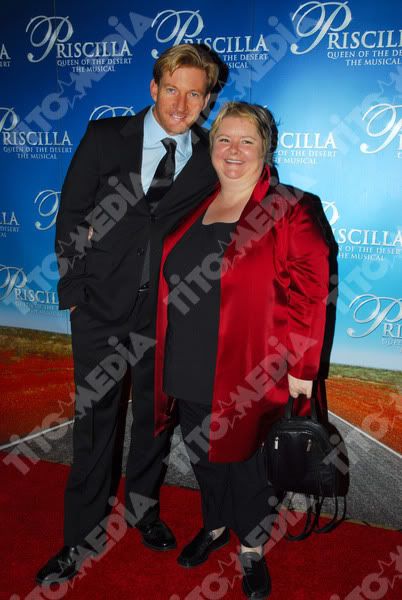 David & Magda Szubanski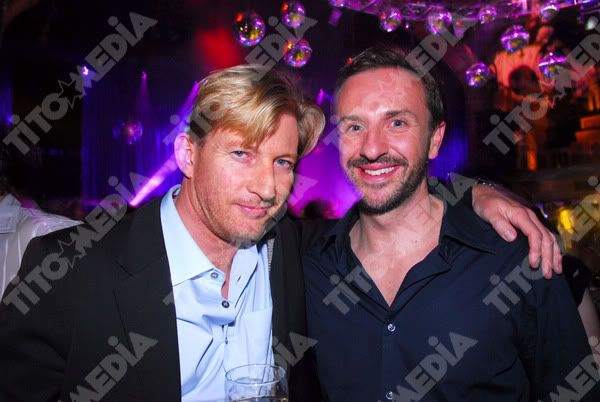 David & Mitchell Butel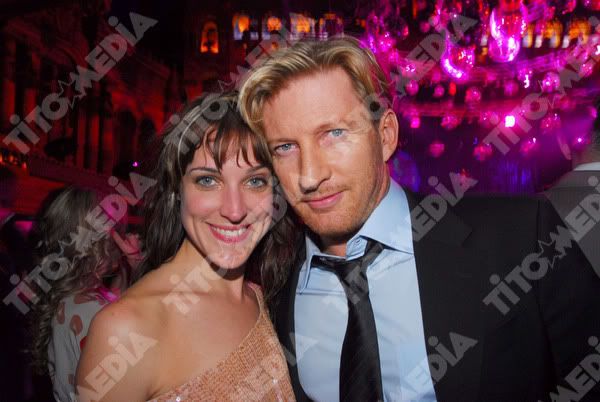 David & Jo Stanley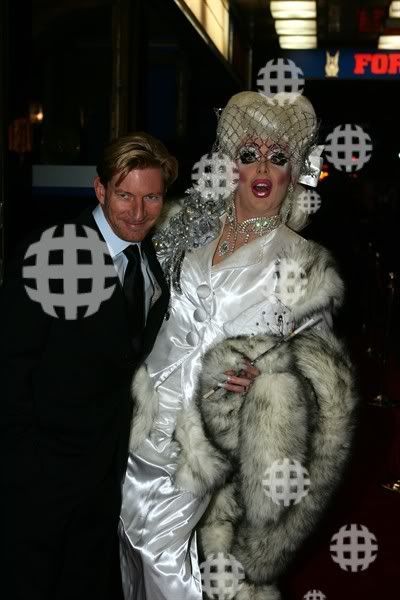 Oh, SNAP!
10/8 - David and Magda Szubanski ('Brozzie' from
The Crocodile Hunter
) attend the opening night of the musical
Priscilla, Queen of the Desert
at the Regent Theatre in Melbourne last Saturday night. (Thanks, Nenya!)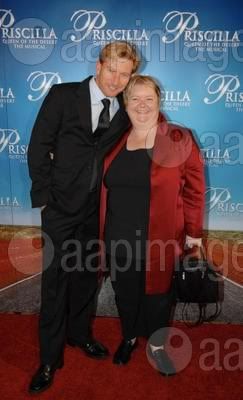 Check out these two unofficial, and very clever, Australia trailers recently posted on You Tube:
~~serious trailer ~~ ~~funny trailer, aka the 'Fair Dinkum' version~~
From the Australia website, dateline 9/27/07:
The cast of Australia have recently celebrated two birthdays, those of director Baz Luhrmann and David Wenham. We're told Luhrmann celebrated his 45th birthday on September 17th by treating the film's cast and crew to muffins and coffee, then apparently remained working at the studio until late. He did however make time to share a birthday cake with his wife and two children.
According to the Daily Telegraph, after hanging in Outback pubs while on location, the cast of Australia chose a restaurant with one of the most spectacular Sydney Harbour views for a bonding session on Tuesday night; likely a small birthday gathering? Leading lights Nicole Kidman and Hugh Jackman joined director Baz Luhrmann at Circular Quay noshery Cafe Sydney. Jack Thompson, Bryan Brown and David Wenham also scrubbed up for the private dinner. "It was probably the first time the cast had been out socially," a film spokesman said. But it wasn't a late night, with the cast having to be up early to shoot final interior scenes at Fox Studios yesterday.
Here's two more photos from the Prince of Wales charity fundraiser. David and his partner Kate Agnew arrive at Sydney Town Hall for the event: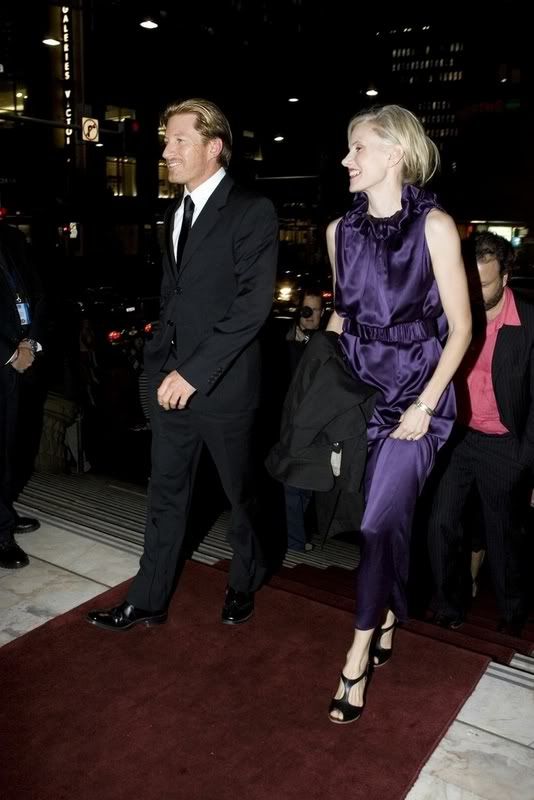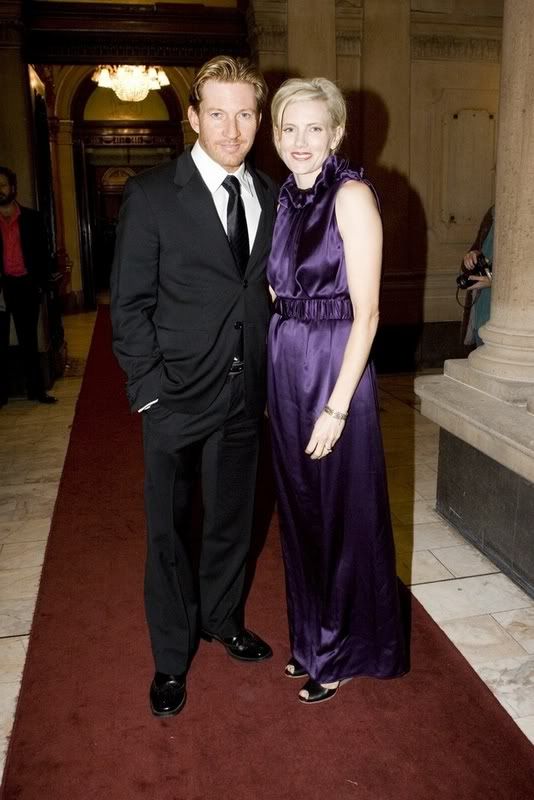 There's a little write-up of the event: Hollywood Nights - Take Two, at bizparade.com (with a slideshow), and more photos are available at the Starpix site.
Here's two older photos from April (but they might be new to some of you) of David leaving Fox studios in Sydney after a day at work on Australia: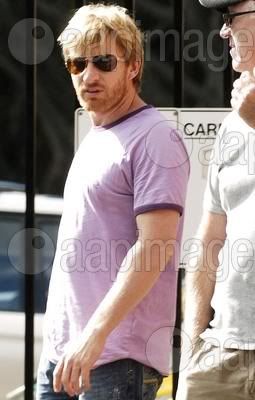 10/5 - David is not officially under consideration for either of these roles, but there has been some internet fan buzz that he would be a good candidate for either Aquaman or Solid Snake. We'll let you be the judge: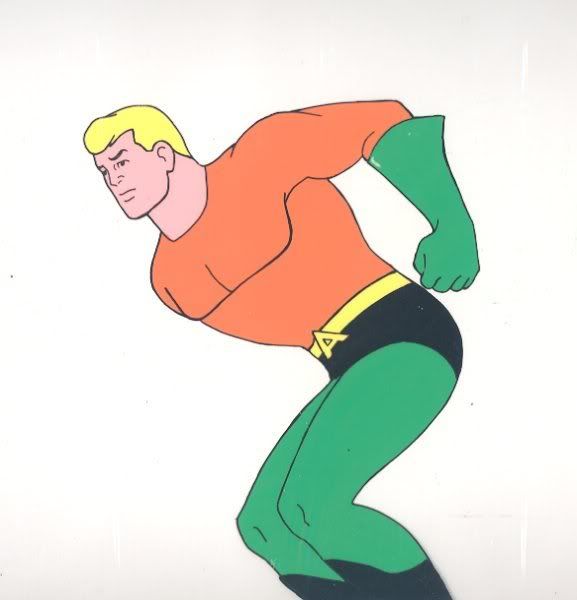 Aquaman
Solid Snake
Write Your Own Dessicated Coconut Update!
Due to the ongoing news drought, I'm going to let you write today's update, Mad-Lib style. It only takes a couple of minutes. Simply fill in the blanks with the requested words, click the "Compose" button, and enjoy a fabricated media tidbit about your favorite red-haired actor. (Note: there's three different updates, so keep scrolling down). Be creative and have fun!
Helpful grammar review: A noun is a person, place, or thing: umbrella, bathtub, Condoleeza Rice. A verb is an action word: flop, snicker, grab. An adjective describes a noun: lopsided, plaid, scruffy. An adverb modifies a verb and usually ends in "ly": squeakily, clumsily. Heck, you get the idea. You're a smart cookie.
September 2007
9/25 - Celebne found five new photos of David from last Friday's "Hollywood Nights" fundraiser. The complete set can be viewed at
Daisy Daily
, but here's a little
amuse-bouche
to whet your appetite: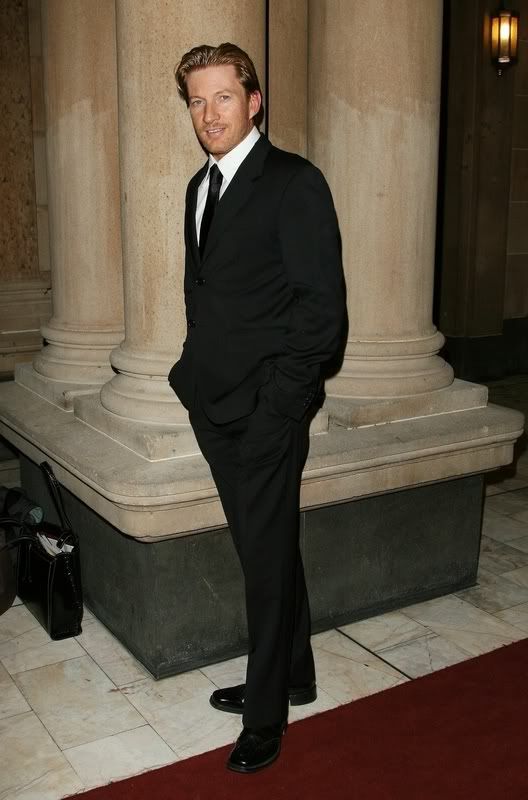 The Children of Huang Shi has an official website now, with newly-published still photos. David isn't in any of them, but they're still worth checking out to get a little foretaste of the film.
Sony Pictures Classics has picked up North American distribution rights to Married Life, which debuted at the Toronto Film Festival Sept. 12th. It will be shown at the New York Film Festival Sept. 29th & 30th.
Quote of the Week

On Saturday night we hired the film 300 which is a very accurate re-telling of the war between this British guy who previously worked as a journalist but who desperately wants to go into the sausage business and his vegetarian neighbour Ken who likes to play the tambourine. It's a really complicated story, but there's lots o' yelling and beards and mucho 'six packs'.
-- Theteak
9/21 -

People born on this day in 1965 are thrifty, clean, handsome, reverent, and brave. They are skilled at pretending to receive electrical shocks, and look great in shirts. Critics, producers, directors, and other actors admire them. Astute observers of character, they are able to disappear into a multitude of roles faster than a packet of crisps into Johnny Spit's shorts. The world benefits greatly from their compassion and generosity of spirit. They attract hordes of intelligent, gorgeous, fashionably dressed fans.
On Davidmas, it is customary to exchange small meerkat statues and go from house to house singing carols (Good King! King! Meoww! Wenhamcenslas, O Diver Dannenbaum). After a sumptuous dinner of cottage cheese and five almonds, the traditional Davidmas cake arrives, made out of chocolate with pebble-grained leather frosting: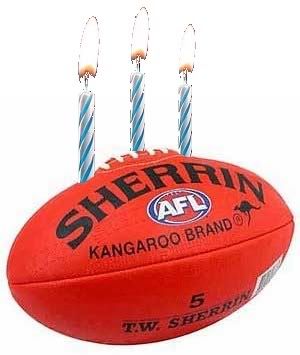 Afterwards, everyone troops outside to watch the equinox and offer up expressions of gratitude for all the wonderful things David has done over the years.
Happy Davidmas to all!
9/19 - Arrr, maties! Today be
International Talk Like A Pirate Day
! Belay the mizzen-pin cutlass athwart the starboard gumbrills, or I'll send ye to Davey Jones's armoire! Awwk! Pieces of nine! OMG u r so kewl!!!111oneone LOL
Am I doing it right?
Anyway....now on to today's booty news updates.
The Australia multimedia page has a video and audio interview with David, which date back six months. So they're not really new. But let's all pretend they are, and nobody gets hurt. Go on. Move the mouse slowly now, and keep your hands where I can see them. Scroll down to March 29 (for the Daily Telegraph interview) and May 7 (for the Kyle & Jackie O show). Thaaaaat's it. While you're occupied, I'll just be riflin' through yer purse, removin' all yer valuables. (Hey, it is Talk Like A Pirate Day).
The PSsst... section of the Sydney Morning Herald mentions David in its Sept. 14 coverage of Linde Ivimey's show at Martin Browne Fine Art. To wit:
The chequebooks of Sydney's rich and famous were getting a good work-out on Wednesday night for Linde Ivimey's latest show at Martin Browne Fine Art in Potts Point. Her work has already been snapped up by the likes of Cate Blanchett. PS hears that James Erskine, the gallery owner with a keen eye for contemporary art on the world stage, and who also doubles as Shane Warne's manager, has bought three of the macabre but beautiful sculptures fashioned out of animal bones, human hair and precious gems. David Wenham is also understood to be looking at one of the pieces, which range in price from $20,000 to $100,000.
Check out some of Linde Ivimey's pieces from the show at the Martin Browne online gallery.
9/14 - This was recently posted on the
Ring Con UK Forum
:
We have the option of securing David Wenham and John Rhys Davies for Ringcon UK. We feel that both are great guests and would be fantastic in a convention setting. However, we need to know that they are the type of guests that not only you want to see, but that would encourage those of you who have not already done so to book for the event!
The organizers' final decision will be based on fan response, so this is your chance to speak up in favor of your favorite ring-refusing, ranger-captaining, prophetic-dream-having Steward and say Yes! If David comes to Ring Con, I will personally don a snorkel and a pair of water wings and dog-paddle across the Atlantic* to London, gripping a Sharpie between my teeth. Sharks and hurricanes cannot stop me.
*Ocean may vary by location. Offer void in Kansas, Idaho, Leicester, and the Russian steppes.
Even if you're not planning to go, you could still make many fellow citizens of the Daisysphere verrrry happy (howdy, bijou).
9/6 - Oh hey! We got news, finally! Good news.
David's been nominated for a Gemini award (honoring achievements in English-language Canadian television) for Best Performance by an Actor in a Leading Role in a Dramatic Program or Mini-Series, in recognition of his performance as Mark Waldman in Answered By Fire. Other nominees include K.C. Collins (Doomstown), Byron Mann (Dragon Boys), Kristopher Turner (Me & Luke), and Shawn Doyle (The Robber Bride). The category will be presented October 17th. Overall, Answered By Fire received five nominations. (Thanks, MoH, for the heads-up!)
Well.
You've probably tossed and turned late into the night after reading the sort of LOTR slash fiction where 9,000-year-old male elves have teenage hissy fits and get pregnant, wondering what Boromir and Faramir's love child would look like, were they to similarly profit from an author's vague understanding of heterozygous reproduction. Well, wonder no more. At today's "Time-Waster Of The Week" site, www.morphthing.com, you can morph David Wenham and Sean Bean together to create Denethor's grandson, "I'm-my-own-nephew-amir". Or David and Gerard Butler, to create Dilionidas, the Australoscottish Spartan Clone.
Here, for example, is a mysterious work of art I call the "Mona David":
The possibilities are endless. Put on your mad scientist headgear and get morphin'!
Thirty Helens agree
: this photo of David has a certain "je ne sais quoi". (Actually, we all sais exactly quoi: it's the sassy angle of that pen.)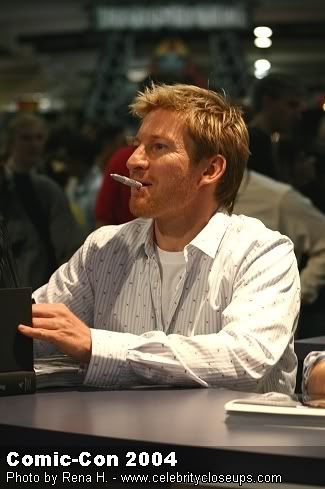 This 24-karat nugget was found in a rich vein of Comic-Con 2004 Daisy photo ore struck by Nenya, who was following a link discovered by Minkey, who was using the internet, invented by Al Gore, who was created by Mr. and Mrs. Gore from a long line of ancestors, some of whom may or may not have been pregnant male elves. (Just want to make sure credit is given to all the people who made this moment possible.) Enjoy!
9/4 - David news has been slow lately. Very slow.
Slower than a glacier on Ritalin.
Slower than a white Buick full of elephants going uphill.
Slower than the lady in front of you in the checkout line at Winn-Dixie attempting to pay for a can of cobwebby halvah with a third-party check from the Bank of Yemen.
Slower than a slow-motion replay of a slow race run by really slow people.
In other words: slow-w-w.
And so, we are forced to widen the net, and bring you updates on the doings of all David Wenhams:
Trinity Theological College in Briston is delighted to announce that Revd Dr David Wenham is to be senior tutor in New Testament starting in Sept 2007. He will be joining his brother Dr Gordon Wenham, who already teaches Old Testament at Trinity.
School Bus Driver Stressed Out Over Near Misses - Piako Post, New Zealand. "Piako Go bus driver David Wenham treats his job, and the lives that are in his hands daily, with deadly seriousness." This article is very apropos, actually, considering that for many of us, school is back in session this week after a summer of sloth and indolence.
Remember, kids......Safety Third!
Oh, wait a minute...there is some vaguely relevant DW stuff with which to fluff out this update. First, a long-lost "Diliosbert" strip has come to light, which reveals Leonidas' innovative resource management techniques. Behold:

Also, filming just wrapped on Crooked Business, the latest movie by Chris Nyst, who wrote and produced Gettin' Square.
August 2007
8/20 - Sorry for the lack of updates lately. I've been wandering in the wilderness for the last 21 days. Only 19 more days to go, and Satan will give me a free toaster.
Fortunately (or unfortunately), there hasn't been much DW news.....
How Wenham's Saving Lives David is taking over host services this year for the second annual Hollywood Nights fundraiser for the Prince of Wales Hospital. The hospital was instrumental in saving the life of his friend, fellow actor Anni Finsterer, after a terrible car accident nineteen years ago. David is happy to be able to help out the hospital foundation in return, and hopes to raise even more money at this year's fundraiser (last year's total was $150,000). The event will be held at Sydney Town Hall on September 21.
The upcoming issue of Mad Magazine, which hits the stands tomorrow, will have a parody of '300' drawn by the legendary Mort Drucker, one of the original gang of idiots. It might be worth checking out, if you loves you some Dilios. In terms of career validation, a Drucker caricature is nearly as good as getting a star on Hollywood Boulevard.
EDITED TO ADD: On second thought (now that I've seen this issue), caveat emptor: the Drucker version of Dilios resembles a gouty Willie Nelson. A gouty Willie Nelson with a lazy eye who is about to sucker-punch you and steal your bottle of Nyquil.
July 2007
7/30 -
300
comes out on DVD in less than 24 hours. The current Homeland Security Estrogen Alert Level is
Orange
. Repeat:
we are at Code Orange, people
.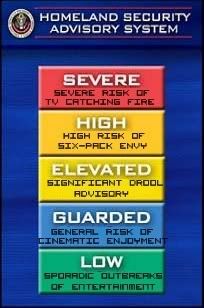 Unfortunately, although David was on the guest list for the 300 panel at this year's Comic Con, neither he nor Lena Heady were able to attend. Greyeyegoddess at tomwisdom.net notes in her report, "Tom was the only actor from "300" on the panel - Lena and David weren't there as planned."
7/17 -
Today we honor the Muse of Creativity, a changeable goddess who takes many different forms:
1. A gorgeous sketch of David by carlassean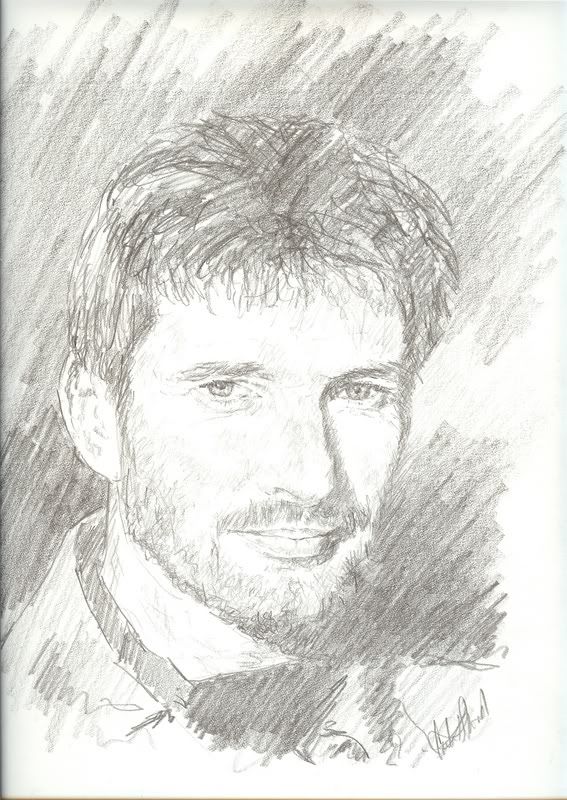 2. Dreampen's extraordinarily thoughtful essay on Actors & Acting, which praises David's chameleon-like ability to disappear into his characters
3. A jellybean heart painted by David himself in 2000, to benefit the Heart Foundation (thanks, Minkey, for sharing this)
And a tidbit from the July 14 Northern Territory News:
Meanwhile, the thinking women's sex symbol, David Wenham, enjoyed regular quiet coffees at the Roma Bar, where Kidman and her husband Keith Urban cut such a swell on Tuesday.

Often Wenham went undisturbed, perhaps the women around were happy to keep it quiet so they could have him all to themselves.

The Northern Territory News was unable to confirm rumours Wenham was approached by people looking for red-headed ABC reporter Chris Glassock.

7/11 -
Coffee Kerfuffle 2: The T-Shirtening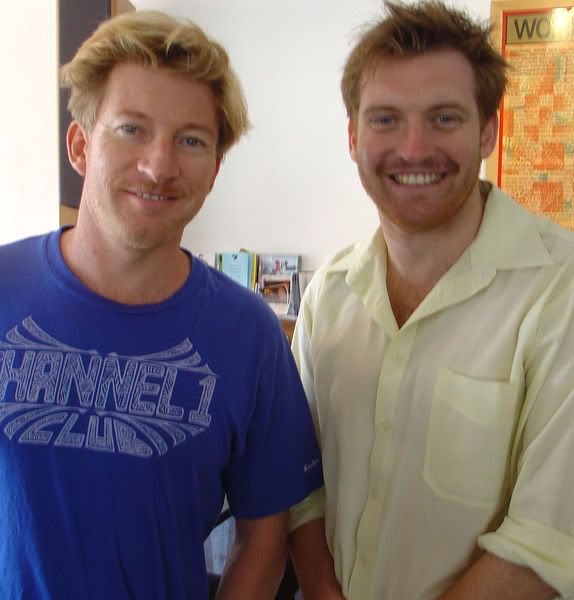 Hollywood hits the Top End "Even breakfast presenter Julia Christensen mistook ABC journalist Chris Glassock for David Wenham when she bumped into him in a coffee shop." Photographer: Kate Humphris
(Note for our first-time visitors: David is the one on the left.)
7/10 - From IESB.net and Lucidity, word of this year's
Comic Con schedule
on July 27th in San Diego. David is listed as a special guest on the
300
panel:
3:15-4:45 Warner Bros. Home Video: 300 and Blade Runner Final Cut—First up, 300 creator Frank Miller, director Zack Snyder, stars including Lena Headey and David Wenham, producers Mark Canton and Gianni Nunnari, and other special guests are on hand to discuss the groundbreaking film and its highly anticipated July 31 DVD release. Be the first to see a clip not included in the theatrical release!
From Rosie and ABC news, an eyewitness report of a coffee kerfuffle in Darwin.
7/9 -
Minkey, bless her googlin' heart, found this photo in the July 4th edition of the Australian. (Avert your eyes if you don't want your conception of Neil Fletcher to be tainted by spoilers.)
Miwa found another set photo on Cameron Laird's website, cross-posted on the Spectacular! Spectacular! boards. She also reports that the Mainichi Weekly interview link has been fixed.
Although it was rumored that David might be a presenter at the Sydney Live Earth concert, the Wikipedia event summary doesn't list him as an MC, nor do any of the various newspaper accounts. It's probably safe to assume he didn't participate, but if we find any ex post facto media mentions, we'll let you know.
7/2 -
SHHH

Be vewy, vewy quiet. We're filming Austwawia.
My, it has been quiet around here. (Just as well...everyone's still catching their breath after 300.) No further word yet on whether David will be involved with the Live Earth concert this Saturday. The Sydney concert begins at 0100 GMT, and the broadcast will be streamed live at http://www.liveearth.msn.com as well as numerous media outlets (FOXTEL, MSNBC, CNBC, Sundance, Telemundo, Sirius and XM satellite radio).
Quote of the Week
"David Wenham is an actor who improves a movie just by being in it. He's a gorgeous sandy-haired Australian, often described by interviewers as warm and personable. In my opinion, he's the perfect hero. He's honourable, understated and modest in manner but undeniably successful, and best of all, he has a sense of humour."

-- Author Claire Baxter, praising David on the Pink Heart Society's "Male On Monday" blog
June 2007
6/28 - Nenya, who has much better internetting skills than I, dug up a little more of the Mainichi interview (scroll halfway down the page):
"I find it advantageous being an Australian," says the actor probably best-known to Japanese audiences for his portrayal of Faramir in the final two "The Lord of The Rings" movies. "In Hollywood, there's an extraordinarily high proportion of Australians. Go to the awards shows and there are Australians everywhere. I'd say per capita there are more Australians in Hollywood than from anywhere else. And we're only a country with a small population."

Wenham, 41, an Australian Film Institute Best Actor winner from Sydney, is not sure why Australians do so well in the movie business.

"Many people have asked me the same thing, but I'm not really sure, to be honest. But the talent pool is rich," he says.

Indeed, Aussies are among Tinseltown's biggest names. Wenham himself is currently working on a movie called Australia, directed by Baz Luhrmann and co-starring Nicole Kidman and Hugh Jackman. Other Australian-raised superstars, Academy Award winner Russell Crowe and Oscar nominee Heath Ledger, were also originally involved in the project but pulled out.

Wenham's job means he moves extensively across the globe. He says he likes seeing the world but notices different things about his homeland when he goes back. (continued on page 6)
Maddeningly, there is no link to page 6. We will crack the hidden secrets of this article someday. If not, we'll have to resort to Lucidity's suggestion of holding a "Finish The Interview" contest.
Speaking of contests, Warner Brothers is sponsoring another 300 contest to celebrate the DVD release. Sign up at jointhe300.com and compete to win a trip to Comic Con and a visit to the set of "Watchmen", Zach Snyder's next movie. The object is to accumulate points by completing a list of Spartan tasks, such as thinking up screen shot captions and sending in photos of your abs. (If I hold my breath and squeeze, I can just about muster a 3-pack. Don't ask me how it's anatomically possible to have an odd number of stomach muscles. I'm thinking about sending in two photos of my belly and saying "there, that adds up to a 6-pack.")
Anyway. Go check it out. There's some fun stuff contributed by contestants.
Now, I know you've been lying awake at night, thinking "Coca-Cola translates into Chinese as Bite The Wax Tadpole. I wonder what the titles of David's movies translate into?" See if you can guess which film goes with which Altavista Chinese translation. To see the answers, highlight the white space at the bottom of today's entry with your mouse:
1. Slightly soul
2. Ring your excellency
3. Burnt in reply
4. Obtain the square
5. Compared to natural improvement
6. Transfiguration
7. The life which has gotten married
8. After the large flood
9. Path of hunter collide with alligator
10. Carton of fools
1. A Little Bit Of Soul 2. Lord Of The Rings 3. Answered By Fire 4. Gettin' Square 5. Better Than Sex 6. Seachange 7. Married Life 8. After The Deluge 9. Crocodile Hunter: Collision Course 10. Idiot Box
6/26 - "From Sydney To Sparta", an interview with Mainichi Online Weekly:
Being Australian has helped the acting career of David Wenham, star of the movie "300," he told the "Mainichi Weekly" in a recent exclusive telephone interview."I find it advantageous being an Australian," says the actor probably best-known to Japanese audiences for his portrayal of Faramir in the final two "The Lord of The Rings" movies. "In Hollywood, there's an extraordinarily high proportion of Australians. Go to the awards shows and there are Australians everywhere. I'd s ...
Sadly, this tiny morsel is all we have. The link to the rest of the article appears to be broken.
And so, in keeping with today's "unfulfillment" theme, here's a partial picture of David: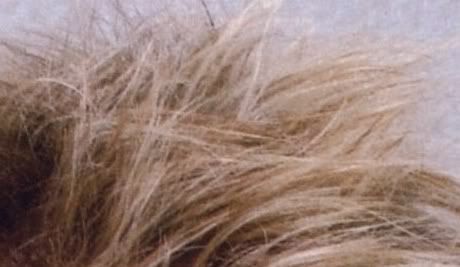 and a tantalizing scrap of news about his next project:
"....the...."
6/21 -The Sydney Swans recently marked the 25th anniversary of their move from South Melbourne to Sydney. David and his partner Kate Agnew attended the celebration dinner on June 14th, which featured entertainment and appearances by past and present players. (Thank you, celebne, for the photo!)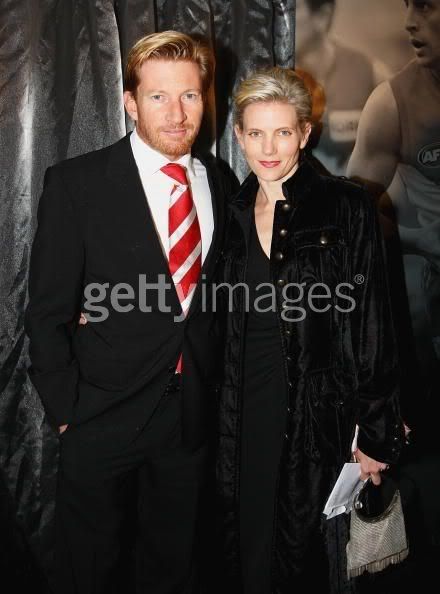 From Miwa, here's a link to ninemsn video news coverage of the event.
I don't think I've posted this one yet: Interview segment with David at KTLA in Los Angeles March 9th, to promote 300. Mmmmm, forbidden donuts. *gargle* </Homer Simpson>
6/18 -
From today's Courier-Mail: POWDERFINGER frontman Bernard Fanning and Aussie actor David Wenham were both spotted at Brisbane's domestic airport yesterday. Bernie, returning from his Rove jaunt in Melbourne, was whistling with happiness to be home while David was on his way back to Bowen for Baz Luhrmann's epic flick Australia.
Screen cap from a short Billy and David clip found by Nenya at ET Online: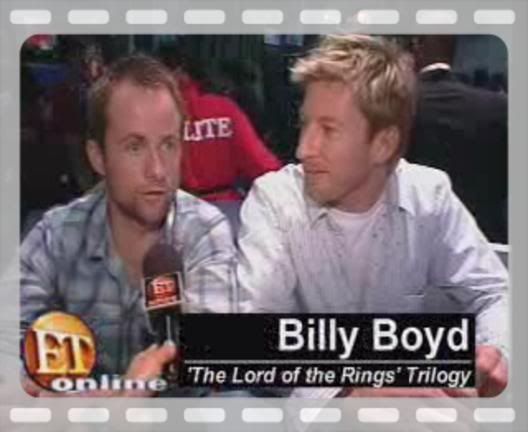 Stately plump Buck Mulligan came from the stairhead bearing a bowl of whupass
In honor of Bloomsday (June 16th), here's a 300-Ulysses mash-up: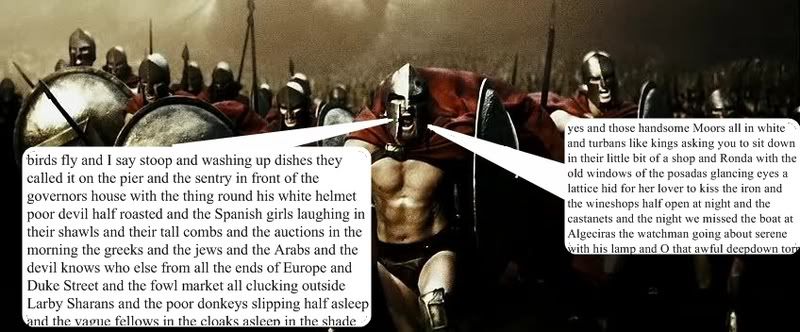 The guy at the back is thinking "Man...this storyteller never shuts up."
6/15 -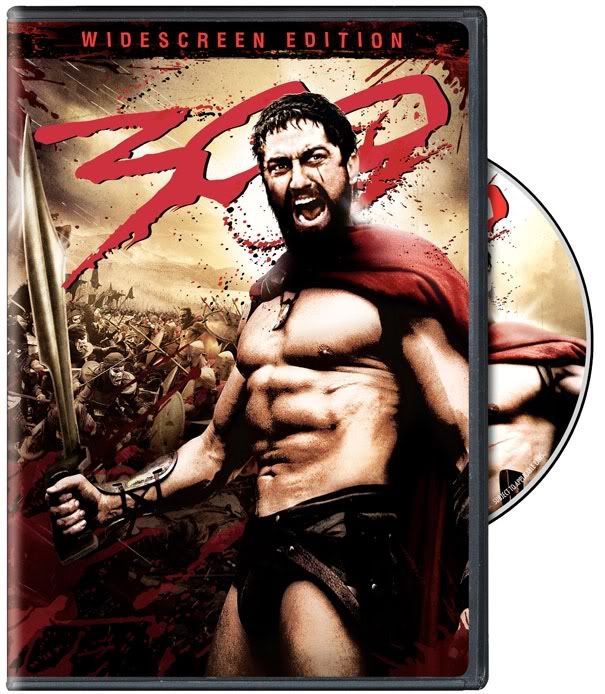 300 will be released on DVD, Blu-Ray Disc, and HD DVD on July 31. The single disc version will have commentary by Zack Snyder, screenwriter Kurt Johnstad, and Larry Fong, the director of photography. The two-disc version will have commentary plus additional Ephialtes scenes, extra features, webisodes, and a photo gallery. More details at comingsoon.net.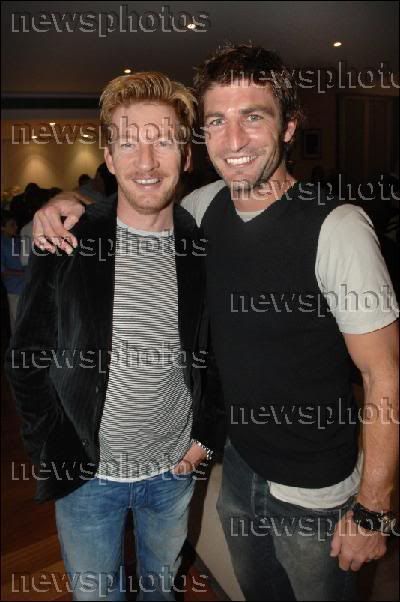 Photo of David with Sydney Swans player Brett Kirk at a Starlight Foundation Party (found by Faramirsprecious at Wenham Thyme)
Most current imdb release dates: Married Life - February 22, 2008. Children of Huang Shi - February 28, 2008. (Better clear your calendar that week.)
6/10 - Sydney Goes Live To The Earth The Daily Telegraph reports that David is under consideration as an MC for the Australian portion of the Live Earth concerts, scheduled for July 7th. Other possibilities include Hugh Jackman, Nicole Kidman, Russell Crowe, and Ian Thorpe. Jack Johnson will be headlining. Quite a lineup!
What do the 300 movie characters think of you? Take this quiz, and find out. (Grateful shout-out to dc1279 for finding this little gem.)
your name is alala.you are a playful rebel.astinos loves you very much!leonidus thinks you are immature.stellios is jealous of astinos for having you,but he hides it.dellios is like a father to you.the captain thinks you would make a lovley daughter in law.queen gorgo envies your beauty.xeroex(sp)was not available for an interveiw.you are 19 and excpecting your first son.
I'm totally charmed by the misspellings, including "dellios" and "xeroex" the Persian king. Xeroex, by the way, succeeded Konica the Second and Minolta the Frequently Jammed.
Afterwards, I tried to register for a Quizilla account, but it wouldn't let me. My quiz was going to be called "Which 300 Sound Effect Are You?"
- Kunch
- Kank
- Whukk
- Tok
- Klink
- Heff Heff
- Hurk!
I'm reading your aura right now, through the internets. You are definitely a Tok, with minor Whukk tendencies.
6/9 -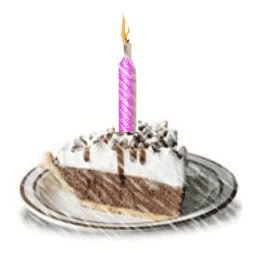 Today may be DC's birthday, but every day is DC's birthday, so we've decided to make it your birthday too! Congratulations, you! Help yourself to another year and a piece of birthday pie. This pie has received a special award for pieness from a noted pieologist at the Institute for Pie Studies.
It's your special pieday, so don't let anyone tell you you can't watch the Murray Whelan telemovies again for the fifty thousandth time.
Indulge yourself! We'll do this again in three years.
6/8 - No news today.
If you're bored, I made some jigsaw puzzles.
6/4 - Impact magazine interview with David. Click on image to read (thank you, Minkey!)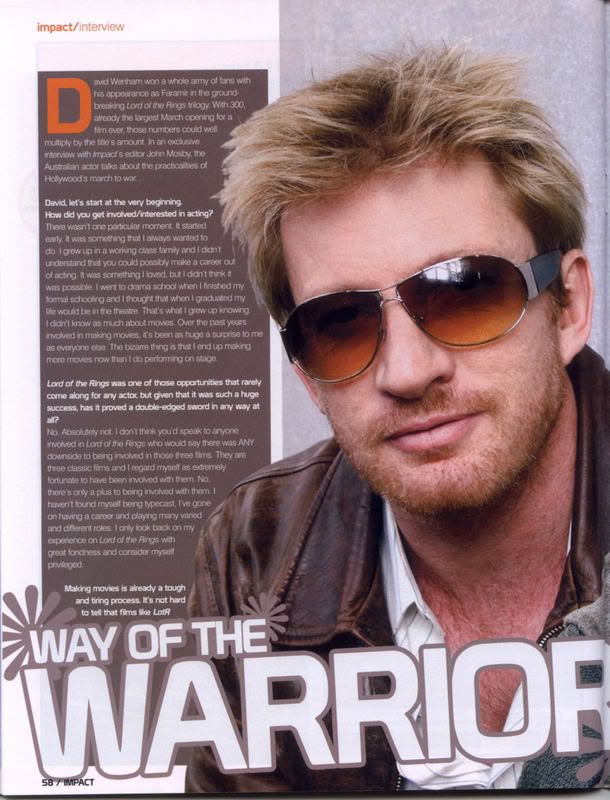 From the May 24 Townsville Bulletin: "And I loved this [story], about David Wenham and Bryan Brown wandering through the video store. David stopped and searched the $5 throwout bin of DVDs and said laughing, "I wonder how many of mine are in here. Wait, here's one," and held up one of his flicks. Fantastic. Wonderful Aussies all of them."
Urban Hooks Into Local Fare: "Bryan Brown, Ben Mendelsohn and David Wenham have been sharing drinks with locals overlooking Bowen's picturesque harbour."
Dust recently premiered in Poland (where it is known as Proch i Pyl, or "Ashes and Dust").
May 2007
5/31 - Lhaewin found a treasure trove of
300 London premiere photos
at Beanbox, taken by CoolFotoDudes: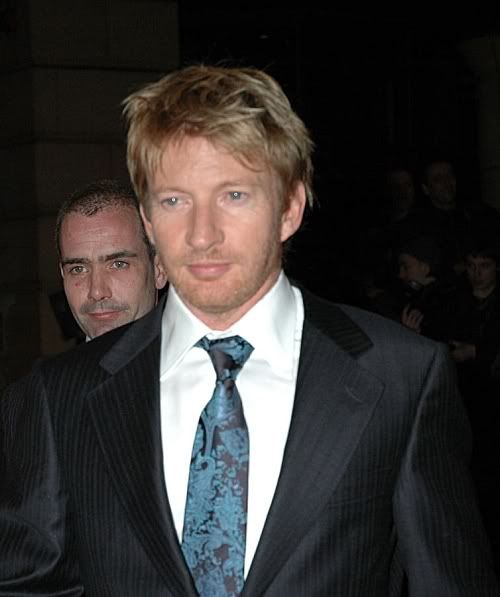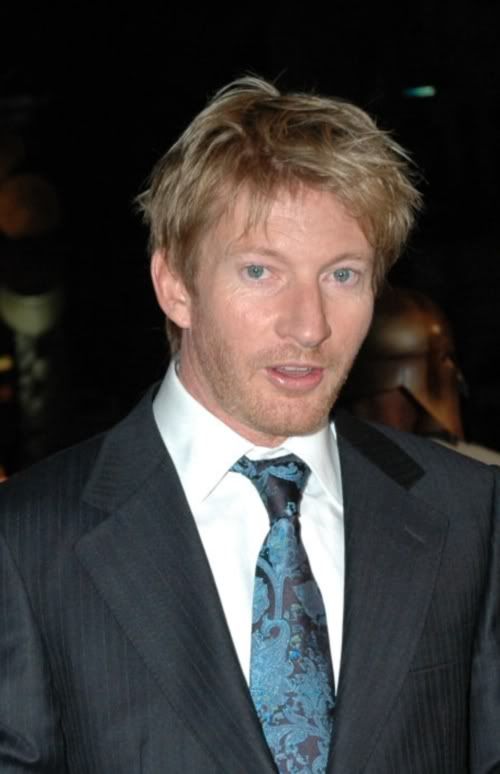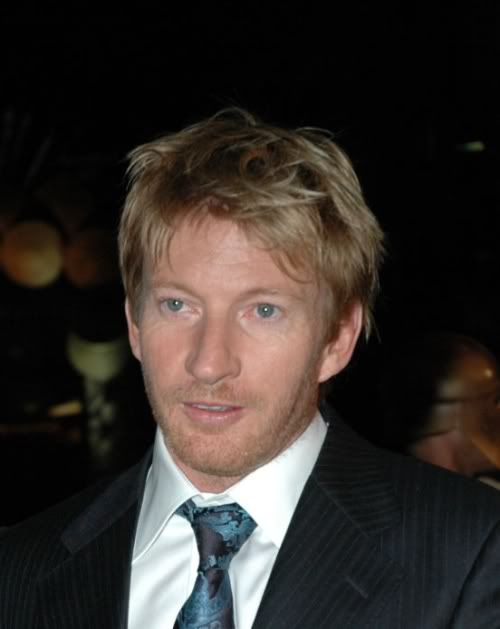 The Fred Schepisi film Last Man may have found a new source of funding, thanks to recent changes in the federal budget which provide a 40 percent rebate from the Australian government for movies with budgets of over $1m. The Australian reports:
AUSTRALIAN blockbusters with home-grown stars, as well as local horror and other genre films, will be the main beneficiaries of the new film financing regime.

Yahoo Serious, the creator of Young Einstein, is planning a big-budget war movie that could be aided by the federal Government's 40 per cent rebate on Australian film expenditure.

''Generally I think it is great and it could put us on the map,'' Serious said.

Serious was speaking yesterday at the first public meeting of film industry leaders since the rules were revealed in the federal budget three weeks ago.

''It will work for commercial films with big budgets,'' said Martin Brown, a producer on director Fred Schepisi's planned $24 million war film Last Man.

The film is adapted from Vietnam veteran Graham Brammer's book Uncertain Fate, and will star Guy Pearce and David Wenham.

Brown will get back 40 per cent -- or $8 million -- of what he spends in Australia on Last Man.

In recent years, private investors have been wary of Australian films, and producers have depended on Film Finance Corporation Australia, which caps its contributions at $5 million a film.

In general terms the industry is moving from an equity investment model to one funded by loans, where money can be borrowed against items such as the rebate and presales.

''It will lead to better movies that, hopefully, will immediately appeal to Australian people and those overseas,'' said Kiss or Kill director Bill Bennett.

The Government hopes the rebate will make it easier for Australian directors with an international track record to make films at home.

Producers have to spend $1million in Australia to qualify for the rebate, but will also be able to apply for direct funding from a new film agency, tentatively called the Australian Screen Authority, that will encompass the functions of the existing FFC, Australian Film Commission and Film Australia.

Quote of the Week:
Stop dawdling, Persians!
Our spear arms are cramping, we'd
say, if men complained.
-- "300" haiku from Komaiku's blog
5/28 -
Nic and Hugh Throw Party
, from the
Daily Telegraph.
"[Hugh] Jackman took his son for a swim at Horseshoe Bay and David Wenham posed for photos while buying groceries at the local supermarket."
Check out Cameron Laird's blog and photo gallery . He's a freelance photographer from Queensland with full access to the set of Australia. No David pics yet, but we might get lucky one of these days.
Here's a Logie screencap: (source: Minkey)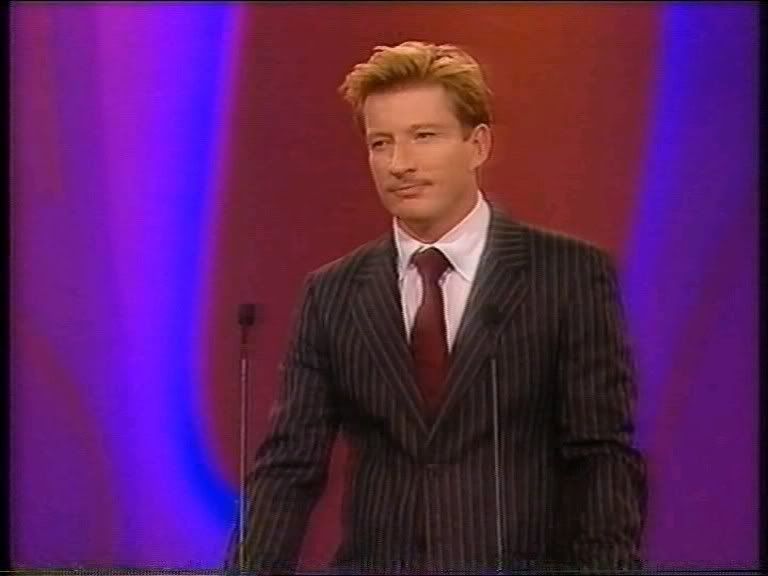 Spring cleaning: I spent a little time today updating the Links section. It was sad to say goodbye to some of them (like the Three Dollars site), but there's some shiny new links in their place: Daisy Petals, Spartans Wear Hoodies, and a new Russian site called Wenhamania, which has an English-language section. They're eager to meet new visitors, so do drop by and take a peek!
As most of you know, Wenham Wonderland closed up shop on May 14. I'm leaving the link up for now, because many of the pages are still available via Google cache. Thank you, Al, for all your hard work over the years. WW was a fantastic site, and it will be greatly missed. We wish you the best of luck in your future endeavors.
5/25 - Well, things have been fairly quiet this week. I got nothin'.
And so, I'm going to have to resort to making up today's updates.
Recently Unearthed Video Reveals What Life Was Like Before LOTR
KNOXVILLE, TN—A videotape extracted from the hard drive of a recently unearthed Toshiba HD-A2 VHS player offers a tantalizing glimpse into the day-to-day life of a primitive society on the verge of discovering Faramir, said the archaeologists responsible for its discovery.
"We're very excited by this find, because only by understanding our Daisy past can we hope to understand our Daisy present and future," said Northwestern University archaeology professor Lane Caspari, who has been leading the dig through the entertainment center of a Knoxville-area house since late April. "The discovery also sheds new light on the late 1980s—an era we know very little about."
The videotape contains episodes of "Sons and Daughters", "Poor Man's Orange", and "The Heroes", a 1988 telemovie about a group of servicemen sneaking into Japanese waters to stage a raid. The tape contains one of the earliest known rudimentary versions of Faramir.
"It shows that these forgotten people of the 1980s had many things in common with modern man, such as an appreciation for great acting and high cheekbones," Caspari said. "The presence of an archaic red-haired god appears to indicate that they cared about the immediate welfare of female movie audiences, much as we do today."
Researchers were hoping that "Lucy," as they've dubbed the videotape, would help fill-in the long-sought missing link between the ancient Daisy world and the modern era.
Caspari said it was "extraordinary" that the early videotapes showed an awareness of the importance of their new discovery.
"This clearly points to a reverence for David, but also an intense anxiety about a power they could not have understood," Caspari said. "It's safe to assume that the late 1980s were a terrifying and confusing time, and they must have struggled to make sense of it all."
While much work remains before researchers can hope to illuminate the secrets of this ancient and mysterious period, they say the discovery itself is an important milestone in understanding human history.
"Watching Horrie Young, we glimpsed, for a moment, life through a completely different set of eyes," Caspari said. "But, in the end, we realized we have more in common with our shadowy fan-girl ancestors than we might like to think."
Today's other headlines, from around the world:
David Wenham Loses Long, Courageous Battle Against Fame
Symptoms Were In Complete Remission, But Flare Up Again After 300
Movie Viewer Fails To Make Snacks Last Beyond Opening Credits
Diplomats In Red Capes And Leather Speedos Cram Peace Down The Middle East's Throat
Australian Film Commission Merges With AFL; Mel Gibson Traded To German Conglomerate
Neil Fletcher Rescues Baby Squirrel
Dessicated Coconut: your most trusted source in fake David news.
5/21 -
Stellar Line-up at Grand
, from the Townsville Bulletin.
Video of David's Q&A from ORC 2007, from Raichel's MySpace page (thanks Raich!)
On Saturday, Spartans Wear Hoodies held its first Dollar Day fundraising drive for the Wayside Chapel. Fans were invited to donate $1, and from what I understand, there were quite a few who answered the call. SWH will be holding more Dollar Days in the future, but you can donate at any time by visiting their Dollar Day page. (And while you're there, check out the SWH shop and the interview with 300 stunt performer Kit Mallett).
5/16 - The cast and crew of Australia have now
relocated to Bowen
, in north Queensland.
Here's a shot of David with Roger Spottiswoode, the director of The Children of Huang Shi. This was taken during a set visit by reporters for a Chinese magazine called "Movie View":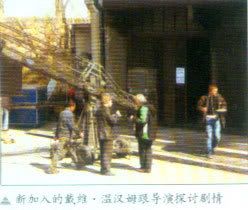 "Australian actor David Wenham, who plays a small role in the film, joined the filming team in Shanghai.

What was shot in Shanghai will be the beginning part of the film. One of the scenes shot on February 11 was when a large number of refugees rushed from Japanese leased territory in Shanghai to British leased territory. There were more than 200 extras on set, among them more than 100 refugees, as well as Japanese and British soldiers, and westerners who appeared in the leased territories." (source: Michelle Yeoh Web Theatre)
Minkey from WW made some scans of David's appearance on KTLA in Los Angeles to promote 300. I defy anyone to gaze upon these without radiating thousands of imaginary red cartoon hearts.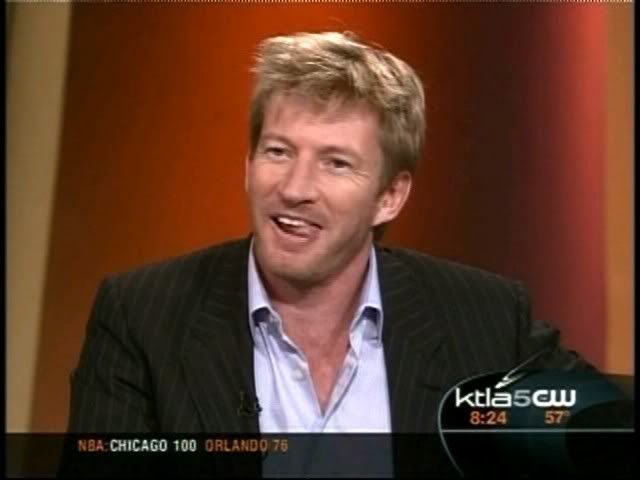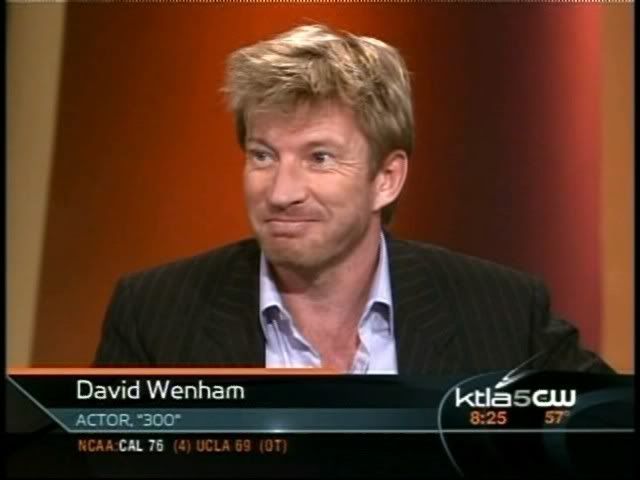 5/10 - Here's a YouTube video of
David presenting Steve Irwin's posthumous Hall of Fame award
at the Logies last weekend. (Posted by celticdove on daisy_daily)
Family Style Proves Firm Favorite mentions David in passing, and also nicely pads out today's update.
5/8 -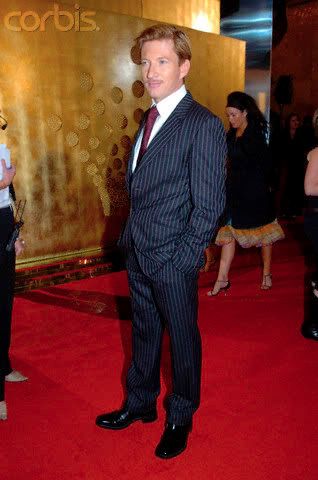 We liked Pinstripe David so much, we brought him back for a curtain call. YAYYY!! *clap clap clap clap clap clap* *mass avalanche of flowers*
This video of the Logie awards has some shots of David in the audience.
300 will be released on DVD August 1.
The liquid inside young coconuts can be substituted for blood plasma. (Dessicated coconut, however, should not be used prosthetically.)
Quote of the Week:
"~~oolapaloolahotbamboola~~ That is one blistering, boiling, burning, candent, dangerous, fervent, fevered, feverish, fierce, fiery, hotheaded, incandescent, inflamed, intense, lustful, piquant, raging, risky, roasting, scalding, scorching peppery, passionate, searing, sensual, sharp, sizzling, spicy, steaming, sultry, sweltering, torridly tropical and all-round HOT pic of Luke which I've never seen before."
-- Red Queen
5/7 -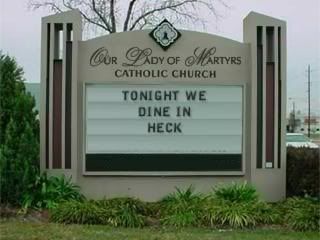 The Kyle and Jacki O Show Interviews David
Aussie Warror interview from Hollywood Life
At Saturday night's Logie awards, David, looking quite dapper in pinstripes and a 1930s mustache, presented a posthumous Hall of Fame award to Steve Irwin.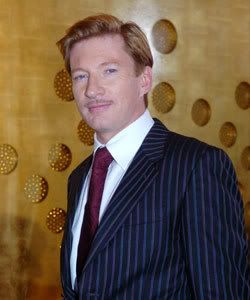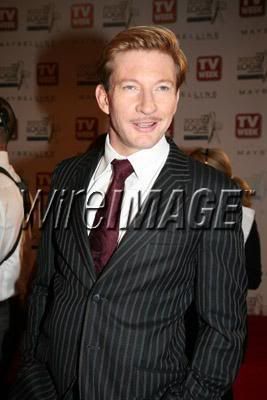 As 300 fades from the big screen, we conclude today's update with a series of Dilios images:




5/3 -
The 300, Eye Patch Guy, and the story of Jesus Christ
deconstructs Dilios through the lens of Christianity.
Kidman in New Baz Flick has some filming tidbits, a first look at Nicole Kidman in costume, and mentions that the cattle station Neil Fletcher covets is the size of Belgium.
Think about that for a moment. Belgium is about the size of Maryland, or Wales, or 46,700,000 diabolical mustaches laid end to end. And Neil wants it all. Not a Brussels-sized morsel. Not a Wallonian-sized parcel or Flanders-sized hunk. The whole enchilada.
Heck, most of us can barely keep up with a half-acre yard, let alone a vast Northern Territory ranch that takes weeks to cross on horseback. One has to admire Mr. Fletcher's chutzpah. Which is approximately the size of Scandinavia.
April 2007
4/30 - Planning to dine in hell tonight? Be on time with a
300
wall clock, from
NECA online
: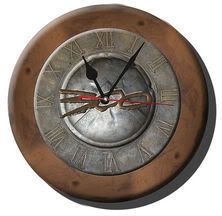 Other 300 tie-in merchandise for sale at NECA: shot glasses, mugs, lunchboxes, hats, stickers, prop replicas, playing cards, keychains, and action figures. There's a Leonidas action figure, but no Dilios. So who's supposed to survive and tell the story? Will kids have to bandage up Barbie and send her back to tell the Spartans, "Math is hard"?
From Sydney Confidential:
HUGH Jackman's got him covered in the beard department, but actor David Wenham is gunning for a shot at the good guy award, with news he will make a rare guest appearance at a Cure Our Kids charity dinner on May 11. The father of one is to pay a moving tribute to a special patient, while Erana Clarke, the voice coach from Australian Idol will sing. Tickets to the Bal De La Mer (Dance of the Sea) on Garden Island are available online at www.cureourkids.com.au.
From the Sunday Telegraph:
STAR PARTY
Paul Roos' house

Swans footy coach Paul Roos and his wife Tammy threw open the doors of their Randwick home for Tuesday night's Star Party, a fundraiser for the Starlight Foundation, and gave Insider exclusive access. During May, people are being encouraged to host a ``star party'' in support of the cause, which works to enhance the lives of children with life-threatening illnesses. Special guest was young Riqi Lawson, whose health challenges have not prevented him being a huge Swans fan.

Co-captains Barry Hall and Brett Kirk came along to meet him, along with Craig Bolton, while the Roos kids, Tyler and Dylan, gave invaluable help handing out drinks. -- RR

Caption: David Wenham and Brett Kirk (above), and Kate Agnew and Craig Bolton (right)
(Editor's note: I couldn't find the photographs that go with this article. You must close your eyes, Grasshopper, and imagine them. Like the sheep in "Le Petit Prince".)
The Lexis-Nexis Fairy brings us news of a potential David project, from Encore Magazine. Heavy emphasis on "potential". The filmmakers are still in negotiation to finalize funding and secure the cast, but David is one of the actors they've been talking to.
Independent feature Kill Car 9 is scheduled to shoot in Sydney over six weeks in October/November 2007, with pre production pencilled in for an early August start.

Written and directed by Dwayne Labbe, and produced by Aaran Creece, the film will be shot on HD with locations likely to include the F3 freeway and a warehouse in inner city Alexandria, which will be used for greenscreen work.

Set to the backdrop of a high-speed motor race in which 'infinite power' cars reach speeds of 1000km/h, the film focuses on a driver hired to kill a rival; by a race team owner.

"It's not a film about motor sport but a film about a guy trying to kill another guy during a race," producer Creece told Encore. "It's set in a world that is just a tiny step to the right; it's not set 20 years in the future."

Creece (who previously co-directed and co-produced Troy's Story, the feature-length documentary that focused on Moto GP rider Troy Bayliss) said the filmmakers were targeting a production budget of $13 million and that appointing cast was largely dependent on securing this funding. Potential targets include Bruce Willis, Eric Bana, Johnny Knoxville, and David Wenham.
"We're in negotiation with half a dozen actors, although no one's confirmed," Creece said. "We were waiting for the finance to kick in and having some of that has given us the confidence to approach cast."

Funding thus far has been generated from private sources, while Creece was hopeful of generating additional cash through selling advertising that would appear on the hero cars and alongside the race track depicted in the film.

Creece, who indicated interest had been shown in the project from sales agent Arclight Films and France's Wild Bunch Distribution, said he hoped the film would be ready for release by May 2008.

Nicole and Hugh Film Australia Shooting gets underway today, at Strickland House in Vaucluse:
Wenham has told people privately he was blown away by the subtleties in the script. At first he thought the title was a "bit geeky'' but, after reading the script, he couldn't think of a more suitable name.
Tee hee. I can think of way more geeky movie titles they could have picked:
1. Jurassic Quark
2. American π
3. Deriving Miss Daisy
4. A Series Of Unfortunate Space-Time Events
5. Indiana Jones: Radius of the Lost Arctan
6. Kelvin 761
And now, if you'll excuse me, I'm off to go snort with laughter over Stephen Hawking's "A Brief History of Time".
4/26 - Oops! Earlier, I mistakenly credited these scans of the Australian
Men's Health
interview to Minkey, but they're actually Synn's. Sorry, Synn! My apologies.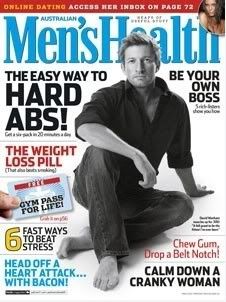 I'm amused by the health advice on the cover: eat bacon and chew gum. Spittin', scratchin', and lard are also beneficial in lowering cholesterol.
4/23 - A portrait of David by photographer Mark Mawson is (indirectly) part of the
Head On
exhibit at the Australian Centre for Photography: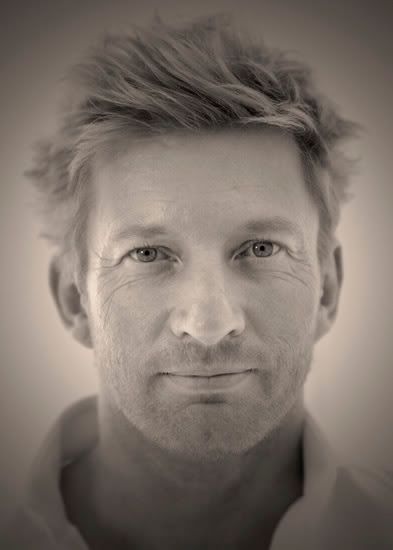 Says the Sydney Morning Herald's review:
Mark Mawson's airy black and white portrait of David Wenham (only viewable at the centre in an electronic slide show of pictures not hung in Head On) captures a sense of the humility with which this actor pursues the character of his choice.
"Hail For Leather" 1 "Hail For Leather" 2 "Hail For Leather" 3 (joint thanks to Minkey and meaningofhaste). As an unofficial spokesperson for Post-Traumatic Leather Codpiece Disorder (PTLCD), David agreed to model a selection of rich Corinthian leather outfits for the In Style section of the Weekend Australian.
Bijou has scanned & shared the Battle of the Brave article from Sydney Live.
Now that hockey season is over, it appears that the Dom-Land Caribou have taken to the baseball diamond. David Wenham is working the mound for the Atlanta Braves this season, with a 4.26 ERA over 5.2 innings pitched (vs. Viggo Mortensen's 0.62 ERA. Now come on! If Faramir can read the hearts of men and pick off a Nazgul with one shot, he's got to have a pretty formidable knuckleball). Karl Urban plays third base, with Orlando Bloom at shortstop, and Sean Bean at first. Meanwhile, thanks to the Ring, Frodo is the league leader in stolen bases.
Does that mean George Steinbrenner is Sauron?
4/20 - They've got a Horse Whisperer, but has anyone thought to hire a David Whisperer?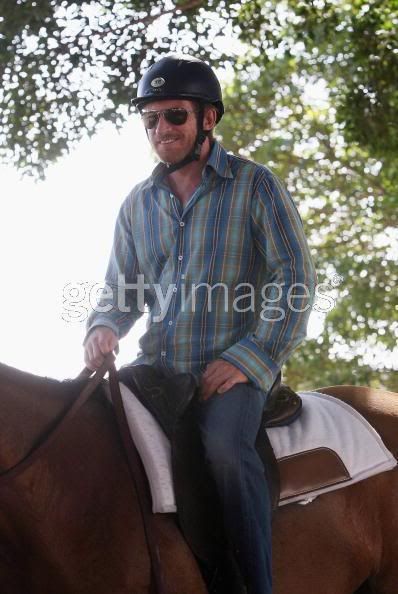 Phantasmagoria, gal of multi-psychedelic talents, has created a Faramir "Sim" (see below). I love the visual of Faramir hanging out in a suburban living room, checking out the CDs, rifling through the fridge, getting boot prints all over the sectional, and bluntly interrogating girl scouts and Jehovah's Witnesses who have the temerity to ring the doorbell.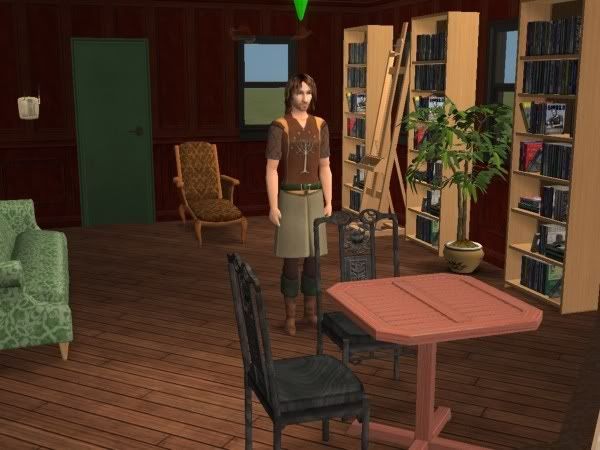 4/17 - The Geelong Advertiser has plucked up the courage to ask the 300 Question That Dare Not Speak Its Name:
Quote of the Week:
"My Peruvian truffle fell down the elevator shaft."
-- pengwyn
(Now, admit it: does this not accurately describe what happened to you the first time you saw David? )
4/16 -
*woof*
What's that, Lassie? You say that there's a photo gallery of David and Hugh Jackman busting some mad horseback skillz at a site called Just Jared ?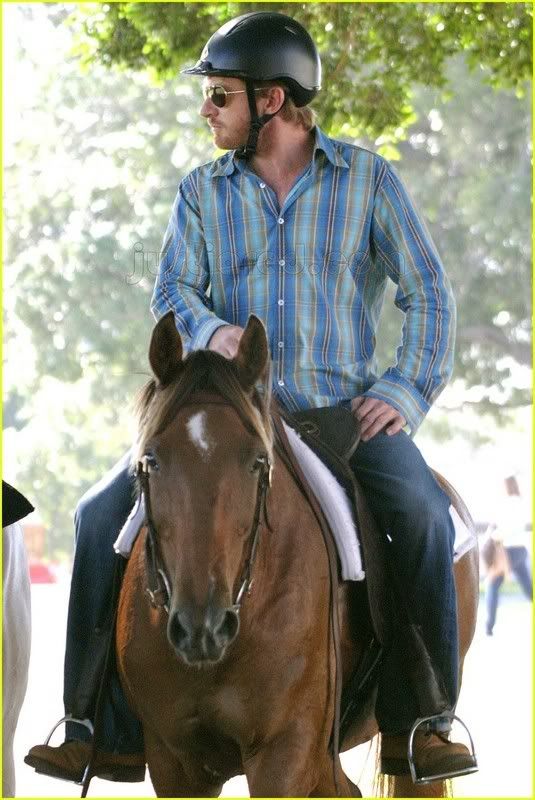 And even more photos here?
*bark*
And that David is on the cover of this month's Australian Men's Health?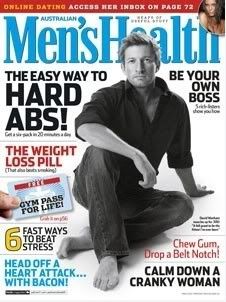 *Arf!*
And that Ben Mendelssohn, Ray Barrett, David Gulpilil, and Billy Hunter have joined the cast of Australia?
Good girl, Lassie! Have a Snausage®.
4/13 -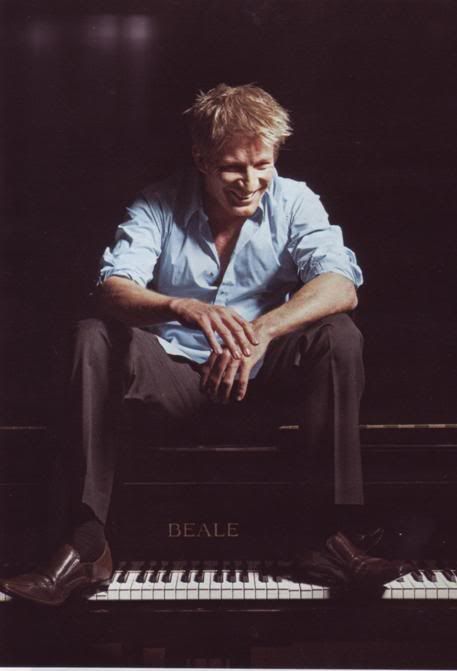 More photos from the "Star of David" interview (see April 1st, or today's Daisy Daily entry for bijou's scans)
Aussie Actor Saddles Up For Big Role. Scan of an article posted at Nicole Kidman United
Cut and paste this URL to watch a video of the London premiere of '300'. Some lovely closeups of the guy who plays Dilios: mms://av.wp.pl/a/av/film/wmv/12069/300_premiera_.wmv
300 - Today Show clip from YouTube. Rated D for brief Davidity and soundlessness.
Jackman's Hot To Trot Sydney Confidential in the Daily Telegraph. So all of a sudden there's a "Best Beard" competition on the set of Australia? No, no, no, no, no. Beards are not county fair pumpkins. "Bigger" does not equal "better", unless the goal is to harbor colonies of bees.
Studies show 4 out 5 fans of villainous outback cattle station managers prefer slow-cured, organically grown ginger stubble to the "Ned Kelly". Historically accurate or not.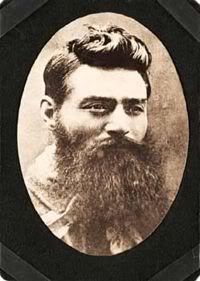 Snippet from the Daily Telegraph, courtesy of Minkey:
The Daily Telegraph
April 7, 2007
My Weekend With David Wenham
Where's your favourite place in Sydney to head to on the weekend?
* The Sydney Cricket Ground on a Sunday afternoon when the Swans are playing.
Best place to tuck into a good breakfast on the weekend?
* Bed!
Where can you find some of the best views of the city?
* Out the window of a plane approaching to land from the north towards Mascot.
What is an essential attraction for visitors on a weekend?
* Visit the snake man of La Perouse (Sundays at the Loop, near La Perouse Museum). The show is the same now as when I was a kid. Only the showman has changed (now other members of founder George Cann's family).
What would you deem to be the city's best-kept secret?
* Hotel Hollywood (2 Foster St, Surry Hills).
March 28 podcast of radio interview with Hamish and Andy of SAFM, Adelaide
Iran Furious At Spartan 'popcorn' film, Fatwa Pronounced On Canola Oil
David Wenham 'Incredibly Excited' About Australia
David tells the Daily Telegraph about his new Baz Luhrmann project (video)
300 video interview with the Sydney Morning Herald
Cover of Sunday Telegraph "Star Of David" interview: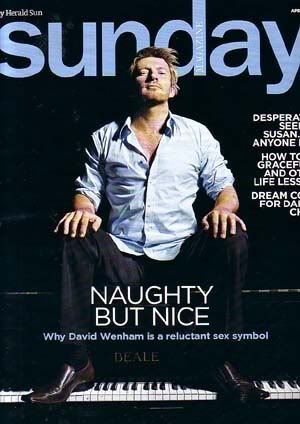 Same photo posted earlier on March 30, sans floating waffle pockmarks: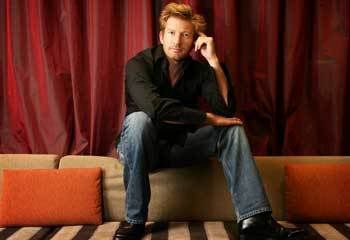 Complimentary photo of David, Jacqui McKenzie, and Nicole Kidman. Just because. If Dessicated Coconut were a hotel, this would be the mint we'd leave on your pillow.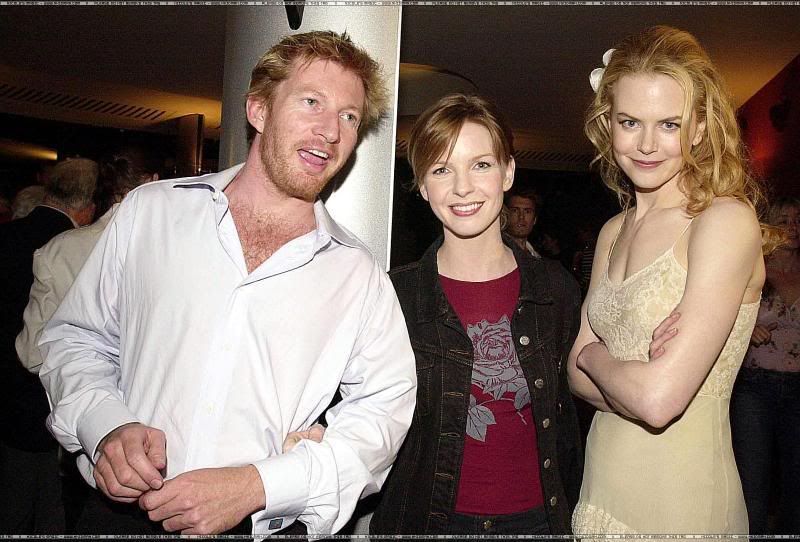 4/1 -
The Star Of David
, a lengthy interview for the Daily Telegraph's Sunday magazine.
Some of you may be familiar with Dilbert, the cartoon strip that follows the exploits of the long-suffering office worker Dilbert and his pointy-haired boss.
Say hello to his ancestor, Diliosbert: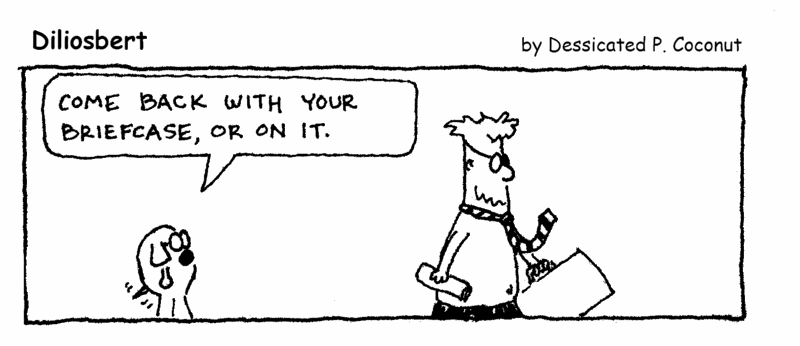 More badly scanned Diliosbert strips here (with my sincerest apologies to Scott Adams, Frank Miller, Lynn Varley, Herodotus, and the "Draw Tippy The Turtle" Correspondence Art School, PO Box 350, Tucson, Arizona).
dc1279, of Daisy Petals fame, has started up a site called "Spartans Wear Hoodies", in an effort to combat ongoing discrimination against Spartans wearing grey hoodies. Grab some masking tape and take a stand. Social justice never shrinks in the dryer!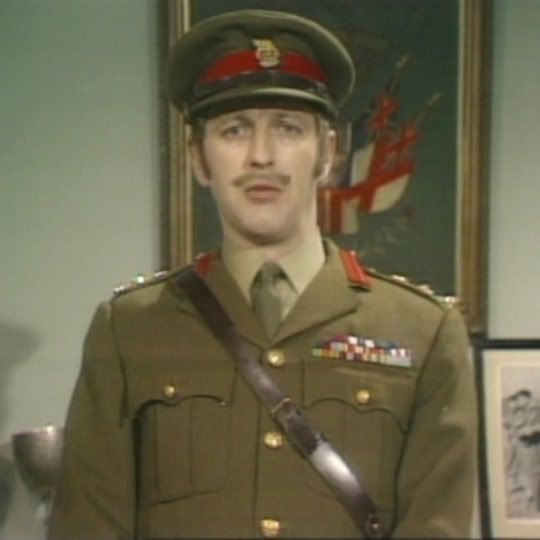 "Right, right, stop it. This update is getting too silly. Started off with a nice little link to an interview with David, but now it's got silly. All of you, go on now. Move along. Off you go."
March 2007
3/30 - Today's update is brought to you by the letters L (for Loveliness) and S (for Synn, whose scans of the Film Ink interview these are), and by the number 7.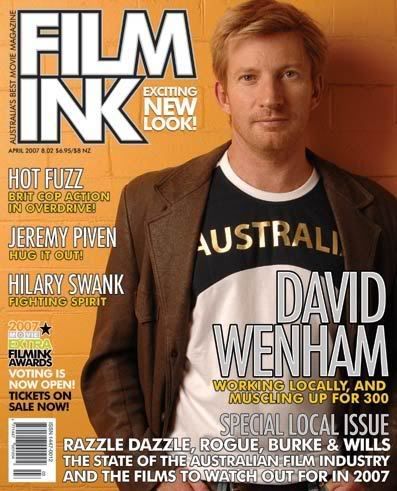 Film Ink 1 Film Ink 2 Film Ink 3 Film Ink 4 Film Ink 5 Film Ink 6 Film Ink 7
Warrior Dave fit for Spartan conditioning, from the Mar. 31st Herald Sun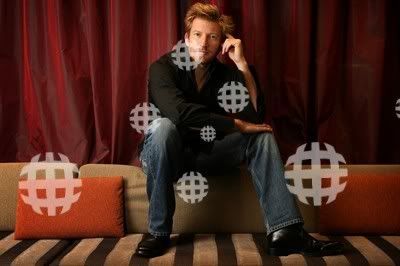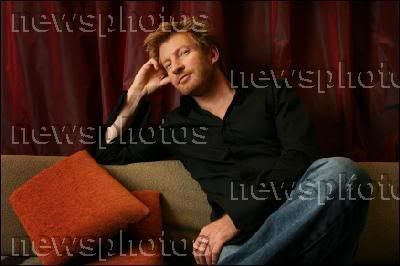 (sorry about the watermarks...we tried to have them dry cleaned, but those stubborn stains won't come out)
3/29 - Two photos of David taken in Sydney yesterday, publicizing
300
before he begins work on
Australia
: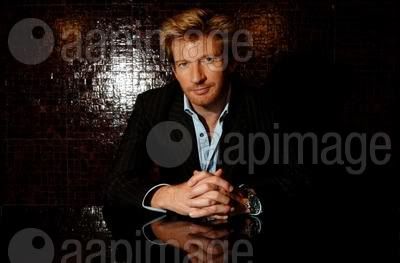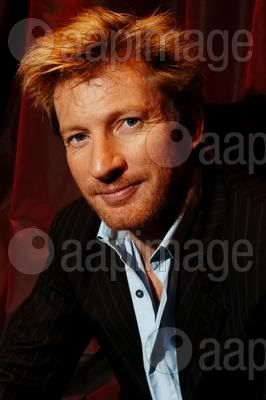 And two discarded storyboard images from '300', for thine amusement: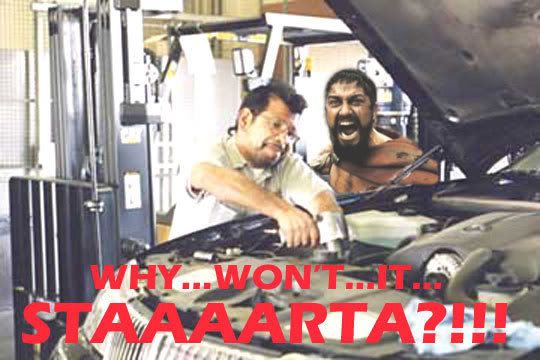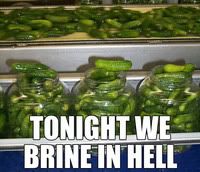 Quote Of The Week:
I think it maybe about some battle in Greece like a billion years ago but all the nappie clad men clouded my mind.
-- jen's rants & reviews
3/28 - We're rolling in interviews today!
Leather Undies: The Things He'll Do For A Spartan Role - Sydney Morning Herald
Saddling Up For Big Role - Daily Telegraph
Wenham Trades Gore For Luhrmann's Outback Adventure - The West Australian
From old church halls to Hollywood blockbusters - The Nation
Five For Friday...David Wenham - Wizard World
3/26 -
Leather Undies and Cloaks: Let Battle Commence
by Sam Leith, in which David adroitly sidesteps a pointed question.
David Meets His Mini-Me Sideshow's slideshow from ORC 2007 has a few photos of David encountering the Faramir statue for the first time. It's a historic moment, like Roosevelt meeting Stalin at Yalta, except without all the vodka and room-bugging. Isn't Little Faz cute?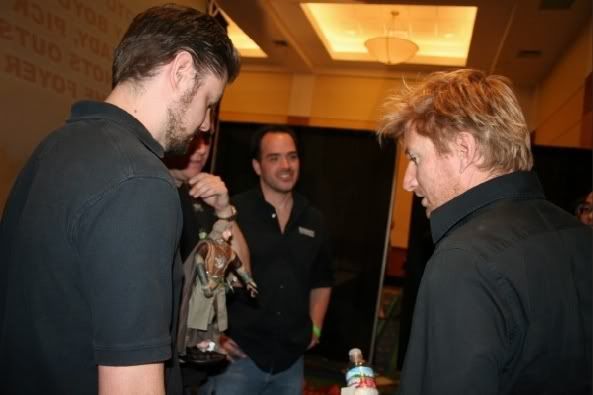 3/23 - The Lovely Lucidity (yes, that's the legal name on her birth certificate) has been kind enough to share these scans of the
Moving Pictures
interview with David:
Mark Twight, the trainer for 300, has created an in-depth look at what was involved in getting the actors and stunt crew ready to handle the fight training and choreography. No direct mention of David, but it's an interesting read.
3/22 -
Wenham Staged Backyard Audition For 300
Fun article about David's audition and preparation for the role of Dilios.
300 - David Wenham Interview at IndieLondon (thanks to Rosie, our UK bureau chief, for finding this). If you read only fifteen David interviews today, make this one of them.
Last summer, I joked that Zach Snyder would be releasing a PG-rated trailer of '300', full of fluffy bunnies and cozy picnics. As it turns out, I wasn't the only one with that idea.
3/21 -Here's a couple of interesting clips from YouTube, filmed by an extra on the set of
The Children of Huang Shi.
David is in the gray suit,
seated at the table on the right
(just outside the frame to begin with) and
in the background, shaking hands with somebody
.
Annnnd a photo, also taken on set: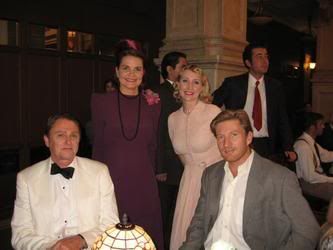 Inspired by true events, THE CHILDREN OF HUANG SHI is a portrayal both sweeping and intimate of people who, thrown into an unexpected and desperate situation, discover their capacity for love and responsibility. It tells how a young Englishman, George Hogg came to lead sixty orphaned boys on an extraordinary journey of almost a thousand perilous miles across the snow-bound Liu Pan Shan mountains to safety on the edge of the Mongolian desert. And of how, in doing so, he came to understand the true meaning of courage. During his journey, Hogg learns to rely on the support of Chen, the leader of a Chinese partisan group who becomes his closest friend. He soon finds himself falling in love with Lee, a recklessly brave Australian adventurer whom war has turned into an unsentimental nurse on horseback. Along the way Hogg befriends Madame Wang, an aristocratic survivor who has also been displaced by war, who helps the young Englishman, his friends and their sixty war orphans make their way across awesome (and rarely filmed) mountain and desert regions to a place of safety near the western end of the Great Wall of China.
From an interview with Gerard Butler, on the subject of the 300 trailer at Comic Con: David Wenham and I got down on the stage, looking up, and I was mesmerized. I remember tapping him. He's, like, 'I think we're on a winner here.' It was just a great moment.
Aussie film-makers talk high def David appears briefly at the beginning of this video from Tropfest 2007.
Quote of the Week
"Not every crevice has a happy ending."
-- review of 300 at "Sound The Sirens"
3/19 -
300 Stars: 'War Epic Is Purely Entertainment'
. Australian actor David Wenham has called on movie-goers to see gory war epic 300 with an open mind, because it is just entertainment...Speaking at the movie's premiere, he says, "I don't really read the reviews; I haven't paid any attention to it. At the end of the day, it's entertainment based on a comic book so we didn't really think about that when we made it."
David's the cover boy for FilmInk's April Australia issue. (From FilmInk's home page, click on the link beneath the cover image to hear a specially recorded greeting from David.)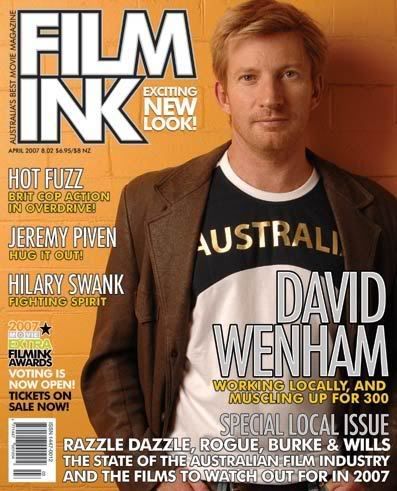 300 Max The Men's Fitness interview with David is now online.
Never mind the swords, the stunts, the visuals, the unification of ancient Greece: what about the hair?
3/16 - David was on hand for the 300 premiere in London last night (thanks to Synn & Minkey for the photo finds):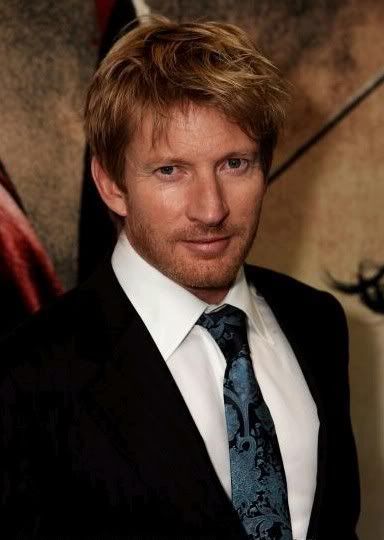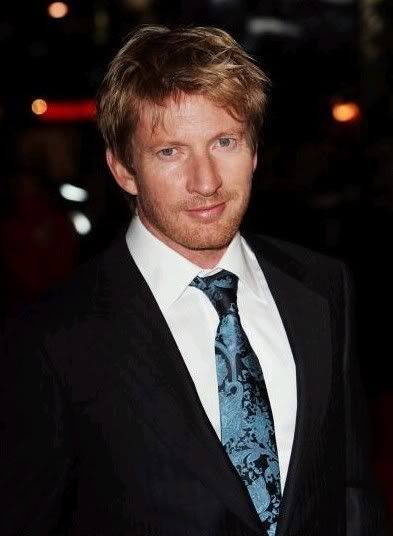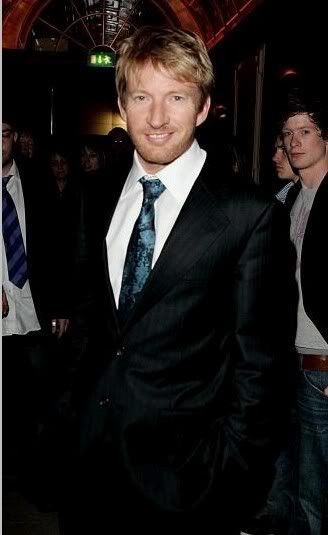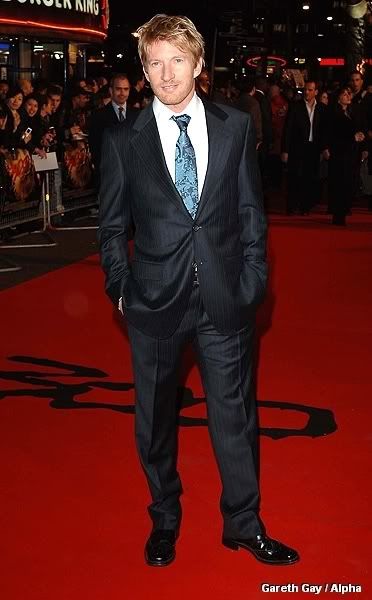 Tonight! We! Dine! In London! - Empire report on the London premiere, David is quoted.
Twenty-second You Tube video clip of David's red carpet arrival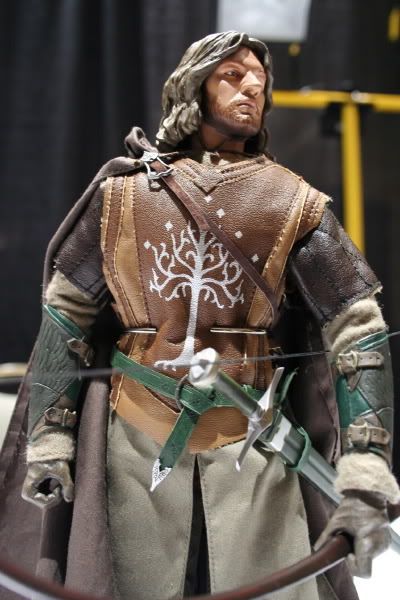 This week's issue of the Sideshow Collectibles newsletter has an ORC 2007 Photo Gallery, showing details of their new Faramir statue (photo #12 - 17), which was unveiled at the convention. Sideshow promises "Tune into next week's newsletter and podcast for more photos of the Sideshow team showing off the Faramir figure to David Wenham."
300 Contest Winners Announced!
Thank you to everyone who participated - it was quite a response. Many giggle-worthy captions were submitted, and I only wish DC had more stuff to give away. We've posted selected captions on a new page, for your enjoyment.
Today, our website has a new hero and patron saint: Former Australian Prime Minister Paul Keating, who called John Howard a "dessicated coconut" in a March 5th radio interview. Although I object in principle to the appropriation of "dessicated coconut" for perjorative purposes, I'm secretly delighted to be sharing a domain name with a silly epithet directed at the man who brought us AUSFTA.
A Plot Twist For Film Heavyweights - The Australian. It appears that Fred Schepisi is still having trouble getting funding for Last Man Standing. I wish there was something we could do to help. Scrap drive? Sell cookies door-to-door? Fix up the barn and put on a show? There has to be a way to get this film made.
David Wenham's Talk At Orc 2007, detailed summary of the Q&A panel by silverstar.
Over in the Grove, Pengwyn has created quite possibly the ultimate crossover David screenplay.
For those of you who are wondering: no, yesterday's "Peep 300" production will not be released in I-Max. The MPAA frowns on 9-story tall neon yellow bunnies coated with sugar.
Easter is coming soon... That means it's time to re-enact 300 with marshmallow peeps.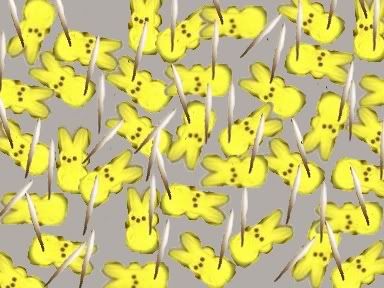 3/13 - Here's another
radio interview with David
, at KINK FM 102 in Oregon. Topics include blue screens, chafing, the Iraq War Allegory Rumor That Wouldn't Die, and the upcoming shoot for
Australia
.
By the way, the veil of mystery surrounding David's Married Life character lifted briefly at the ORC Q&A panel, when an intrepid fan came right out and asked him. He'll be playing John O'Brien, a philandering writer.
There's only 3 days left to enter our 300 contest. We've gotten lots of excellent, hilarious entries so far (thank you for the laughs!). The contest ends at midnight Mar. 15th (PST), and we'll be notifying winners by email the following day. All of these swell prizes are up for grabs:
1 - Set of 4 collectible '300' plates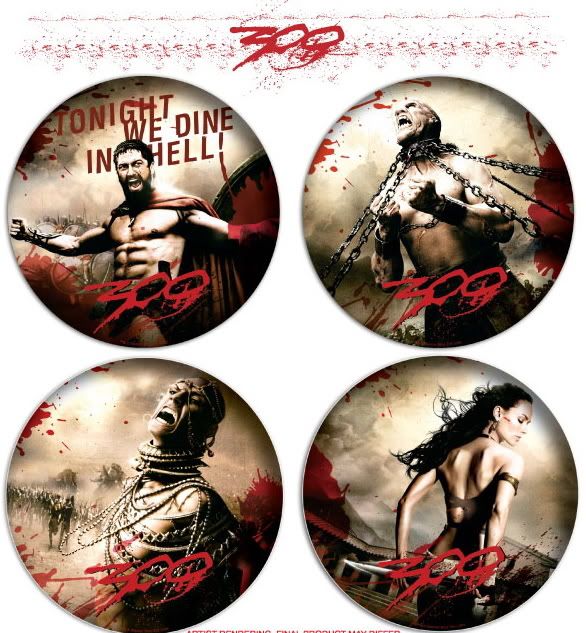 Ohhhh, I lust after that "Tonight We Dine In Hell" plate. It's so perfect for serving brussels sprouts to kids.
1 - Black "Mask" T-shirt with 300 logo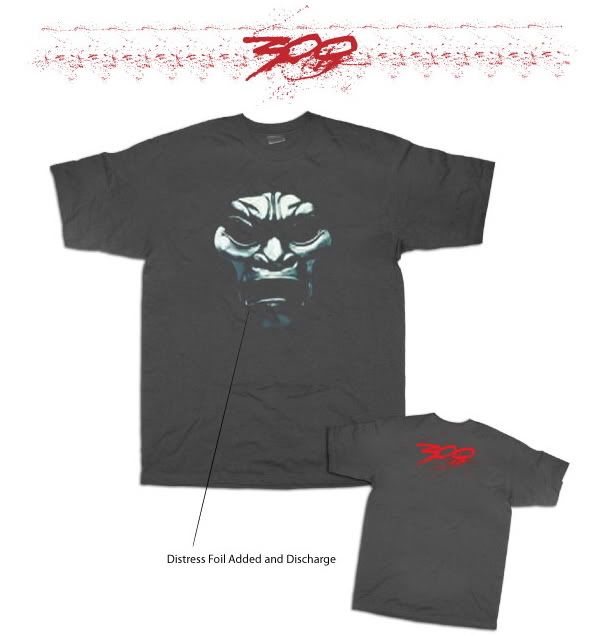 4 - '300' movie posters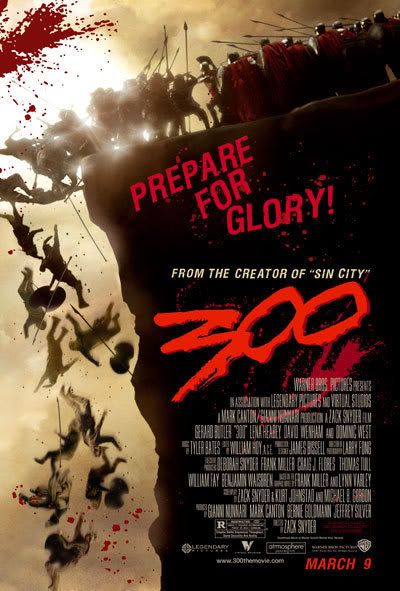 3/12 - 300 grossed $70 million dollars in its opening weekend, making it one of the largest R-rated openings of all time (behind "The Matrix Reloaded" and "The Passion Of The Christ").
Don't go in the Grove until you've seen 300. Major spoilers. (We're hiding all your Christmas and birthday presents in there too.)
Here's a couple more pics from the 300 premiere: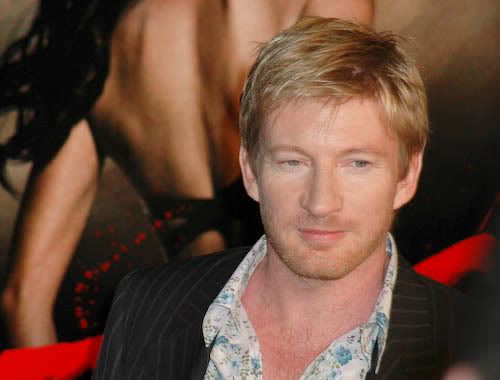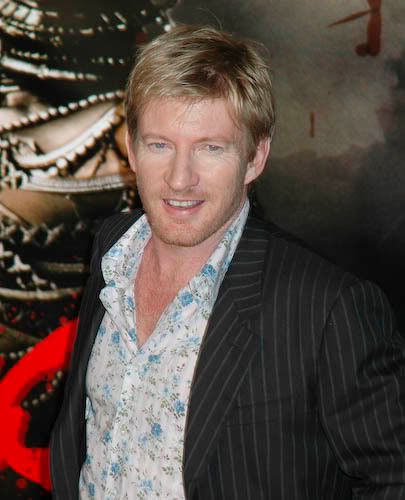 Download a 10-minute interview with David at 104.7 KISS- FM.
Frank Miller, at Yahoo, has asked "What lessons from ancient Greece apply to modern society and civilization?" (Answer: David Wenham should be showered with film roles, critical praise, and free shoes. The rest, as they say, is commentary.)
David appeared at ORC this past weekend. Pics and reports are here and here and here.
Are you tough enough to be a Spartan? Think you can handle the grueling up-arrow down-arrow training regime? Do you have what it takes to defeat a numerically superior horde of floating urns and basketballs? Play The Spartan Game!
3/7 - From the
300
after-party caterer's To Do List:
Blood-colored pomegranatinis? Check.
Red cabanas? Check.
The Stanley Cup? Check.
Read more dish at the Variety 300 after-party report.
Screams For Butler At '300' Premiere "You start off by putting 300 very sort of fit, buff guys in codpieces, throw them up on screen, already there's an energy behind that," noted one of Butler's co-stars, David Wenham.
Preparing For Glory The film's David Wenham sculpted his body for months in preparation for the movie but, alas, has since lost some of his form. "I used to have a six-pack, I now have a one-pack," he said.
Ah well. 'Tis better to have buffed and lost, than never to have buffed at all.
3/6 -
Happiness is....a whole batch of David premiere photos. Thanks to Liten, missdaisy, Dryope, Celebne, Nenya, and celticdove for finding and posting these. (How adorable is it to attend a screening of an incredibly macho, violent war movie in a flowered shirt?)
Two new articles that quote David: 300 Premieres In Hollywood and '300' Set To Hit Theaters.
Anyhoo, you can watch the promo ad here (click on "Quest For The Cup")
300 enjoys its US premiere tonight at Grauman's Chinese Theater, the soundtrack comes out tomorrow, and.....soon, my pretties. Soon this movie will be ours.
3/4 -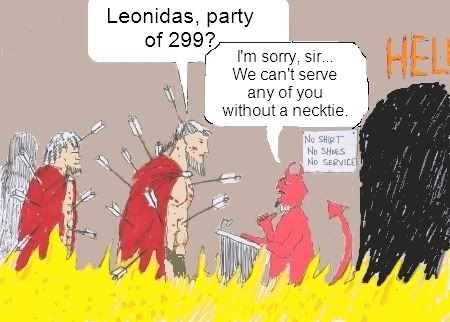 Long wait on "hold" for customer service + a blank sheet of paper near the phone + a "Latest Updates" web space whose hungry maw continually needs filling = 300 fan art. As the French say, "whoomp, le voila".
(PS I'm pretty sure every restaurant in Hell has a 1970s color scheme. Lynn Varley would undoubtedly agree.)
Watch '300 Seconds Of 300' at MTV.com. You'll be glad you did.
The April 2007 issue of Men's Fitness (with UFC star Chuck Liddell on the cover) has an interview with David, as does Moving Pictures magazine.
February 2007
2/27 - In this MySpace video clip preview of 300, Dilios uses his lightning Crouching Tiger - Hidden Spartan reflexes to save Leonidas from a really unflattering haircut. And yes, they have a cave troll...
Lentil soup was spilled while watching this video clip. (To be fair, I don't really need to be watching a 300 video clip to spill lentil soup. All I need is lentil soup.)
Dawn Of The 300 Watchmen Interview with Zach Snyder at Crave Online.
2/23 - David will be attending the 300 premiere at Grauman's Chinese Theatre on March 5th. Spartans! Prepare for publicity!
Becoming Spartans at moviesonline.ca spotlights Mark Twight's training regime for 300. Cast members, including David, contribute their thoughts.
During an interview at Ain't It Cool News, Tyler Bates, who composed the film score for 300, had some praise for David:
"I didn't feel that there was ever a need to overstate the case for [Lena Headey] because I feel the acting is so good and the script was very well written. It pretty much says it all especially with David Wenham's narration which I think is incredible. The music never quite had to go there. Often times I was playing beneath his narration which is very evocative and emotional in and of itself. I often considered his narration as one of the instruments in the music."

2/22 - Ladies and gentlemen...today, we present The World's Smallest Photo Of Dilios (courtesy of Lucidity, who spotted it in the current issue of Men's Health magazine). Marvel at its tininess! Thrill to its diminutive dimensions!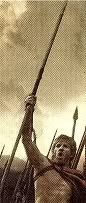 Internet scientists have uncovered new evidence that David is indeed signed on for Fred Schepisi's film, Last Man, about five retired SAS troops who reunite at their commander's funeral, and are forced to confront the ghosts of their last mission together in the jungles of Vietnam. If funding comes through, David would be working with Guy Pearce (of Proposition fame), Joel Edgerton, Simon Baker, Martin Henderson, and Sam Worthington (of Gettin' Square fame). Content Film reveals more.
Gerard Butler Goaded Into Boot Camp For '300' Not really about David, but it's a funny article.
If you missed "Carrying The Flame", the recent Starlog interview with David, here are the scans: Page 1 Page 2 Page 3 Page 4
And lastly, Dessicated Coconut is pleased to announce that our 300 Contest is now open! Winners will receive official '300' movie merchandise, supplied by Warner Brothers. To enter, visit our contest page (banged together crookedly out of rusted scraps of HTML and CSS, so please excuse any weird display issues). We'd love to hear from you. Please note that although eligibility is officially limited to residents of Canada and the US, anyone can enter as long as they can line up a North American friend willing to receive prize shipment on their behalf.
2/19 - Yesterday's Herald Sun mentions David's involvement with a new film, "The Children of Huang Shi", which just completed filming in Shanghai and is scheduled to be released at the end of 2007. This site has more info about the project.
David attended the 15th annual Sydney Tropfest this past weekend, lending his services as a festival judge. Red carpet video clips from the event are available at news.com.au (click on the "Tropfest 2007" thumbnail) and ninemsn. More proof is needed, you say? Here's a couple of photos: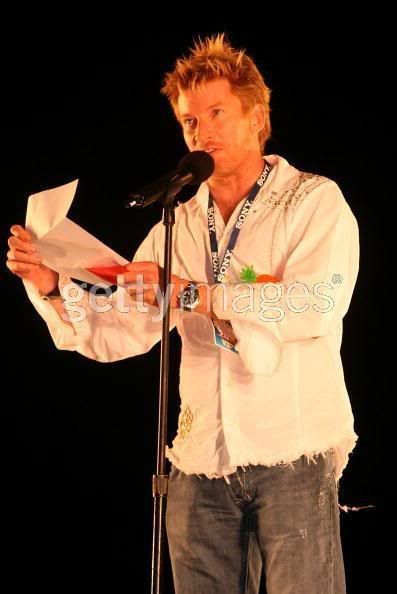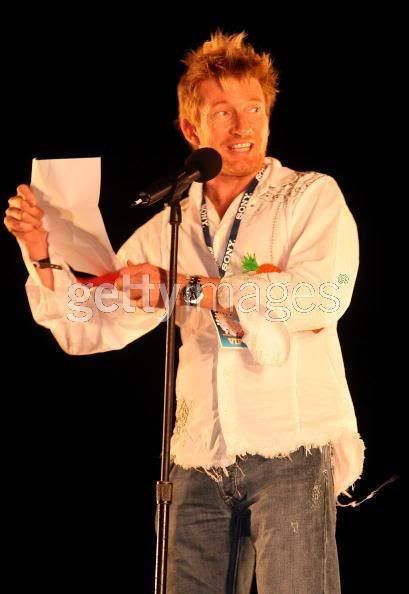 Reminders: Wonder-Con (Mar. 2 - 4 in San Francisco, California) will be staging a sneak preview of 300, and Zack Snyder will be holding a panel with surprise guests. David will be appearing at ORC (Mar. 9 - 11 in Burbank, California).
2/15 - 300: The CBR Review at Comic Book Resources. "Narrator Dilios is well played by David Wenham, who most of the planet Earth remembers as Faramir in the Lord Of The Rings films."
"Well played". Did you hear that? They like him! They really, really like him!!
The IGN review (loooved it) and the Cinematical review from Berlinale (haaated it) pretty much cancel each other out. In fact, posting them together in the same sentence is just asking for trouble. If these reviews ever touch one another, they'll mutually annihilate, leaving behind only a scorched ticket stub and some unstable popcorn isotopes. So careful with those browser windows.
2/12 - IESB has posted eleven film clips from '300'. "You Have A Story To Tell" features a scene between Dilios and Leonidas.
300 Sequel Very Likely, But Not 100% Confirmed Rumors are tumbling around like heated socks in a dryer regarding a possible sequel to 300 (301?). The producers have said they're open to the possibility, depending on how 300 does at the box office.
Considering that Dilios is the sole survivor, it's blindingly obvious (no pun intended) that any sequel would have to be entirely about him. One possibility: Dilios' inspirational struggle to come to terms with survivor's guilt, his war wound, and the aftermath of Thermopylae. I'm thinking Deer Hunter meets Ice Castles. (I'm sure Frank Miller would agree to that.)
2/9 - Got this off a Brazilian site called "Omelete", one of a new batch of stills that WB just released. This photo evokes pleasant auguries and nameless anticipatory emotions that can only be expressed with the help of a banana dancing on top of a piano: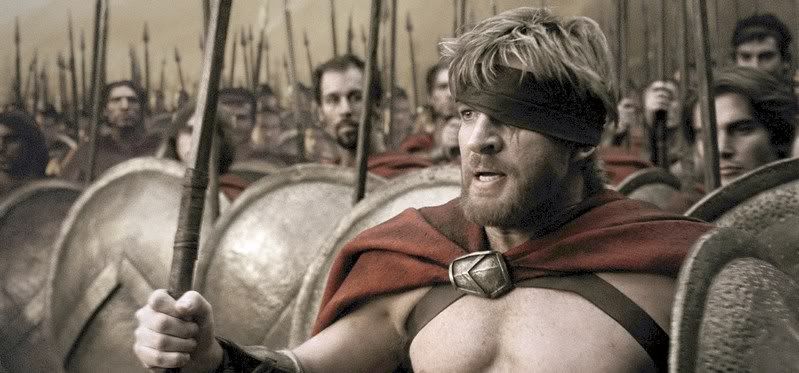 2/8 - Spartan Law: The Story of 300 provides a comprehensive character guide and preview:
The character of Dilios solved for Snyder the puzzle of how to bring Miller's unique voice as a storyteller into the film. "We hit on the idea of having a narrator tell the story, which allows Frank's fantastic world to come to life," Snyder offers. "That was really important when it came to weaving Dilios's story through the movie--how awesome it is to have this storyteller that can render Frank's prose in the picture."

"I love telling stories, so to have the opportunity to be a storyteller is a gift," comments Wenham. "Dilios spends a lot of time entertaining the troops when there's down time, telling stories about the first Olympics or other tales. He is also probably one of Leonidas's best friends, and a great warrior who is highly respected among the men."
2/7 - "Marriage" has been retitled and is now "Married Life", according to Pierce Brosnan in this MTV news article: "The film after [Butterfly on a Wheel] is 'Married Life'...It was called 'Marriage' but now it's called 'Married Life'." That period drama will cast Brosnan opposite Rachel McAdams as a scheming husband.
Well, THAT'S just great. Now I'll have to update the Movies section, get this tattoo removed, and re-monogram the bath towels.
And we still don't know the name of David's character. Maybe that's been renamed as well, from "John Smith" to "The Hon. Guenther S. Czerwonka Bibiano St. Wibberly de Middendorp Frogsmacker IV". You never know.
300 Video Journal #11 is up at Comingsoon.net. I don't know if it's the same as yesterday's or not. If it is, please accept our apologies, and a coupon for one free screen cap. Into each life, a little extra Dilios must sometimes fall.
2/2 -
Does this cartoon man remind you of anybody?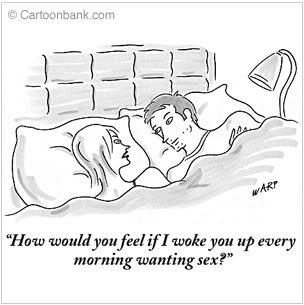 A character from a movie, perhaps?
Here we have a man with a beautiful jaw and almond-shaped eyes gazing adoringly at a woman, and she'd rather sleep?
It must be Nikki from "After The Deluge".
January 2007
1/31 - The world premiere of
300
will be taking place at the Berlin Film Festival
on Feb. 9th (outside of the competition). There hasn't been any definite confirmation whether David will be attending, but you can
watch a live video stream
of the press conference on their website,
Warner Brothers has generously offered to help Dessicated Coconut sponsor a promotional contest for '300'. Enter for a chance to win fabulous-but-as-yet-unspecified merchandise! I'll post a link to the contest page soon, once the prize information has been finalized.
1/27 - Here's some screenshots from
300: March To Glory
for PSP,
reviewed at Gamespot
. Get your Spartan on and play as either Leonidas, or a phalanx of generic Spartans.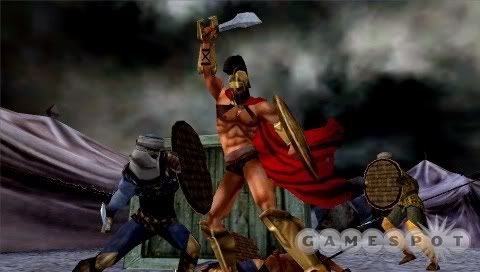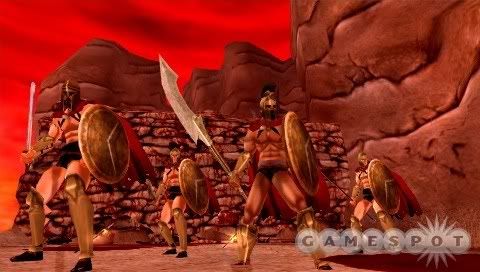 Or play as Dilios: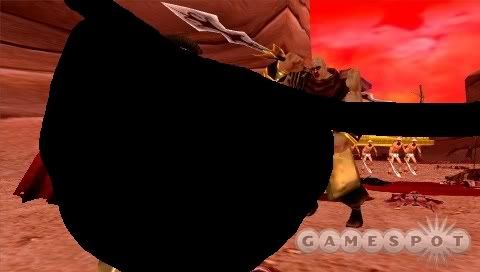 Nah, just kidding. But you have to admit, it would make the game more interesting.
"More significantly" (says the review) "you'll hear actor David Wenham serve as narrator in the game, just as he does in the film."
The 'Australia' buzz continues.... More Australia Casting News - This Time Official! from Cinematical, and Wenham Making The Trip To Australia from FilmStew.
David is mentioned on today's edition of Dave's Hollywood Minute, which spotlights "Australia", "300", and "Alvin And The Chipmunks".
1/25 - More confirmation of David's involvement in 'Australia':
Wenham Is Luhrmann's Ranch Hand - Hollywood Reporter, Jan. 25
Wenham To Appear In Luhrmann's 'Australia' - ABC News Online, Jan. 25
Faramir Rides For Baz Luhrmann - Cinema Blend, Jan. 25. "The more Wenham, the better." (Truer words were never spoken!)
As 300 gears up for release, Warner Brothers has unveiled a new poster and five new TV spots. You can view them at comingsoon.net.
1/24 - David's 'Australia' role has been announced! From the "Sydney Confidential" section of the Jan. 25 Daily Telegraph:
While guests at the gala were treated to the first sneak peek of the film, Confidential can reveal further details on the colourful characters set to be portrayed by the cast of A-list Aussies in the historical feature, set from 1930 to the Japanese's World War II bombing of Darwin. Kidman will play an English aristocrat who inherits the cattle station Faraway Downs and hires Jackman to move the herd across the country.

In a role almost seems penned especially for him, Thompson has been announced to play Kipling Flynn, a drunken accountant and flamboyant bon vivant.

Bryan Brown's suitably weathered features will perfectly suit the role of cattle baron King Carney, the single greatest landholder in the country's north.

Finally, it is understood David Wenham has joined the cast as the third lead, and will raise the dramatic stakes of the plot as Neil Fletcher, a station manager who plots to possess Faraway Downs.
*****
This sounds like a juicy role. Is Neil the grandson of Eden Fletcher?
In other news, the March issue of Starlog features "Carrying The Flame", a 4-page interview with David on the set of 300. A few excerpts from the article:
Carrying a sword is now secondhand for Wenham, who went through that training on Lord of the Rings. However, 300 gave the actor a new weapon to master: a spear. "That took some getting used to, because it's quite foreign to me. I've never fought with a spear before," he says. "But we were constantly drilled. We were here three months before filming began, training every day in a factory. Every day..."
He agrees that Dilios must feel the same emotions as WWII kamikaze pilots who were trained to die for their country but never got the chance. "The Spartans were schooled in that - the greatest sacrifice for them was to give their lives for the sake of Sparta. And Dilios was ripped off!"
As for his favorite scene, Wenham points to Dilios' address to the Greek soldiers that brings the Battle of Thermopylae full circle. "There is a big speech toward the end, that takes place a year after the film's major events," says Wenham. "Essentially, time has passed, and the story of the 300 has been enough of an inspiration to rouse tens of thousands of troops to avenge themselves against the Persians, and Dilios basically leads them. It's a classic, rousing speech in the mold of Henry V."
Since Dilios is such a physical role in such a physical film, does Wenham ever long for more serene, quieter scenes? "It depends on what day you ask me," he opines. "I love the physicality of this, but some days I would like to be in a play, sitting on stage, not saying terribly much, and having a cup of tea. I'm attracted to a wide variety of things, and I have very eclectic tastes, so it's not as though I'm locked into doing one particular thing."
After wrapping 300 (which is set to premiere March 9th), David Wenham jokes that his goal is to finally, after three years, seek out the Sun. "I'm going to lie on a beach! For some strange reason, I keep following winter around the world. For the last three years, I haven't had a summer. I've gone from winter to winter to winter. I come from Australia. I need the Sun!"
1/23 - Check out this wonderful site,
Baz The Great
- it's got a lot of information about the upcoming movie 'Australia', and Baz Luhrmann.
If you're wondering where yesterday's ancient David clip came from, the guy who posted it writes: "I was cleaning up and found an old interactive CD-ROM training product about interviewing skills that I worked on for NSW TAFE OTEN in the early 1990s. It happens to contain a clip by actor David Wenham, well-known in Australia. I don't know when this clip it was filmed, perhaps around 1992. So I thought I'd bung it up to YouTube."
From a recent Jo Blo '300' set visit, we learn of the training regime used to whip the actors into shape:
A quick training session would take as little as 5 minutes while a long training period would go as long as 20 minutes. Sounds like peanuts, right? Think again. I've jolted down the training regime for ya while nobody was looking:
SPARTAN UP TRAINING: 24 pull ups - 50 deadlifts - 50 push ups (sometimes on handle bars) - 50 box jumps - 50 floor wipers (dragging a huge tire attached to one's waist across the room and back) - 50 kettle bar clean n' press and 25 pull ups. And yes that makes 300 reps in all! Get it! 300!
Very impressive, although I have no idea what a kettle bar clean 'n' press is. My guess is it's an industrial machine that produces potato chips.
Even though it violates company policy to say so, this video clip of young David is just adorable.
(thanks Raichel!)
1/21 - If you're curious about 'Australia', there's a
nifty Australia website
devoted to the film, with cast & crew info, a plot summary, and a discussion forum.
The roles of the philandering husband and the evil cattle baron haven't been officially announced yet. (Just saying.)
1/20 -
Baz gives US a peek at outback epic bigger than Texas
David will be working with Baz Luhrmann once again, on the movie
Australia,
which traces an Englishwoman's cattle drive across Australia in the 1930s. The production will have a cast and crew of over 200 people, including Nicole Kidman, Hugh Jackman, Bryan Brown, Jack Thompson, and David. As Hugh Jackman describes it, "This is going to be on a scale never seen before. It's by far the biggest Australian film ever made." A promotional clip was shown in New York as part of a week-long G'Day USA promotion. Shooting is scheduled to begin in April, and will mostly take place in Queensland over a period of five weeks.
Yesterday, David was confirmed as a guest star at ORC (the One Ring Celebration) in Burbank, CA from March 9-11. Billy Boyd and Andy Serkis are also scheduled to appear. Attendees can sign up for autographs and photo ops. Maybe David will have time to sneak out and catch a flick: 300 premieres in the US that same weekend.
Answer To Last Week's Brain Challenge: Nike was the corporate sponsor for the ancient city-state of Thebes, not Sparta.
1/16 - Cultural Learnings of Dessicated Coconut for Make Benefit Glorious Nation of Dazeyfan:
Art of Dance Moves Beckett Audience To Tears
Daisy Petals TCG, an online trading-card game with a member forum and interactive puzzles.
1/15 - Today's '300' Brain Challenge: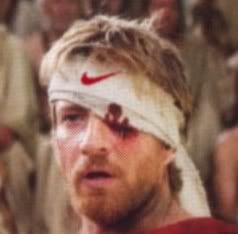 Can you spot the historical inaccuracy?
Australian Film Industry To Fade Away? Federal Government Must Step In Now Recent results from an Australian Film Commission survey show an ongoing decline of private investment in the local Australian film industry, along with a drop-off in foreign film production:
On reading the AFC's survey David Wenham, performer said: "The overrall downturn caused by a continued decline in private investment in Australian production as well as the drop in foreign features is dramatic and hurting a lot of my colleagues in the industry.
"Developing ways to have foreign production continuing to come to Australia needs to be looked at but the way you truly ensure a sustainable industry with regular employment and a critical mass is to build a strong local production sector. This can only be done by increasing the level of private investment in the industry and the current government review is a once in a generation opportunity to introduce a new investment incentive which will turn this around." said Wenham.
1/12 - GEEKS BEARING GIFTS
Tonight We Dine On Craft Services!!!!: 300 Set Visit Part 1
by Devin Faraci at CHUD. Bask in the radiant metallic glory of crushing, pushups, and weapons recycled from
Troy
. Also check out the accompanying interview with Gerard Butler, which offers good insights into training and blue-screen performance. Faraci promises forthcoming interviews with Zach Snyder and "other actors". Like maybe David?
Girly review of 300 at aint-it-cool by Saffy, who says that 300's milkshake will bring all the girls to its yard.
From the Slightly Relevant news wire: Sam Worthington, who starred in Gettin' Square with David, just landed the lead role in Avatar, James "Titanic" Cameron's upcoming blockbuster. This will be his first Hollywood lead (the first, we hope, of many more!)
1/11 -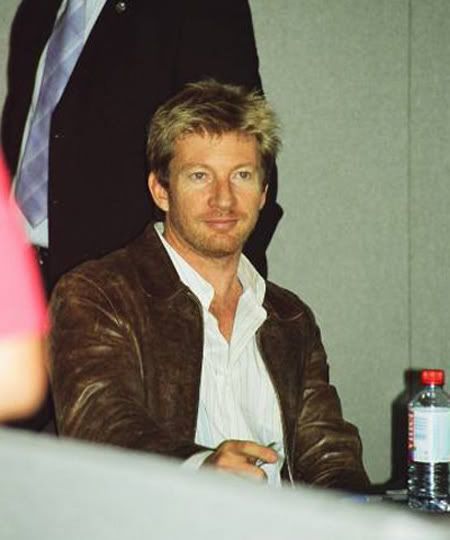 Photograph from Collectormania, taken by Frederica, reposted by Nenya. Yes, those were exciting days, back in the autumn of aught-six...
1/7 - Minkey, the ever-fabulous, recently made some scans of David-as-Dilios from the new book "300: The Art of the Film" (available wherever fine books about one-eyed Spartans are sold). He looks every inch a noble warrior-hero: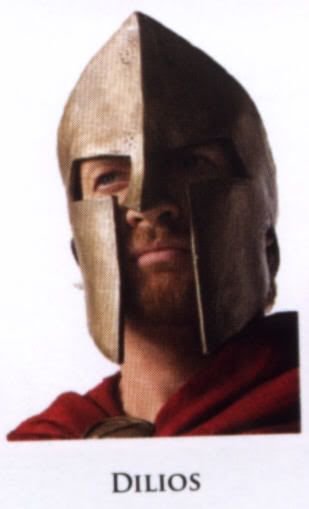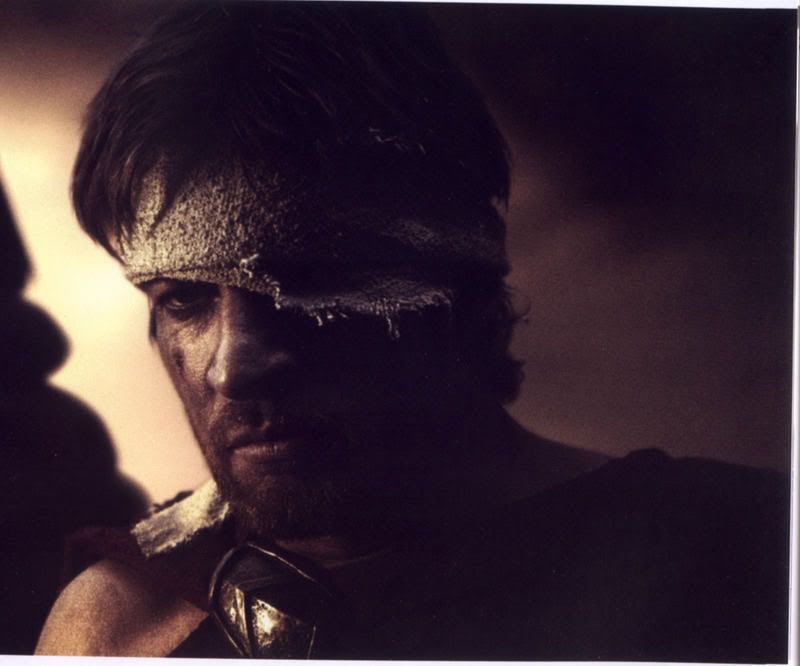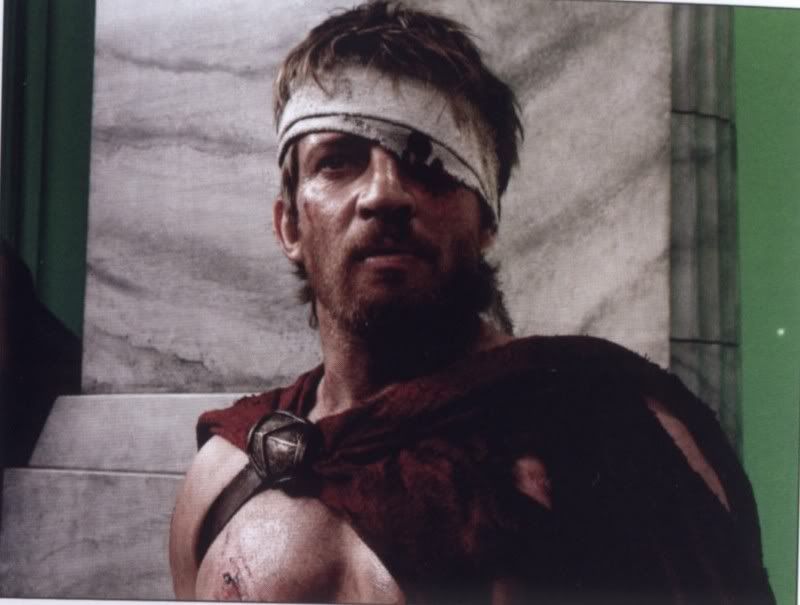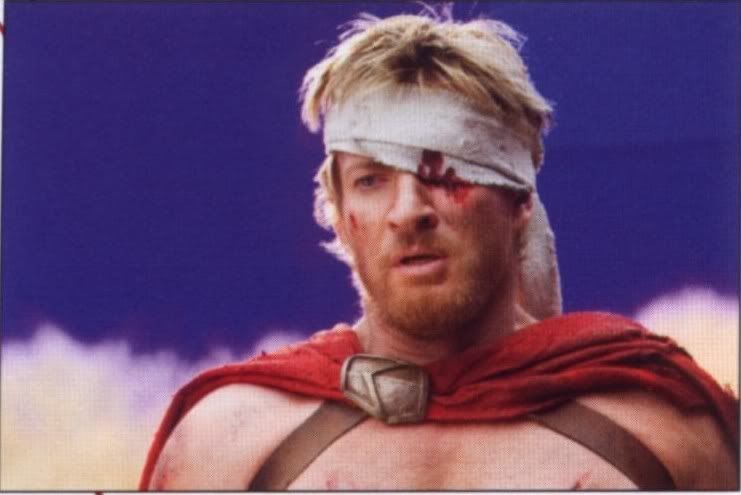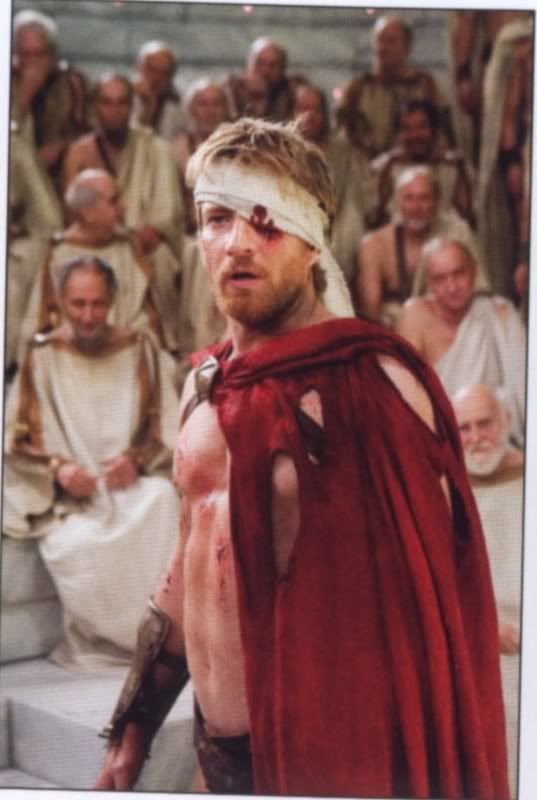 Performance Space Deflated the Spirits A cryptic SMH article which mentions David. Sample quote: "A disembodied voice asked us to close our eyes, think about what we ate today, touch our thighs, place hands on hips, and finally hit ourselves really, really hard while making silly faces."
The Newtown Jets Are 99 Not Out The Newtown Jets, David's favorite Australian rugby league club, turn 99 tomorrow.
Separated at birth? The Newtown Jets logo vs. the New York Jets logo...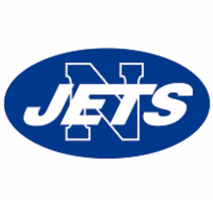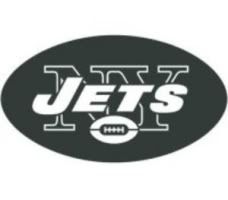 Wow, is that eerie, or what? Maybe they're actually the same team. Has anyone ever seen them in the same place at the same time?
1/5 - Comingsoon.net has just posted an excellent
behind-the-scenes tour of the '300' set
. The tour takes readers through the weapons room, the training regime, the Creature FX department, makeup, costumes, models, and more. It's impressive to see the amount of care, labor, and craft that go into making a movie like this.
1/3 - Warner Brothers has launched a
new '300' MySpace site
. The page contains the trailer, icons, wallpaper, links to the official 300 site, and lots of user comments. Leonidas' last login is listed as 480 B.C., back when web browsers were made out of dirt.
This is an excellent and very creative promotional idea for the MTV demographic, but it's too well designed. The page is missing several key MySpace elements:
1. Animated hearts raining down over the screen
2. Little butterflies that follow the cursor around
3. A visually unrelated and chaotic background tiled with leopardskin, "Nude Descending A Staircase", and/or a Mexican candy wrapper
4. <3 <3 lots of <3 <3 sideways hearts <3 <3
5. A profile for Dilios which includes a shirtless picture taken in the bathroom mirror:
ABOUT ME: YEAHHHH WUZ REAL!? i'm the silent type lol. don't hate me cuz i'm hot.
MOVIES: i love it when a movie does what is supposed to make a chick stick to u like glue. lots of killing uasally works for me. more than 5 deaths a minute is cool. KILL KILL MURDER MURDER hahaha
BOOKS: does it got pictures lol
INCOME: i steal sheep from neighboring farms
6. Friends list includes fake supermodels
Ultimately, however, I think the tastefulness of the MySpace spot will work in its favor, and the teens will swarm all over '300' like ants on a watermelon. (Those of them old enough to see R-rated movies, that is.)
According to my television, David is the most influential person who ever got mentioned in the Herald Sun.
WB uses 'The Iceman' to promote 300 Warner Brothers is teaming up with Ultimate Fighting Championship® (UFC) Light Heavyweight Champion Chuck Liddell to promote 300. In return for sponsorship of Liddell's Dec. 30th fight in Las Vegas, Liddell will be making personal appearances, and lending his name and likeness to various promotional activities in support of the movie.
For example, it's rumored that Chuck and David will be duking it out for the Ultimate Acting Championship™ title with uranium-tipped staple guns and copies of The Cherry Orchard in Yankee Stadium on Valentine's Day. Only one will prevail!
Where did that rumor start? Oh, right. Here.
Here's an interesting Frank Miller '300' fan site which has lots of fascinating little tidbits related to Greece, Thermopylae, the movie, and Frank Miller's graphic novel. It's well worth checking out.
From The Bulletin of Dec. 30:
One of the people behind the very funny Chris Nyst-written film Gettin' Square, Chris Stear told that planning was well in hand for another Nyst film in the same genre. The working title is Crooked Business which Chris Stear will produce with the rest of the production team. They are finalising the cast before putting the complete package together.
We can only hope that David Wenham can find time in his current hectic schedule to come on board.
Wouldn't that be something?!