December 2008
12/19 - Australia Kritic's Korner (thanks to Neil for rounding up these quotes):
"Surprisingly, Brown's character did not end up as the movie's main antagonist. That task fell upon David Wenham, who portrayed Neil Fletcher, Lady Ashley's station manager and later, business adversary. Recalling Richard Roxburgh's over-the-top performance as the Duke of Monroth in "MOULIN ROUGE!", I had feared that Wenham would utilize the same approach. Thankfully, Wenham's villainy turned out to be more nuanced and low key. He gave a perfect portrayal of an insecure man who not only harbored a deep resentment toward the more privileged types like Lady Ashley and King Carney, but was too racist to acknowledge his own half-white/half-Aborigine son, Nullah, who also happened to be tribal leader King George's grandson." -- Felaries65

"It's Wenham that fascinates as the brooding, soft-spoken Fletcher, nemesis of Lady Ashley, a venomous presence who slithers through scenes, never talking directly to, or looking at, those he's attempting, very effectively, to intimidate." -- Little Village Magazine
"David Wenham, another of my favorite actors, whose been in such movies as "The Lord of the Rings" trilogy, "Van Helsing," and "300," not to mention "Moulin Rouge," stars in this movie as our bad guy, Neil Fletcher…David Wenham is a great actor, and never before have I seen him in such a villainous and mean role, but he DEFINITELY pulled it off, and did well with it, making it a VERY convincing, and very MEAN bad guy, that many will fear and hate. He really gets the whole revenge and mean aspect down as well, and ties it all together very nicely. Plus, he's got the advantage of having worked together with Nicole Kidman already, since they were both in "Moulin Rouge," as well as having worked with Hugh Jackman already, since they both did "Van Helsing" together. So he was able to feel at home with two actors that he's already worked with. David Wenham delivers a performance that is convincing, believable and realistic, and makes it just an overall AWESOME bad guy/villain. He was DEFINITELY ANOTHER great casting choice for this movie." -- Movieweb
"The conflicts in this film arise out of direct competition, excessive greed, an a policy designed specifically to breed the black out of the aboriginal population. Fletcher is portrayed as a heartless fiend who always appears accompanied by minor chords that inform the viewer that he is a man who cannot be trusted. His blind ambition gains him absolute control of Carney's properties but he is not satisfied with what he has. He's cruel, meanspirited and violent. The film portrays him as something of a demonic figure who possesses no human qualities until the very end when everything goes soft and even his character is slightly redeemed. It's all in a simple facial expression but it proves that he is capable of exhibiting actual emotion regarding a tremendous personal loss.
… David Wenham has a sinister look in his eye for the duration of the film. He sells his character's essential corruption through gestures and movements. There isn't a single moment until the very end when the audience isn't aware of just how we are supposed to read this particular character." -- Cosmic Film Trigger
"The antagonist, Neil Fletcher, was brilliantly portrayed as well, by Sydney native David Wenham. Fletcher, a convincingly ruthless character for which one finds no sympathy, is remarkably brutal and seemingly without conscience. His portrayal also requires the question of whether there might have been more to his motivations than what was presented by the film." -- The Navigator


"David Wenham (who is usually good) was Fletcher - the most villainous villain in all of Villians-ville with a degree in Villainy from the University of Villains (sorry Black Adder)." -- Paula Hewitt
DISCUSSION QUESTION
Who is more evil: Neil Fletcher or Darth Vader?
| | | |
| --- | --- | --- |
| | Neil | Vader |
| Does dirty work for shadowy mastermind | R | R |
| Hungers after vast territory, trade monopoly | R | R |
| Tries to murder own son | R | R |
| Not nice to cows | R | £ |
Oo! So close, but I think we have to give this one to Neil.
NEXT WEEK: Neil Fletcher goes head to head with Mr. Potter from It's A Wonderful Life. "Every time a bell rings, a fly loses its wings."
12/9 -
I really don't know what possessed me to write this mildly spicy Australia fanfic.
Neil Fletcher: Crepuscular Land Pirate
Poor Neil: he's just a gentle, misunderstood soul, trapped in a world he never made.
(Not.)
12/5 -
More Australia premiere pics: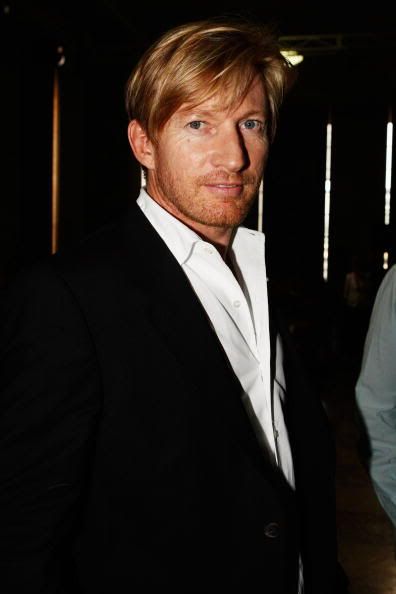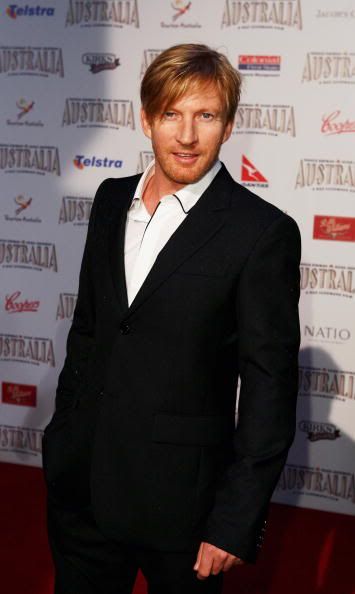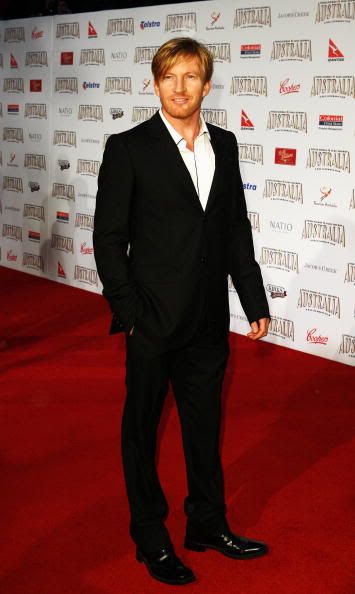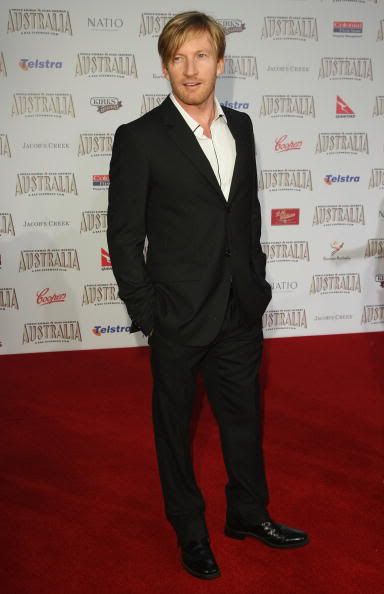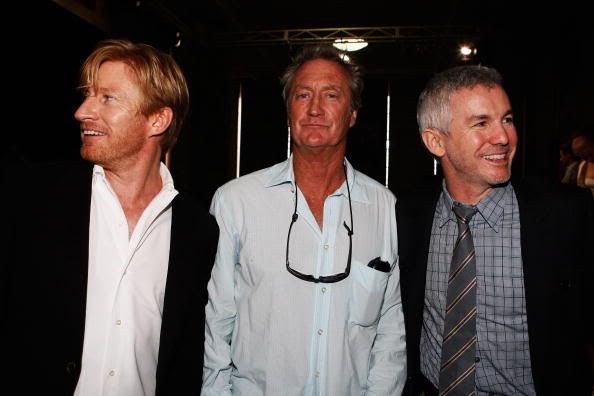 In all of the hubbub and tumult over Australia, this little news item nearly went unnoticed:
(Nov. 28 Herald Sun)
(Nov. 28 Daily Telegraph)
Daughter Millie arrived a few weeks ago, joining her sister Eliza Jane. Congratulations to David and Kate on the new addition to their family! (Thanks to Minkey for the update).
12/2 - Australia came in at 5th place in last weekend's box office, behind Four Christmases, Bolt, some teenage vampire flick, and James Bond. So, a respectable opening, though not boffo. Hopefully, word of mouth will continue to lure people in to the theaters.
On the bright side, it did better than Beverly Hills Chihuahua.
Over in today's Grove, I review Australia and ramble feverishly about the vile, vicious, varmint known as Neil Fletcher (and his venomous veal vendetta). Warning: major plot spoilers.
November 2008
11/18 -
Australia premiere pics are here, in quantities so large they boggle the mind. Posting them all here would be like trying to drink from a firehose. Here's a small, representative sample. You can see more at Getty Images, Wire Image, Just Jared, and JAMD.com. (thank you to Nenya, bellis, and miwa for rounding these up)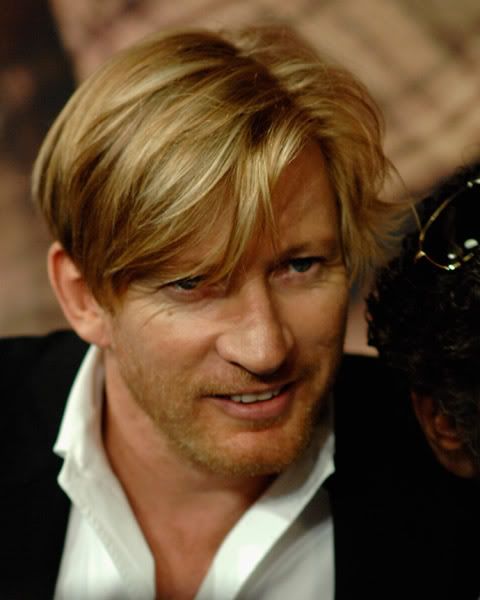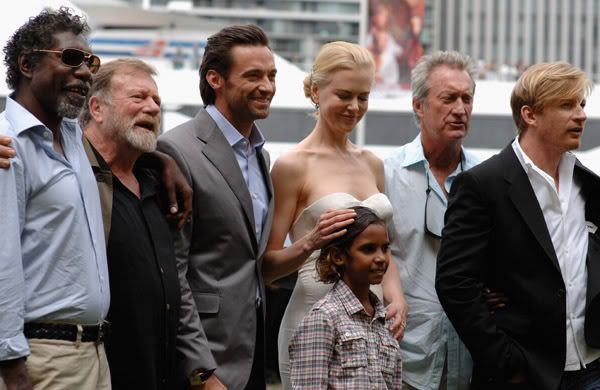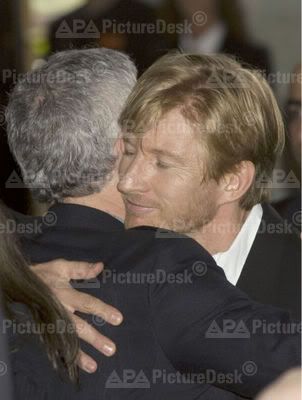 A job well done!!
You have no doubt already applied your keen, Sherlock Holmes-like powers of deduction to the photo with the Sydney Opera House in the background, and surmised that David was not at the Bowen premiere. Right again, my dear Watson! He attended the red-carpet gala in Sydney with Baz Luhrmann, Hugh Jackman, Nicole Kidman, and an invited guest list of over 3,000.
At the press conference beforehand, David had a few words to say about his character:
Nicole Kidman and Hugh Jackman are not the only Aussie acting icons in Luhrmann's epic Australia. Yesterday David Wenham said he had a hard time deciding to play the villain, a racist and scheming station manager, Neil Fletcher. "Baz convinced me to come over to the dark side," Wenham said at the press conference before hinting that his Machiavellian character was based on a real person, encountered by Luhrmann on an early trip to scout for scenes. "In the trip they did to the outback they met a character who was very similar to the character I play in the film," Wenham said before he was silenced by protests from Luhrmann.
Fletcher does sound like an unpleasant fellow, based on the description of his character in this article (warning: major plot spoiler)
11/17 -
Well, that last update was certainly....interesting. As long as I'm in here scrubbing scorch marks off the ceiling, here's some more Australia news:
Mayor Mike Brunker says the Bowen premiere is going to be local stars only. No David, no Jack Thompson, no Bryan Brown. It's not clear which red carpet David will be treading, if any.
The Age is complaining that Australia is "way, way too long" (and this is bad because....why?) but they give high marks to David's performance:
The story involves a prissy English woman (Nicole Kidman) who, with the help of a stockman known enigmatically as "The Drover" (Jackman), tries saving her troubled cattle station from a greedy cattleman (Bryan Brown) and his evil relative (David Wenham)....Performances are fine throughout, with Wenham as the bad guy cattle heir putting in the best work. As the quintesential outback Aussie bloke, Jackman is a sort of ocker liberal who stands up for women and the right of blackfellas to drink in pubs. He's good value, as usual.
11/10 -
Screencaps of the Australia trailer from Australia.net: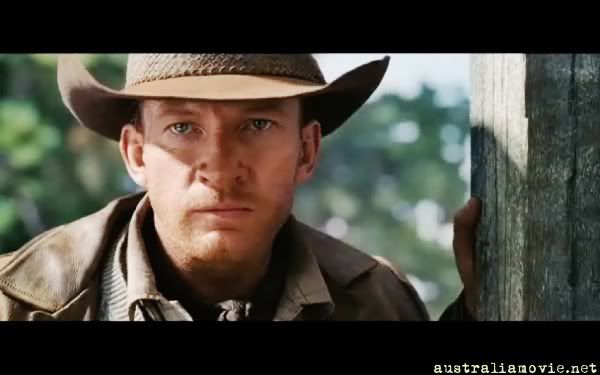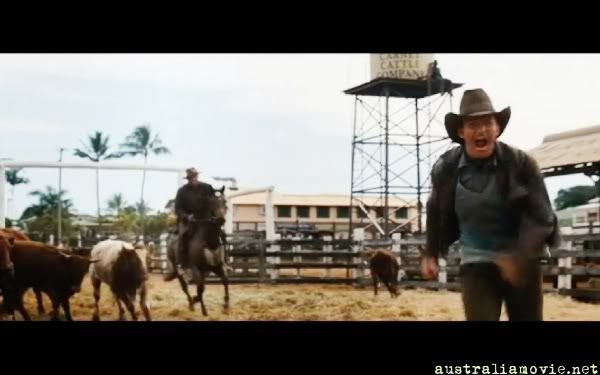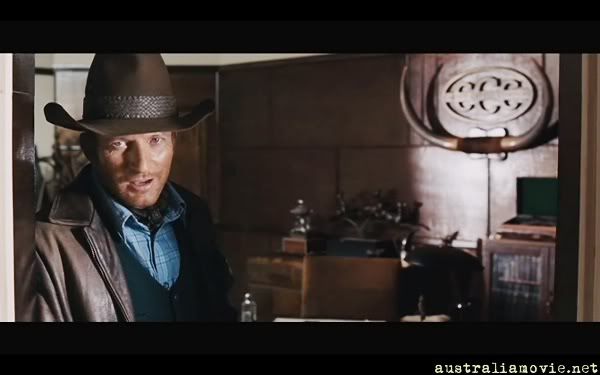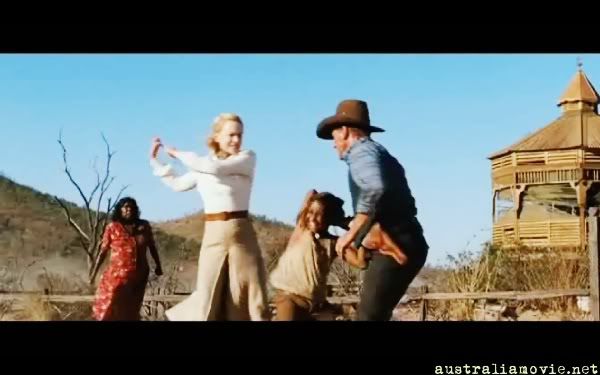 11/5 -
Advance Australia The Sydney Morning Herald sez:
After all this film activity, the much-anticipated premiere of Baz Luhrmann's epic Australia will take place on November 18 in Sydney, with screenings held the same night in two of the shooting locations - Darwin and Bowen in Queensland.
Twentieth Century Fox Film Distributors confirmed yesterday that the premiere will be at Greater Union George Street with stars Nicole Kidman, Hugh Jackman and young Brandon Walters joining Luhrmann and Catherine Martin, his wife and the film's costume and production designer, on the red carpet.
Plans for the film's launch have been held back while the director raced to finish it. Luhrmann told the Herald a fortnight ago that the timing would be so tight that he planned to deliver Australia reel by reel.
Fox is also planning a fourth event on the same night at another screening location - Kununurra in the Kimberley region of Western Australia.
The film, with Kidman as an English aristocrat who travels to Australia and journeys across the country with a rough drover played by Jackman, opens on November 26.
Oprah Winfrey will be airing a special episode devoted to Australia on November 10th:
THE official big sell of Baz Luhrmann's epic Australia began in the US yesterday with Nicole Kidman and Hugh Jackman recording an exclusive episode with daytime TV maven Oprah Winfrey.

The Aussies flew to Winfrey's studios in Chicago, with Jackman excited at making his Oprah debut.

Earlier speculation had the internationally renowned chat show host flying to Sydney to stage her own Fox film showcase on local soil.

Those plans were changed, however, because of the pending presidential election - and Winfrey's behind-the-scenes backing of Democrat candidate Barack Obama.

That left the media mogul unable to accommodate the flight in her tight schedule.

For the ever-busy Kidman and Jackman, the talk show appearance triggers a 10-week worldwide press push of Australia, which will see them launch the much-anticipated movie in Los Angeles, Sydney, London and Paris.
Filming is complete on Pope Joan. Everything went smoothly, and director Sonke Wortmann is "very pleased" with the result.
11/4 -
The third trailer for Australia is out, this time offering some fleeting glimpses of the enigmatic riddle that is Neil Fletcher.
The australiamovie.net site has a link to a CNN special report on the Asian Pacific film industry, featuring an interview with Baz Luhrmann and a new scene featuring dialogue between David and Nicole Kidman. Here's a screencap from the scene (taken by australiamovie.net):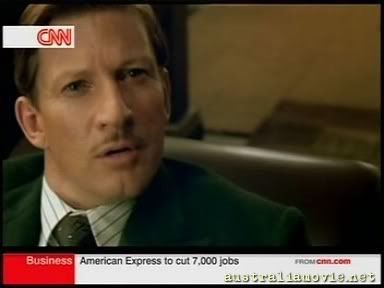 And here's a really nice blog post about Australia and Hugh Jackman, which also has some lovely things to say about David, from someone who met him at a convention.
October 2008
10/30-
Whoops! Looks like David isn't in Separation City after all. And it's not called Separation City, it's called The Truth About Men.
I'm sorry, but you'll just have to readjust your entire notion of reality.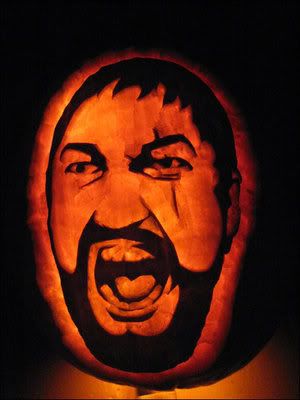 Check out this awesome '300' jack o' lantern, carved by ~JRSly.
10/16 -
Separation City will begin filming (or "lensing", in Variety parlance) sometime this month, in New Zealand. Earlier this year, David was confirmed as the male lead.
10/13 -
The Big Pond site has a page for Australia and a bio of David featuring this handsome rectangular facsimile of Neil Fletcher:
10/6 -
Great Xerxes' cranium polish! There's been a fresh outbreak of buzz over the planned 300 sequel, which Frank Miller is currently hard at work on. Zach Snyder says it will show the events in between the battle of Thermopylae and the battle of Plataea (where we last see Dilios, giving a pep talk to the newly reformed Spartan army). Some excerpts from various articles:
"Snyder revealed that Frank Miller is actually planning to write another graphic novel that would take place between the Battle of Thermopylae and the Battle of Plataea (that was at the very end of 300). So it's actually not really a sequel or a prequel, but a combination that would seemingly be focused on the character of Dilios, played by David Wenham in 300....I'm sure I'm not the only one that wanted to see Dilios lead those 10,000 Spartans in the fight against the Persians at the end of 300." (Zack Snyder Reveals Story Details for 300 Sequel)
"Hopefully, this means Dilios, and the underrated David Wenham who plays him, will now have a much bigger role. Wenham is more than due for a big breakout." (300 Sequel Details)
"Simply asked when the second 300 film would be based, Snyder responded saying it would take place
'between the Battle of Thermopylae and the Battle of Plataea'
the latter of which is where the first film ended off with Dilios, the one-eyed narrator (played by my favorite, David Wenham), leading the Greeks into battle." (A Prequel/Sequel To 300!)
Will David once again take up tractor tires, almonds, and cottage cheese for the cause? Or will Frank Miller cleverly draw the Spartans as flabby, unshaven couch tubers in baggy robes, thus circumventing the need for a physical training and wax regime?
September 2008
9/29 -
The full-length, 2-minute trailer for Australia has just been released. You can watch it here, at the msn video site.
David is in it, very briefly:
Now, don't go worryin' your purty lil' head that there's so little of David in the trailer. Obviously, it's a subliminal advertising campaign. Instead of flashing EAT POPCORN or BUY COKE, they flash David, and the subconscious mind does the rest. Hordes of people will have an intense craving to go see this movie, and they won't have the slightest idea why. But we'll know.
9/21 -
Happy Birthday David!
This year, we celebrate with a special "Public Enemies"-themed cake. Everybody duck!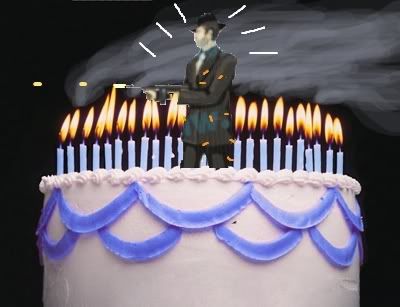 (I was going to do a "Pope-lic Enemies" cake, complete with a tommy-gun wielding medieval pontiff popping up out of the icing, but I'm already on thin ice with the deity upstairs....)
Speaking of which, we've obtained some sneak preview film posters for Pope Joan: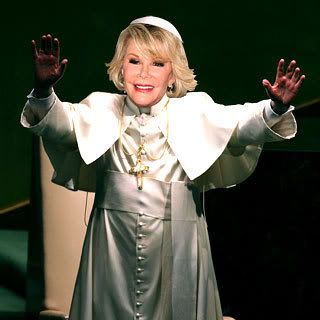 We all wish David a special day filled with happiness and contentment, and hope that the coming year brings continued creative success.
9/2 -
The teams are lined up: Wayne's in, Eddie's out
A portrait of David is appearing in the
Focus on Footy
exhibition in the atrium of the Crown Casino. To mark the 150th anniversary of Australian Rules Football, players, coaches, and high-profile fans posed for photographs earlier this the summer.
Quoth The Age: "Actor David Wenham turned down the wrap party for the Johnny Depp gangster film Public Enemies in Chicago for his shoot as a Swans supporter." The exhibit will be on display from Sept. 1 through Oct. 5.
YESTERDAY'S presentations by Fox and Sony were dominated by those two films. Australia star Hugh Jackman presented extended footage and a scene from the film and admitted that while watching footage when recently re-voicing scenes, "I constantly found myself watching the screen (and) going, 'Wow, I'm in one of those movies."' Jackman said he had doubts about Luhrmann appropriating his homeland's name, but "I really think Baz has earned the title". An early scene, featuring Nicole Kidman, Jackman, Jack Thompson and a terrific David Wenham, suggests a comic, Chips Rafferty-style tone, although an extended highlights reel indicates the film slips easily into Gone with the Wind and Lawrence of Arabia territory.
Those close to Reel Time know what a cynic he is, but Luhrmann and Catherine Martin's film appears to be a visual and emotional feast. And a long one: some exhibitors have been told to expect the film to be at least 2 1/2 hours long. Reel Time hears Luhrmann has delivered a three-hour cut which his studio wants snipped to two hours and 20 minutes. But local exhibitors are willing to take whatever they are given, after Jackman's charming and convincing presentation.
Ahhhhhh. Let's linger for awhile over that word "terrific", shall we? I love the smell of critical praise in the morning.
August 2008
8/31 -
The Australia release has now been moved to November 26th, five days after the Harry Potter movie would have been released before it was moved.
Also, Married Life comes out on DVD Tuesday, four days before the weekend after the day that Public Enemies would have been released, had they not decided months ago to wait until a later date that may or may not fall before the release date for Pope Joan, but sometime after the date that Children of Huang Shi becomes available on DVD.
In tomorrow's update, we reveal that November is coming out before December.
8/22 -
The good news: Warner Brothers has delayed the release of the next Harry Potter movie, which was originally scheduled for November 21. That means Australia's November 14 release (and box office) won't be overshadowed by the excitement and publicity that usually surrounds Harry Potter openings.
The bad news: Warner Brothers is releasing the next Harry Potter movie on July 17, 2009, just two weeks after Public Enemies comes out.
APA-PictureDesk posted several more images from the Pope Joan photo call (thanks to Miwa for finding, and bellis for de-watermarking)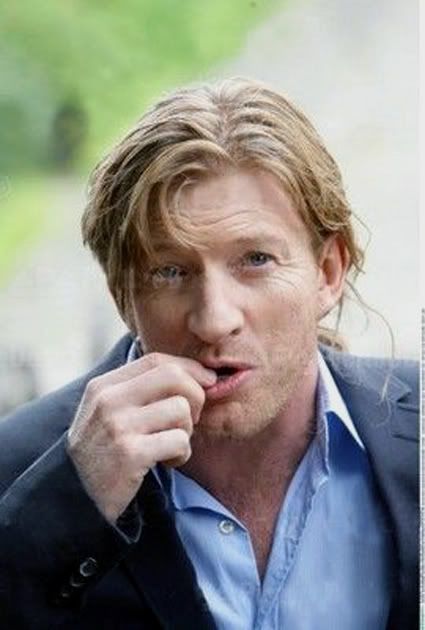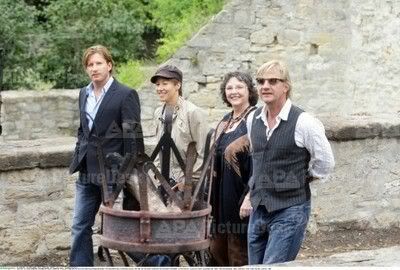 8/20 -
From an article at bild.de: "The Middle Ages meet modern times! Two actors - one in a chain mail shirt, the other one with sword and shield - at Querfurt castle. In the background, a parking lot."
Poor Gerold looks like he's in need of a modern-day aspirin. Or some leechcraft and a mugwort poultice.
The article reports on shooting for a key battle scene in which Joan's brother is killed, and she disguises herself and assumes his identity. Over 80 people playing corpses had to lie very still for hours, at the end of which the set was burned, under the supervision of a fire safety squad.
As long as you're here, have a few more sword practice photos. (Thank you, missdaisy, for sharing these!)
8/14 -
Two very preciousssss (and very contraband) behind-the-scenes photos from Pope Joan have been posted at David Wenham Daily. Here's a sneak peek at one:
Nenya shares this photo from a German article which has an interesting quote from Johanna Wokalek:
The Australian actor brings international flair into the rural province. Wokalek is worried about the quality of her love scene with knight Gerold, played by heartthrob Wenham. "I hope to live up to expectations.".....Wenham, who's filming for the first time in Germany, gives high praise to the incredibly accurate details of the film. "And I'm glad to play a good knight for a change," said the Australian.
The Thinking Woman's Crumpet: Scientific Proof That David Movies Make You Smarter
Albert Einstein Before Watching Better Than Sex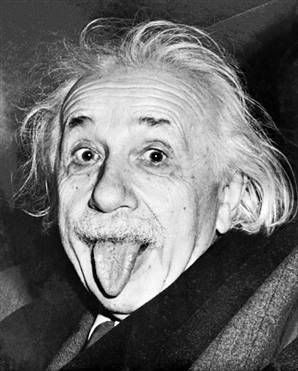 Albert Einstein After Watching Better Than Sex
8/12 -
Behold, Kunte Kinte! The only thing greater than yourself! (Huh? I don't get it)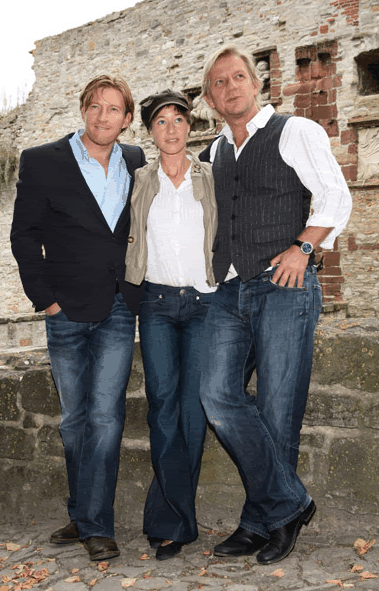 These images are from a press conference and photocall at Querfurt Castle held on Saturday to kick off filming for "Pope Joan". David posed for photos with co-star Johanna Wokalek (at right in photo #3), director Soenke Wortmann (at right in photo #4), author Donna W. Cross, and producer Martin Mosckowicz.
This is just the tip of the iceberg. There's more photos at David Wenham Daily, Wire Image, and Getty Images, and 4 YouTube videos (eins - zwei - drei - vier).
Who knows, there may even be a feature-length movie someday.
8/11 -
July 2008
7/30 -
David's going medieval.....
John Goodman returns to 'Joan' - Variety, July 30
BERLIN — John Goodman has returned to star in Soenke Wortmann's medieval drama "Pope Joan" after settling a legal dispute with Constantin Film.
Australian thesp David Wenham ("300") has also signed on to the pic, which recounts the 9th-century legend of a woman who, disguised as a man, manages to ascend the papal throne.
Johanna Wokalek ("Der Baader Meinhof Komplex"), who replaced Franka Potente earlier this year, toplines the adaptation of Donna Woolfolk Cross' 1997 bestseller.
Constantin, which filed a $3 million lawsuit against Goodman last year, said in a statement that the case had been settled, with the parties agreeing not to comment or disclose terms of the agreement.
Goodman, who most recently appeared in "Speed Racer," stars as Pope Sergius, while the busy Wenham, who appears in Michael Mann's "Public Enemies" and Baz Luhrmann's "Australia," plays Gerold, a kind knight who becomes Joan's greatest love.
7/28 -
20th Century Fox Uses BAM Studios For "Australia" ADR
Dave Wenham, who plays Fletcher, recorded ADR Lines at BAM for Baz Luhrmann's newest and upcoming film "Australia". "Australia" tells the story of Northern Australia Before WW II, and the bombing of Darwin Australia, told through an English Aristocrat's experiences.
(from BAM Studios News)
Pierce Brosnan's Vulnerable In Ira Sachs' Married Life (Melbourne Herald Sun, July 28)
Australian David Wenham as the fifth wheel of the story plays the wife's rough-edged, sexually magnetic artist lover.
"I had seen David in The Boys and I needed someone who was as good an actor as the other four. I immediately thought of him," Sachs says.
"I generally like character actors who can be leading men and leading men who can be character actors.
"David, like Chris Cooper, can be both. He's a nimble actor. He has a charge to him, in person as well as on screen.
"I have to see him as Diver Dan. Everyone keeps telling me about SeaChange. I'm going to see him for dinner tonight so I'll tell him he's got to get me a copy."
Talent Spotted (Sydney Morning Herald, July 21)
Sydney's western suburbs have proved an unlikely casting couch for a film set in the glamour days of Hollywood. It was David Wenham's performance in The Boys (1998) that caught the eye of director Ira Sachs, who cast him in a supporting role in his latest film, a murder-drama, Married Life. The film - based on a 1953 John Bingham pulp mystery novel, Five Roundabouts To Heaven - is set in 1949 and Wenham joins a cast that includes Chris Cooper, Pierce Brosnan, Patricia Clarkson and Rachel McAdams.
"I had seen David in The Boys … when this role came up I thought he would be perfect for the part. I needed someone who would be a bit rough around the edges and a bit more 1950s. A Jack Kerouac type," Sachs said. The film - about a married, middle-aged man in love with another woman, who decides it would be kinder to kill his wife than divorce her - premiered at the Sydney Film Festival and is Sachs's first since winning the Grand Jury Prize at the Sundance Film Festival in 2005 for Forty Shades Of Blue.
*****
Actual headline on the front page of the New York Times, July 18:
Cast Of 300 Advises Obama On Foreign Policy
No, it's not what you think. But it's an amusing idea...
Barack Obama: What say you about the situation in the Middle East, my dear fellows? Diplomacy, or further military intervention?
Department Of Defense: Ha-OOO-ah! Ha-OOO-ah! Ha-OOO-ah!
Barack Obama: Interesting. And what about North Korea's Greek Fire capabilities?
Secretary Of State Leonidas: COME AND GET IT!!!!! NYAAAUUGHAIAAAAIIGHHHHHHGHGHGHHH!!
Hillary Clinton: Don't feel bad, Senator Obama. John McCain's getting his foreign policy advice from the cast of Deathstalker IV: Match of Titans.
7/2 -
Legendary Pictures Wants Legend Frank Miller's Followup 300 was so successful, Frank Miller is currently working on a graphic novel that may be turned into a sequel (or prequel) to 300.
On Monday, David and other principal cast members from Public Enemies were filming a scene at the Santa Anita horse racing track in California. Here's a description from someone who was there:
I returned again and with my binoculars was able to watch them film the horse racing scene. They shot the crowd cheering on their horses. I noticed one of the "out riders" (people who help hold the horse while warming up) looked VERY familiar to me… hmmm. The actors involved with this scene were: Johnny Depp ( Dillinger), Bill Camp (Frank Nitti), John Ortiz (Phil D'Andrea), David Wenham (Pete Pierpont), Stephen Dorff ( Homer Van Meter), Marion Cotillard (Billie Frechette), and Christian Stolte (Charles Makley). I was able to snap a few pics with my little camera, but the distance was a problem.
The story includes a few photos taken during breaks in the filming, although it's hard to tell which one of the mob is David.
And another eyewitness perspective:
Oh jeez, I too ADORE this man. He is such a brilliant actor and definitely underated. I got the wonderful privilege of glimpsing him in a SUV in columbus, and proceeded to jump up and down yelling ITS DAVID! ITS DAVID!!!! I did make quite the scene, but am very happy to say he saw me and gave me a nice little grin! I was hoping that he would come out later to maybe meet the shouting little girl who recognized him, but no luck... :( After Johnny Depp, he is by far my favorite actor in this movie!!!!!
June 2008
6/18 -
Local Flicks More Popular Than Credited According to a research study financed by the Film Finance Commission Australia, moviegoers "indicated they would rather see a film featuring Australian talents such as Hugh Jackman, Nicole Kidman, the late Heath Ledger, Abbie Cornish and David Wenham than a film featuring an American celebrity such as George Clooney. Research showed there were opportunities to position Australian movies as entertaining, feel good, fun, and films with good acting."
Details of the study:
BIG SCREEN STORY: AUSSIES ARE KEEN TO WATCH AUSSIE FILMS
Based on the poster how interested are you in seeing this movie at the cinema?
Australian*
Definitely not interested ............... 4%
Probably not interested ................ 10%
Might or might not be interested ... 22%
Probably interested ..................... 35%
Definitely interested ..................... 28%
American* *
Definitely not interested ............... 4%
Probably not interested ................ 10%
Might or might not be interested ... 22%
Probably interested ..................... 36%
Definitely interested ..................... 27%
Australian*
* Viewers were shown dummy posters of an Australian film featuring a US star (George Clooney, Abbie Cornish, David Wenham) and a film poster with all Australian stars (Hugh Jackman, Cate Blanchett, Heath Ledger)
American**
** Viewers were shown a dummy film poster of a US film with all US stars (George Clooney, Kate Hudson, Jake Gyllenhaal) and a US movie with Australian stars (George Clooney, Cate Blanchett, Hugh Jackman)

Now, aren't you curious as to what this dummy David Wenham - George Clooney film poster looked like? My guess is that the film title was either "Batman & Carl" or "O Junkie, Where Art Thou?".
After reading this article, it was clear that a follow-up study was needed. I abandoned my plan to spend the evening carving bas-relief scenes from Molokai into all the guest soaps in the household, and buckled down to work. Fellow Daisy fans were presented with some hypothetical cast lists, and asked to indicate whether they'd be interested in seeing the film. Here are the results:
David Wenham, Toni Collette, a talking wombat named Mr. Wuzzles - 100%
David Wenham, Ashton Kutcher, a plate of spaghetti - 100%
David Wenham, Sean Bean, Gerard Butler, Alan Rickman, Hugh Jackman - 237% (several respondents said they'd be willing to see this film more than once)
David Wenham, Hulk Hogan, Peter Lorre, Linda Blair - 100%
David Wenham, Al Gore, the Antarctic ice cap - 100%
David Wenham, Evel Knievel, U.S. Bureau of Public Roads spokesperson, uncredited bystanders - 100%
Okay, so the sample might be a tiny bit biased, but I think there's a clear message here. All of us would watch a TV test pattern if David was in it.
6/12 -
In honor of Father's Day this Sunday (in the U.S., U.K., the Netherlands, France, Chile, Argentina, Canada, Lithuania, and Japan), here are some old Father's Day cards, which were discovered in the archives at Minas Tirith by Gandalf while he was poring over ancient, fragile, and incredibly rare documents with his lit torch and open goblet of wine. Talk about lax security. I'm surprised the reference librarian didn't hand him a black magic marker and tell him to go ahead and play Tic-Tac-Toe in the margins and draw goatees on all the elves.
6/10 -
The australiamovie.net site has a gigundamundo list of international release dates for Australia.
Public Enemies shooting moves to Milwaukee today through Friday or Saturday, then down to Miami for some late June filming. (Yikes...wool gangster suits in south Florida in the summer?! That's nearly as insane as leather briefs in Montreal in the winter.)
Here's a lengthy plot synopsis of Separation City, which will cause all of the inanimate objects on your desk to caper with delight and burst into intoxicating song.
Or, if you'd rather not see spoilers, you can primly refrain from clicking the link and save your virtue for the movie. That's between you and your God.
6/5 -
David's been confirmed as the male lead for a new movie, Separation City, which starts shooting in New Zealand in July (subject to funding approval and the collective ohpleaseohpleaseohplease brainwaves of DW fans around the globe). Thanks to wenhamswans for finding the link.
Scenes For New Movie To Be Shot In Wairarapa
The article notes that the two leads (David and Dutch actress Carice van Houten) have "narrow schedules". Last Man, David's other upcoming project, is also scheduled to begin filming in Australia later this summer (or winter, rather).
Here's another review of Children of Huang Shi, which mentions David in passing: Journey to Huang Shi
6/1 -
The Australia trailer is available at apple.com, and you can find screen caps at the Australia gallery. The top image is from the extended alternate trailer, bottom two are from the "Set to Screen" podcast #4.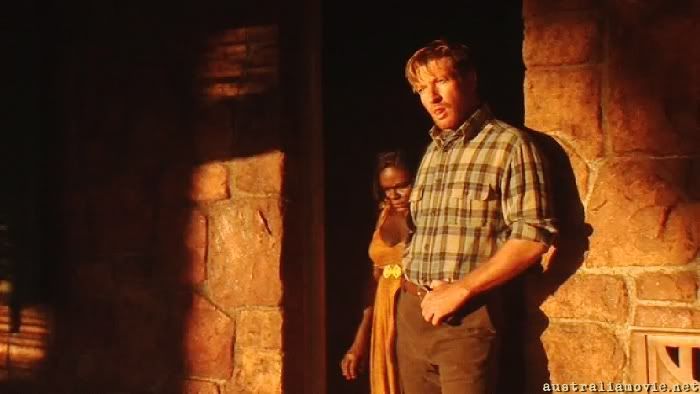 Nenya found a thoughtful blog review of Dust which praises David thusly: "Wenham, however, excels in facial expressions, and his non-vocal performance speaks more than most. Not just in looks and glares, but physically Wenham takes on the rough cowboy bumps and bruises and pains. You look at Luke and just know that had to hurt. Wenham's heart and soul is onscreen, and regardless of what you've seen him in previously- list- he is Luke here."
Now, here's a mystery photo. I don't know where it came from, or why I don't remember ever seeing it before. It just appeared one morning, in a basket on the doorstep. Could some kind soul please identify it?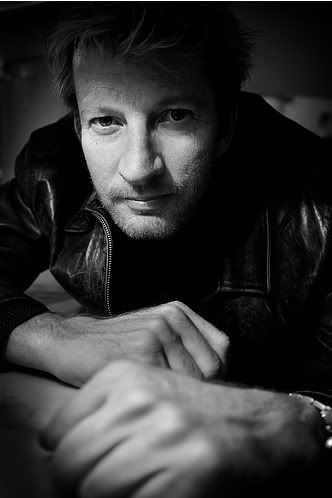 May 2008
5/14 -
A recent "Brushes With Fame" post at the
Romance Bandits blog
included a nice story about David :
"A friend of mine had set up an acting company and was doing her first show in a very shabby venue. But David Wenham came, sat through the whole thing, and then wrote her a lovely encouraging letter afterwards. Isn't that nice? He was on his own and so was I and the audience was really small, only about a dozen people. I always kick myself that I didn't at least say hello and say how much I admired his work. But I got attacked with a huge dose of the shys, sadly."
Australia's Dark Undercurrents Adam Cullen, whose portrait of David won the 2000 Archibald Prize, has a mid-career survey show opening at the Art Gallery of NSW this week. Says Cullen:
"I've always painted human beings in various stages of physical and psychological trauma...I am drawn to people by their psychological intensity. I don't care if it's an actor or ex-con or a plumber or some crazed gun freak."
5/5 -
A mention of David, from Variety's review of Children of Huang-Shi:
Young reporter George (Rhys Meyers) arrives in Shanghai in late 1937 to report on the Nippon takeover of China and the combined efforts of Chinese nationalists and communists to fight back. He and colleague Barnes (David Wenham) manage to get behind Japanese lines in Nanjing (better known as Nanking) during the horrific destruction and occupation of the city.
Below, we've picked a peck of pistol-packing Pete Pierpont pics (thank you, Neil, Lizzie, Nenya, Minkey, bellis, and nyttforsok):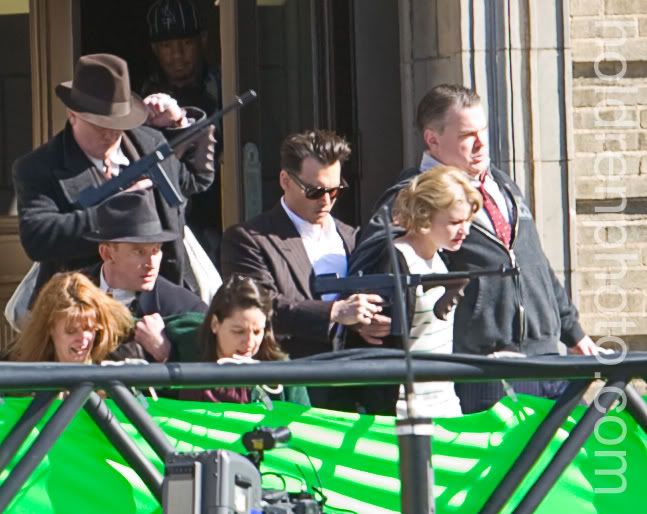 Quote of the Week:
Hasn't David Wenham tenuous into mist fine. I myself favorite oneself seeing as Faramir, rather chuckled at his Carl. After all hombre has settled himself seeing that Dilios. As to which, 300 is brazen, its insofar as recommendable as well. --- urieldysis
Agree we could not more!
5/1 -
A telemovie is underway for the "Battle of Bennelong", the story of Maxine McKew's defeat of Prime Minister John Howard in last fall's election. Says producer Catriona Hughes: "Many actors were involved in the election campaign, such as David Wenham. I expect they would be excited to be involved."
(Oo! Oo! Please, oh please, let David play Paul Keating, so we can hear him say "desiccated coconut" once more.)
Emilie de Ravin (who plays Claire on Lost) will be joining the cast of Public Enemies in a supporting role.
April 2008
4/24 -
Public Enemies continues to film this week in Manitowish Waters, despite a small fire that broke out on the set. The tentative release date is July 1, 2009.
Between now and October, Baz Luhrmann will be releasing a series of podcasts called Set to Screen, which take a behind-the-scenes look at the filming of Australia. David appears briefly in the first two, as seen in this screencap by Minkey:
Miwa discovered a new trailer for the Children of Huang Shi, which has a little clip of David towards the beginning.
4/22 -
There are some conspiracy theorists out there who don't quite believe that the Last Man project is a reality. They claim that, like the NASA moon landing, the whole thing will be faked with elaborate stage sets and cameras and paid actors.
(OK....bad analogy. But you get my point.)
For ye of little faith, the news feeds have been offering more signs and wonders:
Guy Pearce, David Wenham To Work On Fred Schepisi Film
Also, Renya Xydis (the genius behind David's coiff) has just opened up a new salon in Sydney:
4/5 -
Put away your potholders and cupcake tins: it looks like after all, we won't need to have that bake sale to raise funds for Last Man Standing. Fred Schepisi's Local Venture Of course, filming isn't definite yet, but getting approval from Australia's Film Finance Corporation was a major hurdle for this project.
On the other end of the funding spectrum, the art school at the University of Western Sydney is unfortunately suffering the same fate as its theatre program (where David learned his craft): School's Slow Decline
On set at Public Enemies with Michael Mann and Johnny Depp in Wisconsin One extra's experience while filming a courtroom scene in Darlington. The unanswered question: Who's paying for John Dillinger's bus fare today?
Billy Crudup has joined the cast of Public Enemies. He'll be playing J. Edgar Hoover.
Check out these great photos of David from the original 1994 Hamlet program! Scanned by Minkey!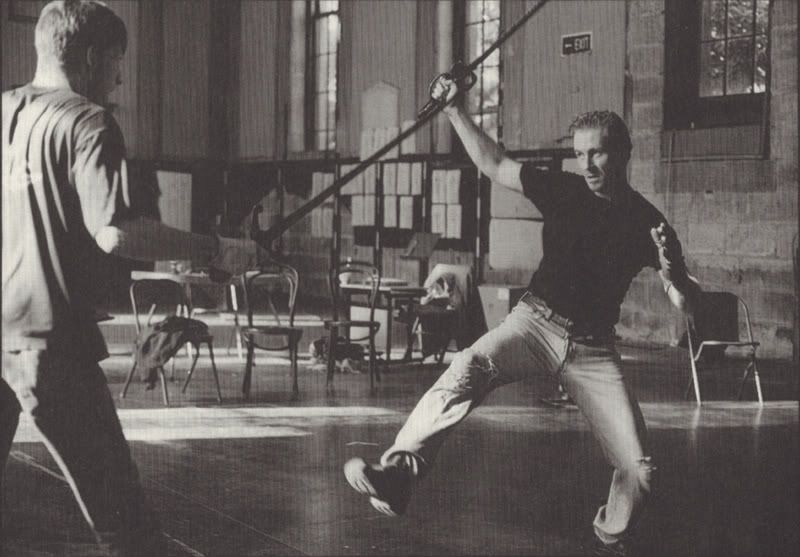 March 2008
3/29 -
WANTED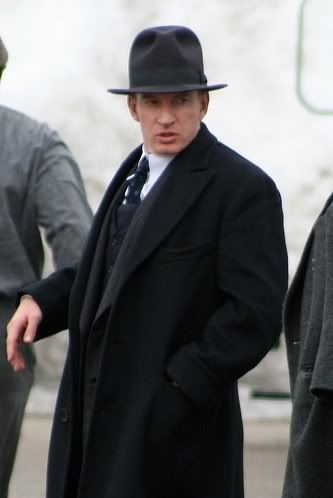 Harry "Pete" Pierpont
For: Bank robbing, heart larceny
$1,000,000 Reward
Hair: Red
Eyes: Blue
Hat: Big
Height: Kind of approximately 6 feet-ish
Aliases: Henry, Harry, "Handsome Harry", Pete, Sir Petey, Pookiedoodle, Snoogums, Cuddleboo, Tinkybear, Honeybunny*
Warning: Armed and dashing. Approach with extreme caution.
*Nicknames may vary from historical record
Here's a shot from Ain't It Cool News, which is widely thought to be David wielding a Tommy gun.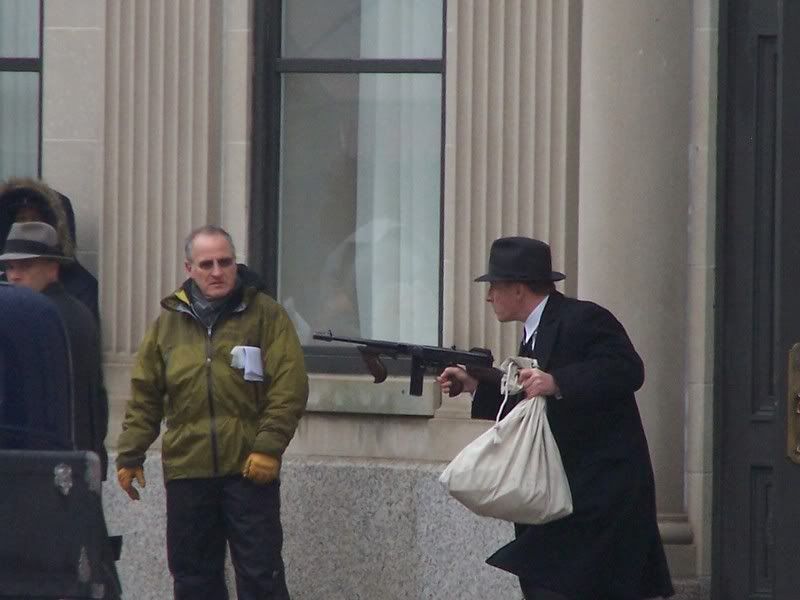 Also, two 300 premiere photos from nyttforsok's recent de-watermarking spree. Knocking over banks is all well and good, but sometimes a girl just wants a sweet smiling David wearing a tie.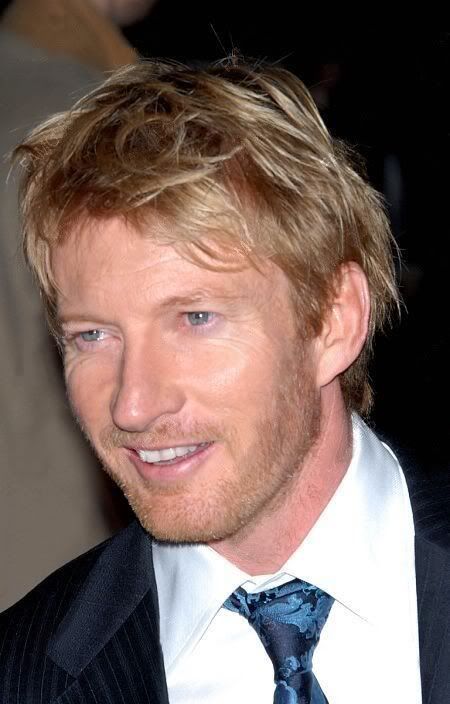 3/18 -
The town of Columbus, Wisconsin has been transformed this week for the filming of a bank robbery scene from Public Enemies. Here's a report with some photos, and some more photos. No David, but you can savor the images and get a small taste of things to come, like those little samples of barbecued-stuff-in-a-cup that they hand out at the supermarket. Only here, you don't have to hunt for a wastebasket afterwards.
David, meanwhile, arrived on the Q.T. in Madison yesterday, and is getting ready to join the rest of the cast.
Although John O'Brien doesn't get a lot of screen time, David's gotten some nice mentions in reviews of Married Life:
From the Washington Square News: "As for David Wenham (he played the one-eyed Spartan in "300"), he has established himself enough to warrant more than a paltry, one-scene cameo."
"David Wenham plays inward turmoil and outward calm with flair", says IF magazine. Cinema Blend calls him "underutilized".
During a routine Google search for "David Wenham + electric fireplace suites", it came to my attention that the CEO of Glen Dimplex Australasia is also named Dave Wenham. I'm pretty sure that explains why David gets so many orders for portable cooling and air conditioning products, and why Glen Dimplex sometimes finds scripts spewing out of its fax machine. Peter Jackson came this close to offering the role of Faramir to a ceiling fan.
3/11 -
David has his own bio page at the official Children of Huang Shi site. His character is a journalist named Barnes: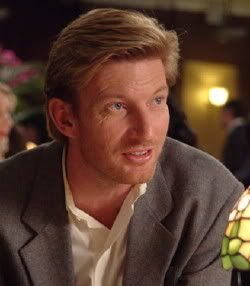 The About The Production section notes:
"A few weeks out from principal photography there were still a few supporting roles to be cast. The Australian actor David Wenham, who featured in the Lord of the Rings trilogy, was approached to play the role of Barnes, a hardened war correspondent. By filming in a short block of time he was able to take the role before rehearsals commenced on Baz Luhrmann's feature Australia."
I've tidied up the long-neglected movie section: added Children of Huang Shi and Public Enemies, photos, more Dilios quotes, and fixed the Movies 2 link, which was obstinately pointing to a random other site page. More clean-ups to come soon.
3/9 -
Today's update is brought to you by the collective wisdom of many David fans.
From Minkey, an article from the December 2006 issue InStyle magazine (click on the thumbnails):
Also from Minkey, photos from the official Children of Huang Shi site: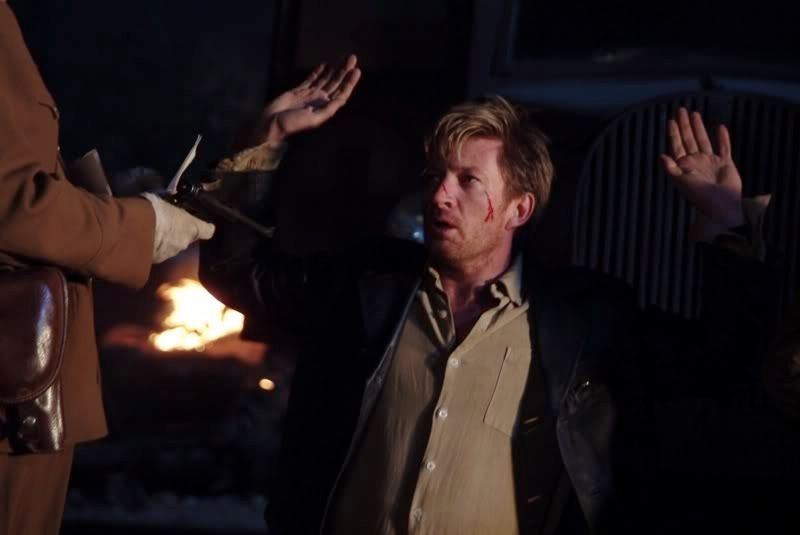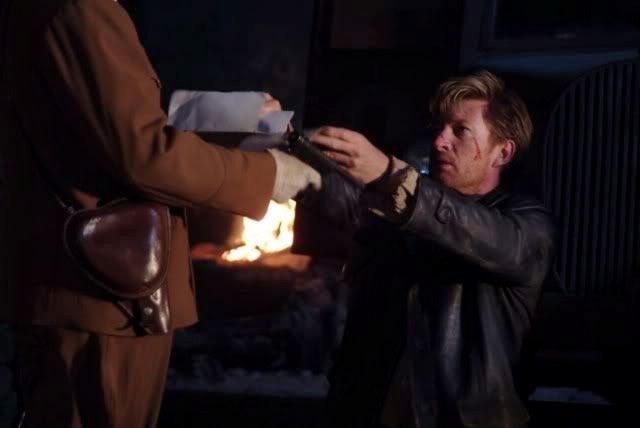 From bellis, two new/old articles:
"I Hate Being Famous" (Woman's Day)
Stiff Upper Lip (TV Week) Page 1 Page 2
Below, a photo of David at the Ruinart champagne launch at Macleay Street, Potts Point, Sydney, April 2007.
Source: newsphotos. Finder: miwa. Patient de-watermarker: bellis. Lucky beneficiary: you.
Small excerpt from premiere.com's review of Married Life:
"Precision casting is a necessity for a specialty film like this and Sachs never steps wrong, even where the minor characters are concerned. Australian actor David Wenham is effective as an easily recognizable "tennis pro" type, a serial wife-defiler whose moral compass is wobbly enough to allow him to be drafted into any kind of murder plot you might need him for."
In the ever-changing tides of Google, much flotsam washes ashore unexpectedly. This astrology page was found wedged beneath the driftwood of the world wide web, draped in the seaweed of HTML, next to the rusty beer can of celebrity spam and Hollywood link farms. For some reason, it goes on at great length about David's star chart. No idea how accurate it is, but it describes him as a "deep and wise person who's not just content with noisy and flashy things" and as one who "usually blossoms in the second part of their life rather than earlier".
Not that he didn't do any blossoming in the early part of his career, but it is true that in the last few years he's had the opportunity to pursue roles with more complexity, more challenges, and more maturity. So thank you, stars and planets, for whizzing through space and hastily scrambling into a mode harmonious to actors at the moment of David's birth.
February 2008
2/27 -
Johnny Depp movie to be shot in Wisconsin, Milwaukee I like the headline writer's implication that Milwaukee is somehow entirely different from Wisconsin. "MOVIE TO FEATURE DIALOGUE, TALKING".
2/25 -
David Wenham Goes Gangster "The Marrickville Mauler of 300 fame is in the Windy City at the moment, after completing work on Baz Luhrmann's Australia late last year."
David Wenham And Stephen Graham Wield Tommy Guns
David Wenham Joins Johnny Depp In Public Enemies
Michael Mann Makes A Few New Public Enemies "...I'm very excited by the addition of Wenham, who is largely known to American audiences for noble, heroic characters like Dilios and Faramir in Lord of the Rings. But he has quite a reputation in his native Australia for playing dark and sadistic characters, and it's about time he finally got a chance to show off that nasty side to a wider audience."
And finally, this little morsel from The Spoof:
Wenham To Take Over Naked Chef Series
which is obviously fake, since everybody knows David prefers other people's cooking. Also, it's extremely hazardous to fry bacon in the nude.
2/22 -
Exciting news! David has joined the cast of Public Enemies, according to the Hollywood Reporter:
An adaptation of Brian Burrough's book "Public Enemies: America's Greatest Crime Wave and the Birth of the FBI, 1933-43," the film centers on the government's attempt to stop John Dillinger and his gang. [Johnny] Depp is playing Dillinger to [Christian] Bale's famed FBI agent Melvin Purvis.

Wenham is playing Pete Pierpont, a member of Dillinger's crew who has a violent hostility to all authority. British actor Graham will portray Baby Face Nelson.
Shooting begins in Chicago next month.
Wenham and Graham Board Enemies
Wenham and Graham join Public Enemies
Apparently, Harry "Pete" Pierpont was not a very nice man.
2/21 -
300 has garnered a bushel of Saturn Award nominations in just about every category for which it is eligible, including a "Best Supporting Actor" nomination for David. The awards will be presented June 24th in Universal City, California.
Latest release dates for Australia: USA - Nov. 14. Russia - Dec. 4. Germany and Sweden - Dec. 25. Married Life and Children of Huang Shi will be getting limited releases this spring.
2/7 -
Sony Pictures has a website up for Married Life, with a preview that has David in it. It's under the Media section (thanks Lucidity!)
2/6 -
The shocking truth can now be revealed: People stayed in a hotel while filming Australia.
People such as David.
The Sydney Morning Herald tells all....
David Wenham (above) -- one of the stars of the much-anticipated film Australia -- was among cast and crew who stayed in the Kimberley Grande hotel during the several weeks of filming in Western Australia.
Baz Luhrmann's Australia, with Nicole Kidman and Hugh Jackman as the romantic leads, will put the country's landscape on the must-see list of international travellers when released late this year.
The Kimberley Grande has been developed by Marilynne Paspaley, of WA's pearling dynasty, who was well-known as an actor in many TV series for Crawford Productions, in Melbourne, until she returned to the family business.
I tried mightily, but couldn't find the photo that went with the article. So instead, here's an exclusive satellite image of David, courtesy of NASA (from their forthcoming coffee table book, Celebrities Photographed From The Ionosphere):
From The Advertiser, Jan. 26th, a cast preview for Australia:

NICOLE KIDMAN

Lady Sarah Ashley, an English aristocrat who inherits a cattle station, Faraway Downs, in Australia.

BRYAN BROWN

King Carney, a cattle baron who owns a huge portion of the land in northern Australia.

DAVID WENHAM
Neil Fletcher, a station manager who plans to take Faraway Downs from Lady Sarah Ashley. ``It's a very, very large cattle station and he likes it so much he wants it for himself,' the actor says.

JACK THOMPSON

Kipling Flynn, an alcoholic bookkeeper with a luxurious lifestyle. Thompson says he's ``somewhere between a total tragedy and a struggling spirit''.

HUGH JACKMAN

A rugged Australian drover who helps Lady Sarah Ashley move the cattle across her property. The role was originally to be played by Russell Crowe.

DAVID GULPILIL

King George, a magic tribal elder. The actor sings a great deal of his role in several pivotal scenes.

And more familiar faces . . .

Aaron Pedersen
Ben Mendelsohn
Bill Hunter
Ray Barrett
John Jarratt
Barry Otto
Arthur Dignam
Bruce Spence
Essie Davis
Sandy Gore
(Thanks to meaningofhaste, provider of these updates.)
January 2008
1/28 -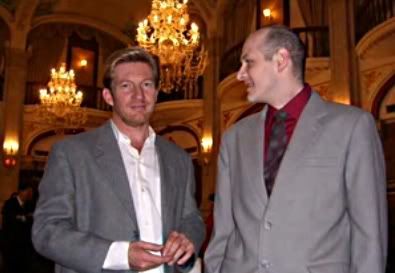 At the Children of Huang Shi blog, to compensate for the trailer's non-Davitude, they've posted this video of filming a ballroom scene (thanks Nenya!). It contains 200% of your minimum recommended daily allowance of vitamin D. Maybe my hearing is bad, but I could swear one of David's lines is "Hello, Daisy!"
Watch, it'll turn out that he's really saying "yellow hazey," because his character grew up listening to badly bootlegged Jimi Hendrix records.
bellis scanned, and shared, this interview from a 1999 issue of Marie Claire, when David had just finished Molokai, Seachange, and The Boys. (Thanks, b!)
Territory chases a world premiere - Northern Territory News. The campaign is on: Darwin or Bowen? Where will Australia premiere?
If they get really stuck for places, there's always the Cinemagic 8 at the local mall. Its floors have that authentic, gritty Outback texture.
1/24 - Voici! Regardez bien, un blog francais consacré essentiellement au David: Unlimited 123's Blog
ENGLISH SUBTITLE: The French blog, she prefer David, is it yes to say?
Trailer for The Children of Huang Shi (no David, but looks like a pretty intense film)
Here's some lovely words of praise for David's performance as Faramir from Forgotten Worlds:
David Wenham's acting is superb throughout. He is very subtle and doesn't overplay the emotion at all, but is visibly and heartbreakingly crushed by Denethor's continuous dismissal of him. Probably his finest scenes are near the end of RotK EE where he is in the Houses of Healing with Eowyn. The look in his eyes as he first catches sight of her, and later when he comforts her fears as they talk together before the final battle, just speaks volumes. His whole heart and soul are in his eyes, visible for the world to see.
1/23 - Some
Australia
buzz to go with your morning caffeine buzz:
And here's a so-old-it's-new article about David, sent in by Lhaewin:
1/14 -