The Daily Telegraph (Australia)

September 23, 2006 Saturday
State Edition

Lucky numbers for bingo caller

BY TROY LENNON


Marrickville Town Hall (above) has a large auditorium, useful for school and community gatherings, but rarely of international significance. It was, however, one early stop in the career of actor David Wenham (above right). A bingo caller at the hall, he honed his talents as a live performer in front of an audience while supporting himself before his acting career took off.

Born in Marrickville, he grew up putting on puppet shows for his family and doing impersonations of teachers, politicians and celebrities in front of classmates at Christian Brothers High School, Lewisham. He even had a brief, but unsuccessful, attempt at ventriloquism.

Wenham's parents were not theatre people, but his father encouraged their son's growing interest in theatre. However, his mother later warned him he would never go far in acting.

After high school, Wenham tried unsuccessfully to get into NIDA. Fortunately the University of Western Sydney had just started Theatre Nepean, a new tertiary training ground for actors. Wenham was in the first intake of Theatre Nepean in 1984, and he remains a patron of the acting school and its troupe.

But after graduation the acting offers did not flood in.

He took a job as an insurance salesman for the NRMA and made ends meet by calling bingo at Marrickville Town Hall. In a sense it was his first professional performing gig and kept him in touch with an audience, albeit one more interested in winning than hearing the future stage, film and TV star call numbers.

But more impressive roles were soon to follow. He has since appeared in the popular TV series Seachange, the Lord Of The Rings films and has recently finished filming 300, about the ancient battle of Thermopylae, scheduled for release next year.

A far cry from the bingo hall.

Honorary Doctor Wenham honours a young nation's strength

By Charisse Ede
May 26, 2006


Australian Catholic University graduation ceremony at the Melbourne Town Hall yesterday.
Photo: AAP

THE star of the ABC's acclaimed television mini-series about East Timor's bid for independence says renewed fighting there is unfortunate.

David Wenham plays an Australian police officer whose life is irrevocably changed when he volunteers for the UN mission in Timor, in a three-hour series, Answered By Fire, that begins on the ABC on Sunday night.

Receiving an honorary doctorate from the Australian Catholic University yesterday at the Melbourne Town Hall, Wenham said information about the renewed violence remained unclear, but he felt for the East Timorese.

"Whatever's happening, it is extremely unfortunate because one would have hoped the continuing of their transition to independence would have been a little bit smoother for a little bit longer," he said.

Wenham said he was particularly concerned for the safety of a cast member, East Timorese actor Jose De Costa, who was now working with the Dili international school.

"He brings a wonderful richness to the story and, of course, he and many others involved in the production, has experienced first-hand the trauma of East Timor's struggle for independence," Wenham said.

"The people of East Timor are not rich, yet they, too, have a remarkable dignity.

"They've suffered loss … most have to cope with the death in dreadful circumstances of a family friend, a family member, a friend of someone known to them. Yet they live on in the belief in their own worth instilled in them by their incredible faith and a keen sense of justice."

Wenham said he fully supported the ABC's decision to hold back the series for a week to avoid conflict with the Nine Network's exclusive with rescued Beaconsfield miners Todd Russell and Brant Webb.

"The ABC have spent so much time and so much money and there's been so much goodwill and so much wonderful work has gone into it.

"Obviously people are going to watch those two guys from Beaconsfield talk," he said.

"I can understand that — I wanted to watch. It's another great Australian story.

"So let people watch that and then give people Answered by Fire to watch on another night."

Wenham received the Doctor of the University (honoris causa) for his outstanding contribution to the arts. His strong commitment to social and environmental issues was also acknowledged.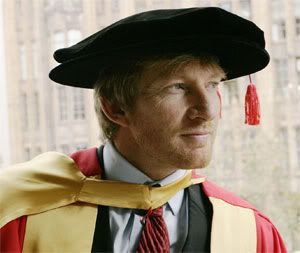 And this is Doctor Who?

Carla Danaher
26may06

DIVER Dan can now call himself Doctor Dan.

Actor David Wenham was awarded an honorary doctorate from the Australian Catholic University at the Melbourne Town Hall yesterday.
The SeaChange and Lord of the Rings star was recognised for his contribution to the arts and his commitment to social and environmental issues.

Wenham, 40, is involved in Sydney charity Wayside Chapel and the Wilderness Society.

Wenham, who stars in the East Timor mini-series Answered By Fire, said he feared for the safety of residents in Dili.

"All I can say is that I'm extremely concerned for peoples' safety up there," he said.

He was particularly worried for Timorese actor Jose De Costa.

"He brings a wonderful richness to the story and, of course, he and many others involved in the production, has experienced first-hand the trauma of East Timor's struggle," Wenham said.

"The people of East Timor are not rich, yet they, too, have a remarkable dignity.

"They've suffered loss. Most have to cope with the death in dreadful circumstances of a family friend, a family member, a friend of someone known to them."

He said he did a double-take when the university first contacted him about the award.
From the Australian Catholic University web page:
Release date: 25/05/2006

ACU National Honours David Wenham

Melbourne, 25 May 2006: Leading Australian actor, David Wenham has been awarded Australian Catholic University's (ACU National) highest honour, Doctor of the University (honoris causa), at graduations taking place in Melbourne today.

The honour has been bestowed upon David by the University in recognition of his outstanding contribution to the arts. He is also strongly committed to social and environmental issues.

Speaking about David's achievements, ACU National Vice-Chancellor, Professor Peter Sheehan AO said, "David has successfully entertained us all with his varied roles over the last decade and a half. He moves easily between the mediums of stage television and film as well as comfortably between comedy and sorrow. I know he sees film as a medium in which hard issues can be raised, in ways that also address challenging questions for the audience to consider, such as in the film Molokai and his latest TV series on East Timor.

"David has already been recognised by his professional peers and international films critics. ACU National has today honoured him for his outstanding achievements as an actor, humanitarian, and advocate for the development of the performing arts in Australia. He is an inspiration to all and particularly to today's ACU National graduates."

On accepting his Doctorate, David said: "I am extraordinarily privileged to be receiving an honorary doctorate from a university that puts so much emphasis on social justice. It's exciting to be here with all the graduates as they celebrate their academic success and I would like to congratulate them. It's a momentous occasion for them as they begin their professional careers and can touch the lives of our community."

The INVISIBLE MAN
Author: Gerard Wright
Date: 14/05/2006
Sun Herald
Section: Sunday Life
Page: 16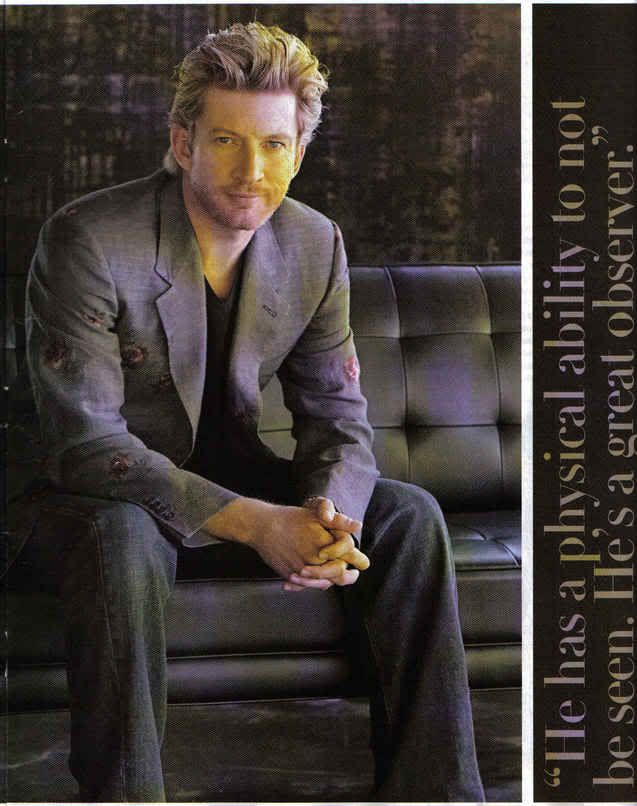 David Wenham knows the value of anonymity and he's keen to hang onto it. In Los Angeles to finish his latest film, the actor once known as Diver Dan tries not to talk to Gerard Wright about religion, maintaining privacy and conquering performance anxiety.

The make-up artist is fussing and fiddling and David Wenham's thick blond hair follows obediently, in waves. Lip gloss is applied and what seems to be several layers of make-up. He sits still in the chair, a paper towel covering the collar of his shirt, his eyes, that topaz blue, flicking between the mirror, the make-up artist and my notebook.

He is thinking, but not really talking, about religion. His latest work, the ABC miniseries Answered By Fire, recalls the violence that attended the 1999 referendum on East Timor's independence from Indonesia. Religion is one of the miniseries's many subtexts: the Catholic East Timorese, with framed pictures of Jesus on their walls, and their conflict with Indonesia, the world's largest Muslim nation.

Wenham thinks about this, looks in the mirror, looks away. "I could see their faith gave them incredible inner strength and courage," he says, finally.

The youngest of seven children - and one of only two boys - he was brought up in Marrickville in Sydney's inner west, where he slept on the dining room floor until he was 12. He got his Catholic education at a Christian Brothers secondary school.

The make-up artist, having wiped, waved and dabbed, steps back to appraise her work. There is much silence. Mention half-jokingly the legacy of Wenham's Catholic upbringing and the 40-year-old actor replies, "It's certainly there. I can only hope that it's given me a solid foundation. I can only hope."

He says very little but every story written about David Wenham refers both to his capacity to transform himself and become Anyman - be it Faramir in two instalments of The Lord Of The Rings trilogy or the psychopathic Brett Sprague in The Boys, the reissued snag Diver Dan in SeaChange or the whining, hilarious junkie Johnny Spitieri in Gettin' Square - and the crisis of self-belief that accompanies every new role.

"Each time, it becomes more daunting," Wenham said in a 1999 interview, as he prepared for his role as the submissive Yvan in the play Art. "I go through stuff that makes me feel like a nervous wreck every time I approach another job." And then, a year later: "I walk and think. I imagine the character. I see him, hear him and look for where he might be."

In Los Angeles now, on an afternoon off from doing his final voice-over work for sword-and-sandal epic 300, due for release next year, he talks about calming that anguish: "I don't meditate but I used to take a tennis ball and bounce it. Maybe that's a form of meditation, whereby I get to a state where I can just focus and think about what I can possibly do." He's not keen to discuss his work, not really. "It's something I'm very reticent to talk about." He rolls his eyes and continues, "As I am about a lot of things."

There are plenty of actors who don't like talking about their personal lives. What's intriguing about Wenham's insistence on privacy is that it's motivated by professional reasons. "A whole part of my creative life has been ruined by becoming famous," is how Russell Crowe once put it. "I was the person who could just slip into any situation, see what I needed to see and take the information away."

The ability to watch unobserved is not something Wenham will give away easily. Jessica Hobbs, the director of Answered By Fire, is struck by his capacity for camouflage. "He has a great physical ability to not be seen," she says. "I've been out with him in public, where there's sudden recognition, after an hour. He makes a great quiet entrance - if he wants to."

Hobbs is sure, too, that Wenham would keenly feel any loss of anonymity. "He would be devastated if he didn't have that," she says. "He loves those little details in life, those quiet, private moments in people's lives. He's a great observer."

Wenham confirms this the next time we speak by phone. "I'm sitting on the foreshore at Santa Monica," he says happily, "and very few people recognise me. I love that. If you want to represent the community on the screen, you want to see what they're like."

In the face of fame, Wenham has maintained at least some of his private rituals. One is walking to whichever theatre he's performing in. Another is watching the Sydney Swans, with whom he has been smitten since the Aussie rules team were South Melbourne and he learnt the rules from his local butcher in Marrickville. Sunday games at the Sydney Cricket Ground are best, a downhill walk from his home in Potts Point.

But there is a door into the life of David Wenham that remains firmly shut. It is the door that hides home and family and personal history. Occasionally, Wenham will nudge it ajar. We know that as a child he was noted for his impressions - he did a memorable Gough Whitlam - and his parents, Bill and Kath, were not only relaxed about the stray theatrical gene that had appeared in the family, they actively nurtured it, with his father buying him theatre subscriptions for his birthdays. He didn't make it through the auditions at the National Institute of Dramatic Art but was accepted at Nepean College in Western Sydney. His partner of 12 years, Kate Agnew, is a yoga teacher and actor; their daughter, Eliza, was born in 2003. He's quiet but assertive, and he'd rather not talk about all that.

"We're all ordinary people in the end but there's something extra about him. He's observing; he's working on something," says Paul Cox, who eight years ago directed Wenham's lead performance in the troubled biopic Molokai: The Story Of Father Damien. "You know that there's something burning in him that needs to come out."

"I wonder whether we've seen everything he can do," says Hobbs. "He can just disappear into a role."

Trainer Mark Twight, who oversaw the gruelling physical transformation of five actors and 50 stuntmen into Spartan warriors for 300, describes Wenham as "self-effacing ... his attitude in the gym got better and better as the project wore on. Others began coasting once they thought they looked good enough but David stayed on."

Wenham "stayed on", too, during the filming of Molokai, which was set and filmed in a remote Hawaiian leper colony. While most of the cast and crew flew in each day, director Cox and Wenham lived on the island among the lepers for four months, befriending them. "It seemed strange to remove ourselves from the community when we had the opportunity to live and breathe it," says Wenham.

On his upper right arm is a souvenir from Molokai, a plain blue tattoo of a turtle. On the way back to Honolulu, he and Cox stopped by a tattoo parlour where they both had images inscribed of the turtle. Cox describes the image as "the Hawaiian symbol of peace and earth and all that, to remind us of very tricky days." It has, he adds, "become a companion for life. I would be the last person to get a tattoo. So is David. But when we meet, we always bring the tattoos together, let them greet one another."

The turtle makes a brief appearance between costume changes in the photographic studio in Los Angeles where Wenham is trying on clothes. At one point, he stands alone by a window, wearing a brown leather jacket while trying on expressions to match. There is an instant when he glances back from the window, giving a look of pure malevolence; it's like a diamond reflecting darkness.

That is what Wenham's reputation rests upon: the capacity to absorb and then remake a character, as happens in Answered By Fire, filmed on the Gold Coast hinterland last winter. Wenham stars as Mark Waldman, an idealistic and restless policeman whose character, circumstances and actions are loosely based on the accounts of David Savage, an Australian Federal Police officer who served in East Timor as a UN volunteer during the 1999 referendum and later returned as a member of its Serious Crimes Unit.

The miniseries, to be shown on the ABC on May 21 and 28, has a unique take on a troubling episode of Australia's regional history; the majority of its cast are East Timorese, not just untried as actors but real victims of the violence that had been part of the fledgling country's existence since Portugal renounced sovereignty over it in 1975.

"I'm aware that people are re-enacting some of these events that are exactly like that, that they have seen their families encounter," says Wenham. "Just negotiating emotions; that was the trickiest thing."

In addition to his final narration duties on 300, he's also in Los Angeles to discuss future projects. "I've never come across so many Australians in my life," he says from Santa Monica. "Everybody is over here because there's such a lack of work in Australia. Obviously, some are here for fame and fortune but most are just here for bread and butter."

This, Wenham believes, points to an impending loss of cultural identity. "I fear a more homogenised society in Australia," he says. "And that's through the impact of what we see on our small and large screens." For once, Wenham is in full flight and only slightly self-conscious about expressing a deeply held belief. "Historically, it's how we've learned about who we were and who we are," he says of the Australian film and entertainment industry.

"It's all we have - another sweeping statement," he says, in a self-mocking aside, but continues: "The big influences in my career were people like John Meillon, John Hargreaves and Reg Livermore. I can look back on their work and understand what was happening in Australia at that time and who we were."

He pauses to exclaim at a pair of teenage boys in T-shirts and board shorts, who he says have just passed by him, lighting enormous cigars. "God," he remarks, "this is a strange place." It is an LA moment to be remembered and perhaps replayed on a stage or a screen near you, sometime when everyone else has forgotten and David Wenham remembers.
Fire in their hearts
By Debi Enker
May 18, 2006
(excerpt)
On a cold day in July last year, halfway through the eight-week shoot, the weather is making a mockery of Queensland travel promotions. Far from being beautiful or perfect, it's cold, wet and windy as director Jessica Hobbs moves through the mud to choreograph a scene in the UN compound involving the frantic efforts of the foreign civilian police and their local aides to protect the ballot boxes. There are fears that members of the militia sympathetic to the Indonesians will try to steal them.

David Wenham is at the heart of the action, playing Mark Waldman, an Australian policeman who has volunteered for the UN mission that is overseeing the referendum process. A senior officer, he's organising his troops, one of whom is rookie Canadian Julie Fortin (Isabelle Blais). Among the locals helping them are interpreter Ismenio Soares (Alex Tilman) and his sister Madalena (Fatima Almeida)...
Mark Waldman is a proficient and pragmatic policeman who discovers that the demands of this assignment are beyond his expectations. "He's confident, he's strong-willed, he's experienced in what he does," says Wenham. "East Timor isn't his first overseas mission and he thinks it's going to be simpler and more straightforward than it turns out to be. They're walking on a razor's edge the whole time.

"The great journey for Mark is that, for the first time in his life, he experiences failure because he can't achieve what he wants to do. He's frustrated by the organisation that he works with, he's frustrated by the fact that he can't help people that he's come to know and feel for. And when they're forced to evacuate and sent back to Australia, he's racked with guilt."

ENOUGH ROPE with Andrew Denton
(transcript of 5/15/06 broadcast)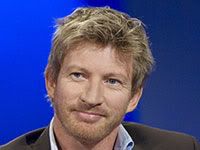 We were frightened of him after 'The Boys', we laughed at him in 'Gettin' Square', we admired the cut of his jib in 'Lord of the Rings' and we just wanted to be him in 'Seachange'. Ladies and gentlemen, Mr David Wenham.
ANDREW DENTON: Welcome. Breathe in, breathe out. People will be surprised to know that this is not a natural thing for you to come on interview shows, that you're nervous.


DAVID WENHAM: I am. I'm extremely nervous. It's not something I'm comfortable with. I'd rather have a mask on.


ANDREW DENTON: What we're going to do, just to relax you, is strip that mask away tonight.


DAVID WENHAM: So I'm nude.


ANDREW DENTON: We're going to go down into your soul so no part of you is unrevealed in public. Do you feel better now?


DAVID WENHAM: Yes, much more comfortable.


ANDREW DENTON: Good, excellent. Look, let's start with you at school, Lewisham Christian Brothers, where the teachers would give you the chance to do a little gig in front of the class because you were a performer. What sort of stuff did you do?


DAVID WENHAM: Oh goodness. I used to like impersonating people, except please don't go there. But I used to impersonate people like Harry Butler, before that Gough Whitlam, when I was a seven year old at school.


ANDREW DENTON: A seven year old, impersonating Gough Whitlam?


DAVID WENHAM: Gough Whitlam, yes, a very odd impersonation.


ANDREW DENTON: Can you do an impersonation of you impersonating Gough Whitlam at age seven?


DAVID WENHAM: Oh my goodness, that would be a bit difficult.


ANDREW DENTON: "Well, may we say...


DAVID WENHAM: Yes.


ANDREW DENTON: ...God save the Queen."


DAVID WENHAM: "Because nothing, because nothing will save the Governor General." But that was - yes, I must have had a very deep voice at the age of seven.


ANDREW DENTON: You also had ventriloquism skills. Is that right?


DAVID WENHAM: I wouldn't say skills. I had a ventriloquist doll that I got given as a Christmas present when I was very, very young, and I bought a book on how to do ventriloquism.


ANDREW DENTON: Yes.


DAVID WENHAM: And as I say, I wasn't very good. I was also given the opportunity at school to take my doll, along with the school band, on gigs around the place, but I also used to take a friend of mine, Tynan Dwyer, who used to stand off stage with a microphone and actually give the doll's voice.


ANDREW DENTON: Oh really?


DAVID WENHAM: So, you know, I let this secret out of the bag.


ANDREW DENTON: Yes, the world's worst ventriloquist.


DAVID WENHAM: But, truly, have you ever seen a good ventriloquist? I was thinking about it before, and you're always aware of the fact that that person's mouth is actually, you know...


ANDREW DENTON: That is true.


DAVID WENHAM: Doing it.


ANDREW DENTON: You were the seventh of seven kids, with five sisters amongst that lot. What kind of an influence did that have you, having to fight for space in that scrum?


DAVID WENHAM: My parents had always informed visitors who came round to our place for lunch or dinner that it was going to always be a very noisy experience because there'd be cross conversations going all the time. My bed, for quite a few years, was at the base of our dining room table, which I loved and I thought it was really cool that I didn't have a bedroom. My bedroom was actually the dining room and I used to roll out of bed in the morning to set the table ready for breakfast.


ANDREW DENTON: And you got all the good food obviously, you were first there.


DAVID WENHAM: I was first there.


ANDREW DENTON: You didn't really have anyone in your family with a theatrical background. Did your parents, when you decided that acting was the thing for you, did they support this? Did they nourish that?


DAVID WENHAM: Very much so, yes, very much so. Both my parents were extremely supportive. My father did extraordinary things, looking back on it now. Once he knew that it was something that I did have an incredible passion for, he would do things like, the University of New South Wales would have a book sale every two years and my father would take public transport out there and buy cardboard boxes worth of books and bring them back on drama and plays and film and it was a terrific thing. My presents for Christmas and birthday were subscriptions to the theatre, so I grew up watching plays on stage and it was a magical world and I knew it was something I wanted to be involved in.


ANDREW DENTON: And as your parents themselves got introduced to the world of theatre, I mean your early productions at Theatre Nepean where you studied, what was their reaction to seeing you do it?


DAVID WENHAM: Sometimes surprise. There was one particular play I was involved in. It was a Berkoff play called East, and it was about, you know, I shaved my head and had my ear pierced and this was 20 years ago. I was coming home from rehearsal and I'd just arrived in Central Station. I was on a bus going back to Marrickville, where I was staying with my parents at the time, and my parents got on the same bus going back towards the house at Marrickville and they didn't recognise me and were horrified when they actually saw what I'd done to myself, all in the name of art.


ANDREW DENTON: It's amazing to me, you came from a happy family, not dysfunctional, you didn't actually go to NIDA. What on earth made you think you could make it as an actor?


DAVID WENHAM: Well, the thing is, I didn't.


ANDREW DENTON: Before you started to make it in acting, after leaving Theatre Nepean, that's not easy, that in-between phase where you're trying to make a living. One of the things you did was try to hustle lawn bowls?


DAVID WENHAM: Yes, I did. I was...


ANDREW DENTON: Pretty fast stuff there.


DAVID WENHAM: Yes, that's right. Yes, I did that in conjunction with calling bingo. I thought this was a way to really make money, I did. A friend of mine, Bill Mather, who was a colleague of mine at Theatre Nepean, we did become quite proficient at lawn bowls and I must say...


ANDREW DENTON: Yes.


DAVID WENHAM: I did bowl in the State Championships here in New South Wales and did quite well.


ANDREW DENTON: Is that right?


DAVID WENHAM: But we didn't earn much money but I did win many chooks and meat trays throughout New South Wales.


ANDREW DENTON: Man cannot live by chops alone, and there we are. You have something in common with Russell Crowe. He, too, was a bingo caller.


DAVID WENHAM: Was he really?


ANDREW DENTON: Yes. I mean, you've never heard a sexier all the twos, 22, than Russell Crowe's.


DAVID WENHAM: Oh yes.


ANDREW DENTON: Can you give us a burst? I just want to compare.


DAVID WENHAM: Well the thing about the bingo that I called, we weren't allowed to do the rhyming slang that accompanied most bingo because...


ANDREW DENTON: Why not?


DAVID WENHAM: We were very professional where I called bingo, and they took it very, very seriously.


ANDREW DENTON: Oh I see.


DAVID WENHAM: Yes, so it was more along the lines of seven, seven only. 13, one, three, you know?


ANDREW DENTON: But, see, I get the...


DAVID WENHAM: Thrilling.


ANDREW DENTON: Chills just hearing you say that. There's an intensity to it, which you bring to everything you do.


DAVID WENHAM: Thank you.


ANDREW DENTON: And, quite seriously, I want to talk about that intensity because where you first came to public prominence after 'The Boys', first of all on stage and then the feature film, and I can honestly say it is, in my opinion, one of the great performances in Australian cinema and the most violent performance I've ever seen from someone who wasn't actually being violent. For those that didn't see it, or for those who would like to be chilled by remembering, here's a sample.

(FOOTAGE SHOWN)


ANDREW DENTON: The other actors and the director said that on the set they actually found you, in character, to be quite frightening. Were you aware of that?


DAVID WENHAM: There was one particular instance where I couldn't help but be aware of it. Toni Colette asked to - well, she didn't ask, she just left the set. She couldn't bear to look at me anymore.



ANDREW DENTON: How do you generate that bad energy because it's manifest?


DAVID WENHAM: It's a process, when characters are quite far removed from yourself. I'd take myself through an inner monologue, if you like, I talk to myself as the character, and I keep doing so, so much that I can actually feel that I can respond as that character in any particular circumstances that I'm thrown into. So even if you took that character out of the situation that we were filming at the time and threw him somewhere totally different, I'd be able to respond accordingly. So I suppose it's just - in a way it's a meditation to get yourself into the mind-set.


ANDREW DENTON: That's a very dark meditation for Brett Sprague. Do you take any of that home? Or can you just wash it away?


DAVID WENHAM: I try not to. I try, whether it be filming or doing theatre, to, as I hang the costume up in the dressing room, to leave the character there. Sometimes, and particularly with this particular character, it's stuck to you for periods of time.


ANDREW DENTON: That's interesting when you say bits stuck to you. Can you explain that?


DAVID WENHAM: It's not something that I'd be conscious of, but it would be something that people who'd be with me in social situations would be conscious of, whether it be an overuse of language, slightly violent, aggressive behaviour that was not relevant in the circumstances.


ANDREW DENTON: Stubbing cigarettes out in people's faces, things like that?


DAVID WENHAM: For example - not.


ANDREW DENTON: Yes. Of course, the polar opposite to that role, I'm sure a lot of people in this audience, particularly women, know you for is Diver Dan in Seachange. Oh, I've already heard the oohs. Let's see a little bit of Diver Dan.

(FOOTAGE SHOWN)


ANDREW DENTON: It's still great to watch. When Seachange went through the roof, you were actually overseas shooting a movie so you came...


DAVID WENHAM: Yes.


ANDREW DENTON: Back to discover that women all over Australia were going, "Ahhh." What was that like?


DAVID WENHAM: Very odd. Yes, very, very odd. Yes, had no idea. None of us, I don't think, had any idea as to the extent of the popularity of that show.


ANDREW DENTON: Were you aware of a certain, to use the word 'energy', coming at you from women as you met them?


DAVID WENHAM: Slightly. A little bit of energy. A little bit of energy.


ANDREW DENTON: Oh, come on, if I were...


DAVID WENHAM: Yes.


ANDREW DENTON: If I suddenly became a sex symbol I'd be like...


DAVID WENHAM: No. No, I think my fan base, I think, is like, well, at the moment it's like ten-year-old boys, from Lord of the Rings, and older women.


ANDREW DENTON: The thing about you is that with Seachange, there you were suddenly this sex symbol, this charming leading man and you could have stayed doing that, you... I'm sure you got plenty of offers, am I right, to do roles of that ilk?


DAVID WENHAM: A few, yes.


ANDREW DENTON: A few. But in some ways you went completely the other way. It was a few years later, but your role as Spit in 'Gettin' Square' was memorable for many reasons and very, very different to Diver Dan. Here's a piece.

(FOOTAGE SHOWN)


ANDREW DENTON: It's very funny.


DAVID WENHAM: Yes. Sex symbol?


ANDREW DENTON: Sex symbol. You're not afraid to play ugly, are you?


DAVID WENHAM: I feel far more comfortable in that guise than I do as the leading man, far more.


ANDREW DENTON: How do you create him? Where do you piece that together from?


DAVID WENHAM: For me, there, wardrobe was my key. Once again I was blessed with a terrific script and the first time I read the script I could see the character and I could hear the character. The rhythms of the character were very apparent on the page to me.


ANDREW DENTON: Those jeans, that could have taken you two or three days at a time to get into and out of them.


DAVID WENHAM: I stayed in them the whole shoot. It was like once they were on, they weren't coming off.


ANDREW DENTON: You also, as part of the character, you studied junkies up at Kings Cross. Is that right?


DAVID WENHAM: I live near the Cross so it's not too far to walk up there and I did spend quite a bit of time just sitting there and watching and observing such wonderful behaviour. It's something I enjoy doing. It's not a task. I like watching people, not just for jobs, it's something I enjoy.


ANDREW DENTON: I'm interested in that, well what it's like to sit there and, in a way, in a very benign way, to pickpocket bits of people's lives?


DAVID WENHAM: Funny you should say that because a little while ago I was walking along Darlinghurst Road and a guy came up to me and accused me of stealing his identity for this particular film, which I thought was an extraordinary thing to say.


ANDREW DENTON: The reason you've come back to Australia only for a brief visit, and it's to talk about a production which will feature on the ABC shortly, which is a co-production, ABC and Canadian Broadcasting, called 'Answered by Fire', and I know this project means a great deal to you. You play the role of an Australian police officer who goes to East Timor as part of the referendum before they vote for independence. It's a very powerful drama. I'm going to show two bits. This, first of all is - this doesn't feature David, but it gives you some sense of the tension that lies within it.

(FOOTAGE SHOWN)


ANDREW DENTON: It was an unusual cast and a lot of the cast were East Timorese and they had no acting experience at all, but they had, many of them, lived through this very situation that you're re-enacting. What kind of atmosphere did that create on the set?


DAVID WENHAM: A very delicate atmosphere. Everybody involved in the production, the rest of the cast, and, as you say, the majority of the cast were East Timorese who had no acting experience, but the rest of the cast and all the crew were very much aware of the history of the cast members, who were, essentially, recreating their history. I don't think that there was any of the East Timorese cast who, if they hadn't lost somebody within their family, they certainly knew of people who had and so we were dealing with very sensitive, delicate and raw emotions with the other cast members.


ANDREW DENTON: We have one of them here tonight, the young man that you just saw with the gun held to his head, Alex Tilman. Alex, welcome.


ALEX TILMAN: Thank you.


ANDREW DENTON: That scene, for you, reflected some things that happened to your family. Your father was a Fretlin fighter. Is that correct?


ALEX TILMAN: Yes, he was. He was up in the mountains, running away from the military, when Indonesia invaded, and then after a few years in the mountains he came back to town and a few months later he was arrested and disappeared without a trace until today, so we don't know where he is.


ANDREW DENTON: I want to show one more clip from 'Answered by Fire' now, which features David.

(FOOTAGE SHOWN)

ANDREW DENTON: You were working with people who came from this experience, and even though you'd followed this story from a distance, what did you learn from them?


DAVID WENHAM: You can't help but come away in that situation with incredible respect and admiration for their resilience, their courage, their strength and their great - the wonderful human spirit that comes out against horrendous adversity. I also must say as well, and from another point of view, from an acting point of view, I actually learnt quite a bit.


ANDREW DENTON: Yes?


DAVID WENHAM: Some of the performances, as you know, because I know you've seen it, are truly magnificent and these are from people who have never acted before. I think what I learnt is something that I always try to do as an actor myself, but often forget, and it's something that's so simple but so difficult to achieve. That is to listen to the other actor, but to really listen and to really think about what they're saying before you respond. It seems such a simple thing to do, but very few actors actually really do it. Most of the East Timorese cast put into practice that very simple philosophy and, from it, really beautiful and complex performances came out.


ANDREW DENTON: You're great at make believe, that's your job as an actor. You've got a little girl, Eliza Jane, are you good at make believe with her?


DAVID WENHAM: I am, yes. Yes, we have a ritual every night, as I think most people do, we read stories, but we also have, after we read stories, we have make up stories every night. She'll ask for two, maybe three make up stories every night.


ANDREW DENTON: That can be surprisingly challenging for a parent.


DAVID WENHAM: It can, because she'll give the subjects of the...


ANDREW DENTON: Oh really?


DAVID WENHAM: And they can be so left of field and she obviously wants the story instantly so...


ANDREW DENTON: Yes.


DAVID WENHAM: I have to cobble together stories that can include broken butterfly wings and sandcastles and fairies but...


ANDREW DENTON: Yes.


DAVID WENHAM: Then a very bizarre thing will be thrown in as well, like a tractor, and so I think, "Okay, off we go."


ANDREW DENTON: Do you fall back on old techniques? Do you do it in the guise of Brett Sprague from 'The Boys' for instance?


DAVID WENHAM: Not yet. Not yet.


ANDREW DENTON: "Now sleep well, darling."


DAVID WENHAM: Yes.


ANDREW DENTON: David, I really appreciate you coming in. Please thank David Wenham and Alex Tilman.
(Exceprt from "Just Outside The Limelight", Sydney Morning Herald, 3/18/2006. Article about Dr. Rodney Seaborn, who set up a foundation which has donated money over the years to various Australian theater organizations, including Belvoir Street, the Ensemble, and NIDA. He also bought the Stables Theater, home to the Griffin Theater Company, when it went up for sale).
Word of the Stables' saviour spread like wildfire and requests began pouring in from "every Tom, Dick and Harry". But this new benefactor was no soft touch (he didn't give the Griffin its theatre but provided it rent-free - the company was, and still is, responsible for all other outgoings). Those seeking help had to prove their worth.
One was a young, hungry actor who in 1991 performed at the Stables in The Boys. Rather than waiting for the phone to ring, David Wenham wanted to produce, direct and perform a one-man play, Dario Fo's A Tale of the Tiger. When his savings from calling bingo and working in a sports shop weren't enough, he made an appointment to see Seaborn. "I was naive - I didn't know what I was doing," Wenham says now.
Nervous and not particularly confident of his chances, Wenham ended up chatting with the doctor for more than an hour. "He was extremely warm and obviously very intelligent," Wenham says. "He quizzed me about every facet of the production I was intending to do."
After studying the young impresario's production budget, Seaborn wrote him a cheque. "That was the little piece of the pie that was missing," says Wenham, who ended up taking the play to Berlin. "I can't prove it, but I was quite possibly the first person to perform in English after the wall came down, thanks to Dr Seaborn."
March 6, 2006 Monday
A curious conglomeration
Raymond Chapman Smith - The Advertiser

Songs from the Yellow Bedroom

MUSIC THEATRE

Who: Australian Youth Orchestra with David Wenham, Bernadette Cullen, mezzo soprano, and Keith Lewis, tenor

When: Saturday and Sunday

Where: Adelaide Town Hall

Reviewer: Raymond Chapman Smith

SONGS from the Yellow Bedroom is a rather partial, theatrical conceit that intersperses (or interrupts) the six parts of Gustav Mahler's Song of the Earth with a selection of readings from Vincent Van Gogh's rhapsodic and revealing letters to his brother, Theo.

Das Lied von der Erde is arguably Mahler's masterpiece, an hour-long cycle that sets Chinese poems in a dramatic, powerfully moving sequence in which five highly contrasted ''Earthly'' songs are counterbalanced by a remarkable, 30-minute ''Farewell'' - a solitary meditation on eternity.

Van Gogh's letters, while certainly of interest, are clearly not his central work and the theatrical presentation of such intensely private musings serves only to put them at a further remove. David Wenham's mysteriously accented, drawcard recitation of the letters was, for this audience at least, inevitably effective.

Beyond Wenham's skilful presence, and a chair or two for props, it was a little difficult to discern what actually constituted this much-vaunted ''theatrical production''.

Allocated seating in the front row of the stalls - no doubt to absorb the full ''theatrical impact'' - I was able to hear and observe the fine sound and unerring intonation of the AYO's first violins at very close quarters.

The similarly impressive harps were also to the fore but from this bird's-ear position, the rest of the orchestra was relegated to the sonic background.

Conductor Diego Masson's tempi were uniformly slow to sluggish, with a caution that did little to articulate the complex fluidity of Mahler's phrasing.

Nevertheless, it was the 99 dedicated young musos of AYO who were the real stars of this curious occasion.


Van Gogh and Mahler in parallel universes
Graham Strahle - The Australian
March 06, 2006
Songs from the Yellow Bedroom.
Australian Youth Orchestra. Diego Masson, conductor and David Wenham, actor. Adelaide Town Hall, March 4 and 5.

SOME ideas look good on paper, but do not quite work in practice. Interspersing readings from Van Gogh's letters with Mahler's Das Lied von der Erde (The Song of the Earth) sounds like an intriguing idea. The artist and composer were almost contemporaries and similarly immersed in themes of nature, death and despair. Further, both shared a particular fascination with Asian artistic traditions, as borne out in the influence of Japanese prints on Van Gogh and in Mahler's choice of Chinese poems as the basis of his song cycle.

But the question is whether a meaningful link can really be made between these two figures. Director Adam Cook, fulfilling a vision of the late theatre director Richard Wherrett to undertake this project, certainly poses the question and makes one think about it.

Delivered with engrossing conviction by actor David Wenham, the readings laid bare Van Gogh's passionate idealism, his love of colour and nature, and his knowledge of his encroaching insanity. But juxtaposed against Mahler's music, the readings only served to highlight fundamental differences of personality and artistic purpose.

What became clear was that Van Gogh and Mahler are two parallel but dissimilar creative minds. The former is a fragile, heart-driven ego and recluse who finds in nature the richness of human experience. By comparison Mahler's art is more intellectual and symbolic: he uses the idea of nature as a metaphor for what humanity has lost, and he does so with irony.

Tenor Keith Lewis's singing in three of the songs generally captured the manically intense quality of Mahler's vocal writing, but it was too operatic in style and tended to gloss over nuances of meaning in the words. This was a pity because one naturally wanted to explore this dimension to find possible resonances with the Van Gogh readings. Varying her tone expressively, mezzosoprano Bernadette Cullen offered a more intimate view of Mahler's responsiveness to text; and her singing in Farewell, emphasising the song's implicit death wish, was able to highlight perhaps the only thing that Mahler and Van Gogh had in common: their preoccupation with morbidity.

If nothing else, this performance demanded a sense of colour in the orchestral playing, and in this regard the Australian Youth Orchestra excelled themselves. With Diego Masson at the helm, the 96 young musicians performed with remarkable vividness and control over Mahler's complex writing, both in the song cycle and in the adagio from his 10th Symphony.
---
Sunday Mail (SA)
SUN 26 FEB 2006, Page 093
Hail the Lord of letters
By MATT BYRNE
David Wenham is fired up for an absorbing festival production which explores the tormented life of tragic genius Vincent van Gogh, says MATT BYRNE
WHEN David Wenham posed for artist Adam Cullen, he never realised where the portrait would lead.
The painting won the 2000 Archibald Prize. And when acclaimed director Richard Wherrett saw the portrait, he was immediately struck by the film and TV actor's resemblance to artist Vincent van Gogh.
Wherrett had long wanted to present a work combining Gustav Mahler's Earth Symphony with a staged reading of letters by Van Gogh, written during his most prolific and memorable period of work in the 1880s.
``Richard approached me about it and I was very interested but the project never got any further at that stage,'' Wenham said. ``I was roughly the same age as Van Gogh when Adam painted my portrait, and I share a great love of nature.''
Wherrett died the next year and the project lapsed, until artistic director Brett Sheehy decided to revive it again for the 2006 Adelaide Festival.
Sheehy announced the show, Songs From The Yellow Room, last October but delayed announcing the actor who would present the letters. His patience paid off when Wenham could finally say ``Yes'' two weeks ago.
``The project had intrigued me greatly and it was great to be able to finally do it,'' the Lord of the Rings and SeaChange star said.
``Since then, it's been quite amazing throwing myself into researching Van Gogh's life, his work and the show.
``It's really fired up my creative juices and got the adrenalin flowing and it's extremely nerve-racking packing in so much in such a short time. I wish I had six months to work on it.
``But we have to make the most of every minute now and preparing for the show will give me a taste of the intensity of Van Gogh and the way he approached life.''
Songs From The Yellow Room is an operatic song cycle featuring mezzo soprano Bernadette Cullen, tenor Keith Lewis and the Australian Youth Orchestra. It's directed by Adam Cook, who Wenham worked with years ago in the original stage production of Louis Nowra's Cosi for Belvoir St Theatre in Sydney.
Wenham said he would present six of Van Gogh's letters and there would be six songs. The connection between the music and the letters was ``both artists' love of nature''.
``Mahler's The Song of the Earth is very moving and Vincent van Gogh loved nature and had a unique view of the landscape,'' he said.
``Van Gogh set out to present the world in a different light, in a different perspective, and his paintings during this period were among the greatest works he produced.''
Wenham said the difference between himself and Van Gogh was ``I can switch off''.
``He was totally consumed by his work but I am happy to just live an ordinary life away from the business.
``Vincent totally immersed himself in the world he was recreating on canvas. I am passionate about my craft, too, but I know that I have another life that I am very happy with.
``The tragedy of Van Gogh is he died never knowing how special his work was, how special he was.
``The letters are a poignant look inside the mind and the heart of a genius and Mahler's music will make an evocative companion for his thoughts.''
Wenham said Van Gogh's correspondence was extensive.
``He wrote hundreds of letters, mainly to his brother, Theo, who was an art merchant who supported Vincent throughout his career.
``The letters reveal much about Van Gogh and I believe The Songs From The Yellow Room will show a new side of him to the audience.''
Wenham said being part of an Adelaide Festival was ``something I have wanted to do for many years''.
``I spent two weeks here back in 1996 seeing up to three shows in Barrie Kosky's festival and it was one of the greatest times of my life,'' he said. ``There are many other festivals around Australia but it is still Adelaide that people look to and come to.''
Wenham himself is no stranger to acclaim, with an accomplished career ranging from Moulin Rouge and The Boys to the action of Van Helsing.
``Van Helsing was a lot of fun, but I don't think there'll be another one,'' he said. ``The Boys was an amazing project; performing it live at the small Stables in Kings Cross in Sydney and seeing people lined up down the street hoping for a ticket from a cancellation was something I'll never forget. Brett was a powerful character to play, just out of prison and looking for trouble.''
Playing Faramir in the Lord Of The Rings trilogy was an ``incredible experience'. ``Just seeing how much energy and meticulous planning went into the trilogy was mind-blowing,'' he said. ``You just knew it was going to be something very special.'' It also produced some funny moments.
``My horse hated me,'' he said. ``I had ridden horses before and had no problems, but right from the start we never got on. It was a tense relationship. He was quite stroppy and always glad to get back to his trailer. Everyone thought it was funny but me.''
Wenham's latest project is the mini-series Answered by Fire.
``It's based on the election for Independence in East Timor back in 1999,'' he said. ``I play an Australian Federal Policeman sent there to observe the election process and help maintain order.
``It was a very dangerous situation for the Aussies who went there as they were not allowed to carry a weapon and were armed only with commonsense and diplomacy.
``It is loosely based on a book by David Savage, a Federal policeman, called Bitter Dawn: East Timor - A People's Story, and it shows what a complex situation they were in.
``It's a very powerful contemporary story that needs to be told.''
Wenham said Australians needed to tell more of their own stories.
``Especially in film and TV, where it is getting harder to fight for space for Australian projects,'' he said.
``When the government signed the Free Trade Agreement with the US, they didn't really take into account protecting our culture. When Australian drama costs so much to produce compared to buying an American show as part of a package, it's increasingly difficult to compete.''
Wenham said being Australian meant ``being special''.
``It's great to appear in films overseas and adopt accents and get nice pay packets, but I like being an Australian. I like using an Australian accent in my work. We should be doing more here to keep our industry and culture alive.''
Away from the spotlight, his family life with long-time partner Kate Agnew and daughter Eliza Jane is happy.
``I keep it private because I like to keep things normal, but we have a beautiful little girl and life is good.
``And now I'd better get back to these letters!''
Songs From The Yellow Roomis at Adelaide Town Hall on Saturday and Sunday. Bookings: BASS.
Instant expert
Born: David Wenham on September 21, 1965, in Sydney.
l Was the youngest of seven children, with five older sisters and an older brother.
l Nickname is ``Daisy''.
l At school he did impersonations in front of the class, particularly of Prime Minister Gough Whitlam.
l Called bingo in Marrickville Town Hall and was an insurance clerk before becoming an actor.
l Was cast as Faramir in the last two The Lord of the Rings epics because of his resemblance to on-screen brother Sean Bean.
---
Inter-FM promotional interview -- Japan

Translated by make_it_stop (with help from Altavista)

Translator's note: I tried my best to make sense out of this. The kana translates David's name as "Day Bit", and Van Helsing as "Van Hell Singing" (which makes me wonder, was the audience disappointed that it didn't turn out to be a satanic musical?). There are some moments that border on hallucinogenic (such as the bit about the red sandalwood wound), but you'll get the general gist. -- MIS

INTRODUCTION/VOICE-OVER: You may think dramatic music is flowing in the background, but this music does something which is taken from the sound track of the movie Van Helsing. Today we promote this movie, and the person who is before me of the dramatic outward appearance, the guest we call David Wenham in the studio. David, today. Welcome.

DW: It is enormously delightful to come here today.

IFM: And it is vigorous?

DW: Very, very vigorous!

IFM: Exactly. You just arrived in Japan, didn't you?

DW: About two days ago. It's just a little hot. However you scratch the sweat, you pass the extremely cute time.

IFM: Is this your first time coming to Japan?

DW: It is.

IFM: You are visiting Japan in the hot midsummer.

DW: I was hurting 2 days ago. However, I'd like to remain here for another 14 years.

IFM: It is a splendid place.

DW: I am the turn person, one where the air changes immediately. It's always an instantaneous change. (Something something) bears. (Laughing)

IFM: I must inquire about your Australian accent, it is delightful.

DW: The truth is, for me it's more of a (unintelligible)

IFM: It's good. Let's talk about the success of Van Helsing which you recently performed. The poster of Van Helsing is pasted throughout the city. How was the experience?

DW: It was the kind of experience that is truly splendid and not to be believed. Because, the filming was not short, it was 6 months filming, 3 months in Prague. Prague is special, a clean place, and it surprised me from the bottom of my heart. It's always a joy for an actor to work in such a place. Special effects were used, the sound, a van, big explosions….it's not bad.

IFM: You used many vans, didn't you? The wound, it is the red sandalwood with that? Doing too much, it is pushed down and passes.

DW: The bridge which is exploding under me, that was enormously dramatic. The explosion being large, to tell the truth every camera could not photograph me. By recreating the bridge once more, exploding once more, you are able to store it to film.

IFM: Did you use a stunt double?

DW: It is very strange, but a stunt man was not used. You're doing stunts all by yourself. With the first film, I pierced the glass and tore, and thought that we would already stop, that scene where I enter through the window. Another person can probably do the same thing.

IFM: You performed with Hugh Jackman and Kate Beckinsale, who are now enormously famous like Tom Cruise, don't you think?

DW: I guess.

IFM: However, your name has also steadily become famous. You are appearing in many movies.

DW: In order to keep busy, you have to perservere. Because whatever you're working on now is exhausting all your power.

IFM: What are your thoughts on working with Hugh Jackman?

DW: As for Hugh, in the entertainment world he has a reputation for being the best person. I spent 6 months trying to destroy that theory (laughs) I didn't do it, but he is naturally an enormously good person. He is very pleasant, with abundant knowledge. I wish him all success.

IFM: He plays the hero. You play the part of a friar. It was a funny part.

DW: As for the friar, he is a Shudo monk. (laughter)

IFM: We'd like to see that joke happen.

DW: He works in the basement of the church. He invents weapons that oppose the power of the world of evil. There are several stories included here…

IFM: The plot increases?

DW: Perhaps so. The setting where it happens is the same place where Angels & Demons took place.

IFM: In Frankenstein, in Dracula, the classics which are familiar from childhood, there is interest in the characters, don't you think?

DW: Yes. It was enormously pleasant to work on a story of this type.

IFM: Indeed.

DW: To be able to play those characters which are such boyhood dreams, and to have them all in one movie. Dracula, Frankenstein, and the Wolfman – it's like a two hour roller coaster ride.

IFM: It is enormously funny. Our chat will continue, but at this point you get to choose the music.

DW: I choose this one. It is one of several favorites. In my case, my taste in music changes like the wind. I'd like to play the entire thing, but this is the first tune I chose.

IFM: Our special guest this afternoon has chosen New York & New York (unintelligible). Our story will continue.

-----------Music-----------------

IFM: The music was New York & New York of (unintelligible). This tune was chosen by our special guest, Australian actor David Wenham, now appearing in Van Helsing, which is opening around the world on the big screen. Are you a musician? Do you play a musical instrument?

DW: Well, it should have been possible, but it is useless. The extent to which I sing unskillfully is enormous.

IFM: Isn't it frustrating?

DW: Well, perhaps so.

IFM: There is no interest?

DW: The interest is there, but it's the doing. With a musical instrument, it does not reach the point where it is possible, and frustration accumulates (Laughing)

IFM: Let's hear next about your performance history. When did you start performing? It must have been a dream from when you were small? Or did you accidentally become an actor?

DW: Well, as is typical for someone who becomes an actor, I was "the class clown" back in school. I liked to be able to amuse the other person. Very much, as for childhood I liked to do puppet shows. After graduating school, I went to drama school, but did not think at all of becoming a serious professional actor. I thought the extent of it would be to play at the theater, however it is often the case that things change and I entered into the movie industry.

IFM: You have very many fans now. Even now there are very many fans outside the studio hoping for autographs.

DW: I'm in the middle of the road. I have received some quantities of e-mail.

IFM: "The David" is enormous, he has many fans in Tokyo. Today I received email from many ones, David.

(snippet of email…introduction, something about good acting, a blessing, and an umbrella)

DW: It is enormous!

IFM: It is enormous! Don't you think it is lucky?

DW: You were surprised!

(email continues)…"Would it be possible to answer some questions? How is Japan? Is it unprecedented?"

DW: This time it is unprecedented, but it is very pleasant. If the air temperature can be reduced 1 or 2 degrees C, if it can be less crowded…if you put that all in place, it would be perfect. So just doing a little, and Japanese (untelligible)…it's very pleasant.

IFM: New Japan is very splendid, already being just a bit cool, if it could just knock the air temperature down a bit…

(email continues) "What do you think of Japanese girls?"

DW: My face is made deep red. The better seed? Being beautiful pre-eminently, you say you don't obtain that….to be sexy, it is enormous.

(voice-over) "The answering of sexy returned with (unintelligible). Then we forward the email that we received from everyone to this person. That, please be, receive."

DW: So it is?

IFM: The enormous accumulated quantity of e-mail has come.

DW: Thank you. When can I reply? Can I read it now?

IFM: Please read after.

DW: Understood.

IFM: Because this is a family show. Because this is the kind of program which the family hears, and there might be dangerous things written, or dirty jokes with it.

DW: So it is…we could show this photograph here to everyone (Laughing)

IFM: The musician does not go interviewing during a live show, but it is possible for you the actor to meet with a fresh audience right now, don't you think? It cannot do to look at the actor on a screen, don't you think?

DW: That's true. Paying money to see a play, however vaguely, you must come to Australia. The Australian theatrical company does not come to Japan.

IFM: So, you can't meet with the audience right now.

DW: I'd like to meet with them, however you say. Perhaps this comment is taken by mistake, don't you think? I would like to meet with the fans outside, thank you. Please go to seeing, by all means. Then the other movie where I occasionally am present. When you see it, it is delightful.

IFM: There's not much time, but can you speak a little bit about LOTR, a long hero piece which has succeeded all over the world, in foreign countries. Was it a great experience?

DW: That absolutely was the chance of a lifetime. I will always treasure it in my heart as something important. I have always wanted to work with Peter Jackson and the movie is very special.

IFM: What is the next work we will be able to see in Japan?

DW: Next is something written by the musician Nick Cave, a bush cowboy movie called "The Proposition", in which I play a huge villain.

FM: So Nick Cave has written a cowboy movie.

DW: It's very dark and serious.

IFM: And now we come to our last question. When someone goes to Australia on their day off, do you have a favorite spot that you recommend?

DW: Just let me think for a little bit, please….The vicinity of Queensland is enormously beautiful anywhere. Around Queensland and the barrier reef, where the view is splendid.

IFM: It is splendid! Don't you think? It is the tropical fish and sunlight.

DW: It is.

IFM: Thank you for stopping by, David. It was a pleasant thing.

DW: This was very pleasant.

IFM: When the movie of "The Proposition" is released, when you visit Japan next, the fans will be increasing more, don't you think?

DW: It probably is the (unintelligible) that accompanies it and, well….

IFM: (handing David a CD) Already it is one tune and David Gray's tune. This is a special tune because of you. When he came to Tokyo, he kept recording especially at the studio.

DW: how cute! It is very cute!

IFM: It is David Gray's "Monopoly" sound recording. Well David, thank you very much.

DW: It was delightful. Toast!

Timor role fires up a class act
By Natalie Gregg

Courier Mail
FRI 22 JUL 2005, Page 008

(Transcribed by Minkey at WW)

FOR accomplished actor David Wenham, Cabbage Tree Point seemed an unlikely location.

But there, on the southern edge of Moreton Bay, is where the actor is filming a new ABC mini-series, Answered By Fire.

Wenham plays a Gold Coast policeman who volunteers for the United Nations mission in East Timor during the bloody 1999 referendum.

"This is a story I was well aware of (and) I feel passionate about being involved,'' Wenham said yesterday.

The mini-series, a co-production between the ABC and the Canadian Broadcasting Corporation, also stars Melbourne-based Timorese actor Alex Tilman, who plays a translator.

Also starring is Canadian actor Isabelle Blais, who plays a Royal Canadian Mounted Police officer.

The film is being shot at Cabbage Tree Point and Mt Tambourine, in the Gold Coast hinterland.

It took about six weeks to re-create two East Timorese villages and the United Nations compound.

Executive producer Roger Simpson said they were halfway through an eight-week shooting schedule.

"The cast have been fantastic, especially many of the Timorese,'' he said. "A lot of them have lived through the experience and here we are re-creating the story. It must be very moving for them and we are sensitive to that.''


Answering Coast call

Gold Coast Bulletin
FRI 22 JUL 2005, Page 010
(Transcribed by Minkey at WW)

David drawn to Dili drama to be filmed amid Steiglitz canefields

By Melanie Pilling, film industry reporter

MOVIE Star David Wenham says a `magnetic force' keeps bringing him back to the Gold Coast.

Yesterday the Lord of the Rings star was on set near Jacob's Well for the $8 million mini-series Answered by Fire.

He plays a lead role as Australian policeman Mark Waldman, volunteering for a United Nations mission in the lead-up to the 1999 referendum in East Timor.
It is his second `business trip' to the Gold Coast and fourth in Queensland in three years after starring roles in The Proposition, Gettin' Square and The Crocodile Hunter: Collision Course.

"There must be some sort of magnetic force that keeps bringing me back here,'' said Wenham during a break in filming yesterday.

"I have a great affinity to the Gold Coast. I feel very at home here.''

Wenham said he agreed to work on Answered by Fire, as opposed to potential larger film offers, because he felt passionate about the storyline. He said working with many East Timorese actors and extras who had lived through the horrifying event was a rare opportunity.

"I feel extremely privileged to be involved because it is a story I was well aware of at the time and to be involved in the telling of it is fantastic,'' he said.

"I feel passionate about this project and it is a really great cast and crew. The opportunity to work with people like Alex (Tilman, who plays in the lead role of a young Timorese translator) is something that you don't get to experience very often.''

The large Steiglitz site has been transformed into East Timor capital Dili, with some of the sugarcane fields levelled to make way for the main set, the United Nations Regional Headquarters, the marketplace, police station and the church.

Production designer Nick McCallum spent a week in Dili with the film's director exploring and taking photographs to ensure the Steiglitz set was true to the East Timor landscape. He said the set took six weeks to build.

"This area was perfect because we could so easily make it look like downtown Dili,'' said McCallum.

The eight-week shoot is at the halfway point, with only one day lost to rain despite the deluge three weeks ago.

Arts Minister Anna Bligh also toured the set yesterday, describing it as `very reminiscent' of East Timor.

"I went over there in 2001 just after the disruption. This has really brought all that to life,'' she said.

Ms Bligh also announced another production starting on the Coast on Monday, Voodoo Lounge.

The $3 million feature film is about a group of kids who are lured to an island and get caught up in ancient voodoo.

A second feature film, 48 Shades of Brown, will also begin production in Brisbane on August 22.

Caption: Clockwise from above: Production designer Nick McCallum; actor David Wenham in character for 'Answered by Fire'; and Wenham with lead actors Alex and Isobelle Blais

Herald Sun (Melbourne, Australia)
November 9, 2000, Thursday

Stature of David


By CLAIRE SUTHERLAND

David Wenham bared his soul (and his backside) for his latest film, writes
CLAIRE SUTHERLAND

TAKE a long, hard look at David Wenham, because he may not be here for much longer.

The Australian actor, best known for playing the laconic Diver Dan on the hit ABC TV series SeaChange and for transforming himself into the softly spoken epitomy of evil in The Boys, is about to take his international-quality talent elsewhere.

Wenham, having just wrapped up his Melbourne high-finance thriller, The
Bank, is now in New Zealand with Cate Blanchett and Ian McKellen making the feverishly anticipated The Lord of the Rings.

And if that doesn't thrust him into Russell Crowe-style fame and fortune, it's only a matter of time before something else does.

Perhaps it will be Baz Luhrmann's much-delayed Moulin Rouge.

Wenham, fitting in a day of promotion for his latest film, Better Than Sex, between shooting the final scenes on The Bank, is flu-ridden and exhausted.

He's also gentlemanly in a manner just the right side of effeminate, thoughtful, precise and obliging. But he's not a completely open book, surprising considering he spends much of his screen time in Better than Sex in the buff.

While most film commentators focus on the bravery of the woman involved in a sex scene (in this case, Susie Porter), Wenham agrees it's just as nerve-racking for the man.

One of the first times he saw the film with an audience was at the Melbourne Film Festival.

"I was totally removed from it and nearly forgot it was me up there and just enjoyed the film. It was only afterwards in the forum when somebody asked 'What was it like with all of us here watching you in the nude?' that it really hit home. I thought 'Gee, you were too, you dirty dogs'. They should have just been
concentrating on the film, on the dialogue," he laughs.

"If you thought about that, you'd never do it, you'd never do it. I'm willing to do that and actors are, but then you get self-conscious in other areas of your life, going to the beach or something. You never think about it when you're in front of the camera."

The film is a surprisingly accessible comedy about a one-night stand. Its accessiblity is surprising because the subject matter is one that might offend
more conservative audience members, but Wenham and Porter are so endearing and human, all is forgiven.

"It's a fine balance because everyone does have opinions about one-night stands and it's a film that doesn't moralise or judge, it just leaves it up to the audience," Wenham says.

"I think most people can relate to certain situations that occur in that film. My instinct is that it's very accessible, a very good date movie. It could break the ice. They could sit there and let the couple on the screen break the ice for them."

Wenham has made some careful career choices since graduating from the then
little known Theatre Nepean drama school in Sydney's outer west.

And though he has assembled an impressively eclectic list of
credits (Paul Cox's Father Damien, The Boys, Idiot Box, ABC TV's Simone De Beauvoir's Babies) he says there's no grand plan.

"I think 'Am I going to enjoy doing the film? Is it going to be an enjoyable process for me? Am I going to be fulfilled creatively from it?' Those are sort of the criteria, because I'm happiest when I'm actually working, when I'm on a set or in a rehearsal room. It's when I feel most alive in a cliched way," Wenham laughs softly at himself.

It's lucky really. This year Wenham has spent only January in his Sydney
home. The rest of his time has been on film sets both in Australia and overseas, and while he's not rushing to base himself overseas, he's happy to go where the work is.

He has no objections to the likes of Fox Studios setting up in Australia.

"My stance on the Americans in Australia and especially Fox Studios is there is room for Fox here," Wenham says.

"The only danger would be if our local industry became homogenised and
suffered because of international movies being made here. At the moment, I don't believe that's the case. I don't think you can have it both ways.

"I've been fortunate in that I've worked in productions overseas and I can't very well come back here and say overseas people can't come and work here. I think that would be ridiculous."

The Bank, made by the same collaborators as The Boys, was meant to have been shot in Sydney, but came to Melbourne when the shooting schedule came
perilously close to the Olympics. Wenham is glad it did.

"It's actually better us having filmed here because we've had access to locations we would never have been able to get. People in Melbourne in the necessary positions are very very welcoming to film crews down here," Wenham says.

"I believe there's going to be a big influx of shooting in this state. It's much easier to shoot here. Location fees have gone through the roof (in Sydney) so that does impact on smaller-budget Australian films."


Better than Sex opens today.

---
"ABC.NET.AU" At the Movies 4/20/05
David Stratton talks to David Wenham, Robert Connolly and Elliot Perlman, the Actor, Director and Writer of THREE DOLLARS
DAVID WENHAM: It has been said that we're only two pay packets away from being on the streets, and it's true. It's true, but it's not something that is widely recognised. We all think that we do live in healthy times. You know, house prices, well they're starting to go down now, etcetera. But, no. We're living in precarious times.
WENHAM: Johanna Hunt-Prokhovnic, who plays Abby in the film, I would regard as one of the best actors I've ever worked with - not only the best child actor I've ever worked with. She's a young girl of about ten who possesses an instinct and a natural ability that is rare, it's rare, you just don't see it. And the wonderful thing about her is she's not a precocious child, she's a very normal child who will relate to you in a very real and comfortable manner which is why those scenes are so successful.
Voice of America news - 11/18/2005
"I think art and cinema is something that transcends boundaries. It crosses boundaries and it can change people, regardless of the way one lives," Wenham says. " I think the geography doesn't matter, you know, film can touch people. And it can, yeah, transcend language, as well."
---
Posted by Minkey at Wenham Wonderland:
Blue eyed boy
Author: Angela Bennie
Date: 26/05/2005
Words: 2910
Source: SMH
Publication: Sydney Morning Herald
Section: The Sydney Magazine
Page: 32

With his eclectic choice of roles, David Wenham continues to confound attempts to "read" his character. Angela Bennie meets one of Australia's most enigmatic actors.

He is wearing a black, V-necked pullover, his sharp face a slightly pockmarked, pasty creamy-yellow above it. His scraggly red beard is clipped unevenly and carelessly to the jaw-line; his unkempt, spiky hair is the colour of chopped straw. There is a strange stillness in his body, but the eyes, they are what hold you, pools of innocent sky blue, gazing almost blankly out at the world around him. It is very difficult to look away from those pools of blue. Meet David Wenham, actor.

At least, meet David Wenham, actor, as painted by artist Adam Cullen in his 2000 Archibald prize-winning portrait of him in the role of the notorious killer and rapist, Brett Sprague, in the film The Boys.

Or could it be a portrait of David Wenham, aka Diver Dan, "the thinking woman's crumpet", the heartthrob in the ABC television series, SeaChange, a role that launched the shy Wenham into the stratosphere of national celebrity?

"Definitely captures the spirit of Diver Dan," said a delighted fan, happily standing before the portrait at the Archibalds that year.

"Definitely not the adorable anti-hero of SeaChange," pronounced a learned critic.

It is one thing for an Archibald prize-winning portrait to cause controversy - this is par for the course for the Archibald. But it is not the debate about the execution of the work that is interesting here. Something else takes precedence and that something might be called the "Wenham factor".

This is the public's and the viewer's constant attempts to "read" Wenham, his character and personality, the need to seek out and grasp some essence perceived to be there in this portrait of him. This is what is intriguing.

And, given the startlingly conflicting accounts, it is clear he eludes their every attempt.

"I suppose the portrait looks quite normal, straightforward, just like David does," says Adam Cullen. "Or like he presents himself to be. But it is what is not there, what is absent, what he has put aside in reserve, that is what holds you. Definitely with him, it is what you are not allowed to see; that is what gives you the experience of intense presence with David."

Now here he is, in another gallery, in the flesh, sitting at a corner table on the mezzanine level of the National Gallery of Victoria, eating a salmon salad roll. The gallery's famous internal waterwall flows down in silent eddies on his right and to the left, beneath the mezzanine, are the still figures of the internal sculpture gallery. The space is quiet, restful, like Wenham, at ease in his chair. He has chosen this place for our interview.

The carrot-coloured outcrops of hair have been freshly spiked, the familiar, sharp-featured face is soft, almost gentle with goodwill, there is the faintest blur of red stubble on his chin. The sky-blue pools are neither blank nor innocent: they smile, they gleam with intelligence and humour, but there is just enough scepticism in them to make one wary.

"Very disruptive," he is saying. "Oh, yes! Very disruptive! Just stupid things I'd do, like taking off the teacher in the class when he had his back turned, that sort of thing. You could say I spent more time out of the classroom than in it."

He takes a bite of his roll. He is talking about his childhood in Marrickville, his restless high-school days with the Christian Brothers in Lewisham, remembering the silly pranks, the take-offs, the fooling around he used to get up to in class. No wonder his eyes are gleaming in the retelling; it is clear he enjoyed every minute of his time as an anarchist.

He was so bad, his mother insisted he had contributed to one of the poor brothers having a nervous breakdown and leaving the brotherhood.

The youngest of seven children, with five older sisters and one older brother, Wenham was clearly a problem, but a dearly loved one. It was a close family - "we didn't have much money growing up. We lived in an environment where there was no need for anything other than friendship and support within the family and the community for happiness. It was as simple as that," he has said elsewhere.

Restless, clearly intelligent; what to do with him?

With his love of impersonations and his ventriloquial skills, some of his energy was harnessed into the occasional shows he and one of his sisters would put on in the family dining room, charging two cents a ticket.

"They were puppet shows, mainly," says Wenham.

"My sister would be both box office and usher, and I would get behind the table and do the puppets. The whole family was the audience."

If the weather was good, he would file his pliant audience out into the backyard, lining them up on chairs in front of the small window of the backyard shed - and on with the show, the small window a perfect framing device for his puppets' antics.

And at school one of the teachers allowed him the occasional gig of 10 minutes in front of the class, doing his impersonations. He would take off whomever he so pleased: teachers, television personalities, pollies. "I was good at Gough Whitlam; I used to love doing Gough Whitlam," he remembers with a grin.

The teacher also suggested he might be interested in joining the school's Saturday-morning drama class. Which he did: he played Hotspur in the school's production of Henry IV, he wrote and performed his own ventriloquist show to tour with the school band - he was in seventh heaven.

His father was a wise man. Although the world of the theatre was not familiar to him, he could see the transformation those Saturday drama classes had made in his youngest son. As a birthday present he bought a subscription to the Genesian Theatre in Sussex Street, in the city, and began taking him in on the bus to the matinees there; later he expanded their horizons to what was then the Nimrod, now Belvoir Street Theatre, taking the boy across the city to the Nimrod's Sunday-afternoon matinees.

Young Wenham was enthralled, especially by those matinees at the Nimrod. "There was something about walking into the foyer of that theatre. That became my ambition, to perform on that stage one day."

As he now looks back on those weekend excursions with his father, Wenham shakes his head with wonder.

"My parents weren't people who grew up going to the theatre, they had no real knowledge of theatre, so how they knew that it might be something that would interest me, I don't know.

"But they saw that, and nurtured it and nourished it. I can't thank them enough."

Now in his 80s, his father still takes himself off to the matinees, Wenham says. "He still subscribes, he travels in on the bus to the Wednesday matinees at the Sydney Theatre Company. He may possibly be the only male in the audience, the day he goes."

As his high-school days drew to a close, Wenham tried for NIDA, but failed to gain a place. Fortunately for him, the University of Western Sydney had just started a tertiary drama course at Theatre Nepean. Wenham tried for that and was accepted into the first intake. It was 1984 and Wenham was 19.

And so begins the rise and rise of David Wenham, actor.

Wenham probably would not see it this way, as some kind of linear ascent. More of an expansion horizontally, a constant widening of possibilities and challenges, a search for roles that would create those challenges for him, test him out, push him.

Which is perhaps why the range of characters he has played over the 15 years or so of his professional life has been so eclectic, so extreme in their differences.

He is hard to categorise. From the aforementioned killer Brett Sprague of The Boys and the sweet-natured Diver Dan, Wenham has played everything from a Belgian priest (Molokai: The Story of Father Damien) to a heroin addict with the worst mullet haircut in the history of the universe (Gettin' Square, for which he won the 2003 AFI award for best actor), a strange bank teller (Idiot Box) to the legendary noble Faramir in The Lord of the Rings, a pyromaniac (Cosi) to, of all things, a sperm donor (Simone de Beauvoir's Babies, for which he won his first AFI best actor award).

A few months ago, you would have found him in one of the greatest roles the theatre has to offer, Rostand's Cyrano de Bergerac, at Melbourne's Southbank for the Melbourne Theatre Company, a role in which he has to dominate the stage for three hours of great drama, sublime comedy, swashbuckling swordfights and heartbreaking poetry. "A dream Cyrano," the critics crowed, with words like "charismatic", "mesmerising," "spectacular" falling off the review pages of the daily papers.

In his recent film, the Australian-made Three Dollars, Wenham plays the quietly desperate suburban husband and father Eddie, an "ordinary" man cloaked in painful bewilderment and almost the antithesis of the romantically heroic Cyrano.

"Wenham slips so naturally into Eddie's skin it's almost eerie," said the Herald's Sandra Hall of his performance. Another critic says it is as if Wenham has "channelled the spirits of Gary Cooper and Jimmy Stewart" onto the screen. Film writer Jim Schembri concedes that Wenham is an actor whose versatility "stretches to all points of the acting compass," but that here, as an Aussie everyman, "he is at his most impressive, exuding a quiet dignity that is as palpable as it is subtle".

But the next time you will see him, he will have turned all that nice ordinariness on its head. About to be released is his malicious landowner, Eden Fletcher, in The Proposition, filmed last Christmas in 50-degree heat up around Winton in Queensland alongside the likes of Ray Winstone, Emily Watson, Guy Pearce and David Gulpilil, with a script by Nick Cave.

It is certainly a rather exotic world that Wenham moves in these days, one minute dressed in a cassock in a leper colony on a Pacific island, playing imaginary cricket with Peter O'Toole to while away the hours between takes, the next on the stage in suave polo sweater as Ivan in the classy Parisian hit Art, at Sydney's Theatre Royal.

Or then again, a few years ago you could have found him in Macedonia filming a strange western, Dust, alongside Ralph Fiennes, then swathed in mist in the South Island of New Zealand, preparing for yet another take in Peter Jackson's The Lord of the Rings.

His first job when he left school was selling insurance with the NRMA, which pleased his mother very much. You'll never go far as an actor, she warned him. "It wasn't until SeaChange that my mum finally stopped reminding me I should never have left the NRMA," says Wenham.

He would also occasionally call the bingo nights at the Marrickville Town Hall just to make ends meet, while studying and trying out for roles as a newly minted actor

after graduation.

Looking at the list of more than 25 films he has now made here and overseas, the long and distinguished list of roles he has performed in the theatre and on television, it is hard to see him as the casual host of those Marrickville bingo nights, let alone someone who once might have looked forward to a lifetime of selling insurance for his living.

Yet perhaps not; there is something modest, ordinary, unpretentious about Wenham. It is as though he is signalling, with his soft voice and slightly withdrawn manner: "Hey, I'm no star!"

When asked if he has ambitions to join "the Oscar club" alongside his mates Geoffrey Rush, Cate Blanchett and co, he gives an emphatic "Oh, gosh no!" That is the last thing on his mind, he says. "I have no other goal than to do what I do well. Winning Oscars is not part of my thinking."

He lives quietly with his partner Kate Agnew and one-year-old daughter Eliza Jane in an apartment in Sydney's eastern suburbs; he likes walking in the nearby park; he likes reading the newspaper over a coffee in the local cafe. He wanders around the 'hood in old jeans and casual shirts - his is not the high-flying, all-black-and-bling-bling world of celebrity and wannabes.

When he is away on a shoot, he calls home daily; and, if possible, he will fly home every weekend, or arrange for Kate and Eliza to come with him, especially if it is overseas. "We try to be together as much as we can as a family, commute as much as possible. It is not exactly easy. Eliza hasn't got a frequent flyer card yet, because she's under two, but she's clocked up a few points in her short life."

As Adam Cullen said, he is a straightforward kind of guy.

But as Cullen also said, like he presents himself to be.

A very old friend and colleague of Wenham's, film director Robert Connolly, who has directed the actor in several of his films, including Three Dollars, says Wenham's "simplicity" is deceptive.

"There is an extraordinary intellectual rigour there at work in David on everything he does. He will dissect everything down to the finest detail. When you work with him, he knows how to tweak a performance in microscopic ways. He is able to perform to fine degrees, like a great concert pianist knows dozens of permutations of strengths on the pedal.

"David's like that. It won't matter how many takes we do, he always knows how to press down or ease off, even if it is to the infinitesimal degree to get what it is we are after. Sometimes we don't have to say what it is; he just knows. He even knows what lens we are using and adjusts his performance to fit."

Wenham himself says that from the moment he takes on a role, his mind starts racing. He will read the script, over and over and over, he will read every book on the subject, he will walk for hours in the park, thinking it out in his head, visualising each moment, what he has to do with the character and what he might do with it, where he might take it. He needs to see it in his head, hear it.

He arrives at rehearsal, says Connolly, thoroughly prepared. Connolly met Wenham way back in the early days, when he was production manager on the notorious staging of The Boys at the Stables Theatre in Kings Cross in 1991. The atmosphere in the dressing room "was a very dark place to go. He would physically get himself into a state to be able to do the show", Connolly says. It was an energy he did not particularly want to be involved in.

In a previous interview, Wenham confessed it was a very difficult process to get to the violent psychopath Brett Sprague. "At first I could not see his face, but I could hear him. I could hear the rhythms of his character, I could hear the speech patterns, and then I could visualise the way he moved. I started to get him. And then his look came. The way he looked. And I knew I had him."

This intensity, Connolly believes, is the way Wenham approaches everything he does, this commitment to his work, to his life. He keeps this intensity hidden as much as he can. "There is a reserved quality about him. It is like a choice he has made to reserve some part of himself from the world. He has worked out how he can be an actor and yet not have to reveal all of himself. There is a part of him he doesn't want the world to see."

Surprisingly, Wenham confesses that it was the role of Eddie of Three Dollars he found very difficult - not to find, but to play. "It is very difficult to play a 'good' man. Very difficult. I am less comfortable playing just the ordinary person than a character type. The thicker the mask, the more comfortable I am."

What fascinated Adam Cullen was Wenham's ability to absorb and take on any character and his ability to project

"a powerful intensity in an extremely economical way, without an excess of action".

"All that intensity he has goes into the empty space around him. So you are aware of an absence, something you cannot get to. This is what is fascinating about him. He is in that space.''

Wenham dismisses all reported accolades with a squirm in his seat. He is clearly uncomfortable discussing his art, his private life, what others might say or think of him. He is just doing a job he loves, he says.

"My school motto was conanti corona, a crown for the trier. That's me. Let's just say I try. I try."

The interview over, he puts on his sunglasses and exits the gallery's quiet through glass doors out into the bustle of the street. He disappears, an ordinary man dressed in sunnies and jeans, among the strolling couples along Melbourne's St Kilda Road.

"After the portrait was completed, I showed it to him," says Cullen. "He sat in silence for quite a long period of time. And then he said I had caught a part of him no one has ever seen before. What that was or what he meant, no one will ever know."



---
Excerpt from All for Damien, in the Honolulu Star-Bulletin, 1998
Leading man, actor David Wenham:
David Wenham, unknown in America, has acted in Australian movies for 12 years. He's in "Sea Change," a top-rated television series that he compared to the offbeat comedy drama "Northern Exposure."
He was recruited for the Damien role after the casting director saw his recent movie, "The Boys," in London.
"I turn 33 just before the film finishes, which is the same age Father Damien was when he came here," said Wenham, who first heard of the priest as a young Catholic student. "The most important research for me was talking to the patients for their firsthand experiences ... what they had actually been through, to gain some insight into the pain and hardship they have experienced.
"I don't see them as people who are terribly different, and I think that is how Father Damien saw them. I just see them as friends -- they are very human people who just happen to suffer from a specific disease.
"My first hope for the film would be that the patients here approve and that it is something they respect. My second hope is that, if it educates people and if people get something from this film, that would be rewarding.
"What goes on the inside of that man was extremely special and doesn't occur in very many people. He is so big and so widely remembered throughout the whole world for his attributes, his incredible love for his fellow humans."
Wenham calls his role "monumental ... in all facets and all aspects."
"Technically it is an extremely difficult role: You have an Australian actor coming to Hawaii to play a Belgian priest who delivers a Latin Mass, who sings, who rides a horse," he said.
"Also in terms of the expectation that is on me, especially in this country and especially in Belgium. People have perceptions about the man. I try not to think about it too much. I am here. I'm going to do my best."
(Read the rest of All for Damien here)
---
Bad Boy Wenham

"I'd be put in the loony asylum if I thought it was going to earn 200 million dollars," quips Australian actor David Wenham of competition film The Boys, "but the buzz in Berlin for the film is good. I actually think it's the best film I've done."

The affable and not remotely loony Australian actor, nursing a hangover in the Interconti yesterday and limping through a full day of interviews, is being hailed as 'the new Russell Crowe' by enthusiastic hacks. Wenham laughs.
"I feel sorry for poor Russell," he opines. "If I'm the new Russell Crowe, does that make Russell the old Russell Crowe? You know, I think he'd like to be Russell by himself." --
Hero Brown
(from
the 1998 Berlin Film Festival
)
Artists Against Howard newsletter excerpts
Oct. 7
Dear all,
Thanks to all who have offered to help out at the polling booths in
Bennelong on Saturday including Merlin Luck and David Wenham. Wonąt the
voters of Ryde get a shock on Saturday morning ! We still need more people
however so if you do have a spare hour or two please volunteer.
Oct. 10

David Wenham and Merlin Luck both came and did long stints at Eastwood Public School on Saturday – with David even trying to hand the very flustered PM a "Put Howard Last" leaflet when he arrived to vote. One of my favourite moments of the day.
The polling itself was extraordinary. David Wenham put in a few hours for the Not Happy John campaign as did Merlin Luck. Wenham was an absolute champion, a really nice bloke. Stuff all this Lord of the Rings shite, he'll always be Diver Dan to us!

Excerpt from the blog of an extra in "Three Dollars":
Thursday, April 15, 2004
i'm not sure whether it was the hideous makeup i was wearing, the matching hideous clothing i'd been given by wardrobe, or the fact that there were a fair few 'real' people around who quite obviously thought the whole group of us time-warping extras were freaks - but one thing's for sure, the actual eighties were never quite as painful for me as re-living them was yesterday. the shoot was to be a ten hour call (copeable)... at monash's clayton campus (slightly less copeable, seeing as i thought it would be in the city somewhere)... starting at 5.45... in the morning. and i eventually got home at 7.45pm. it wasn't all bad though. the food was good, i got some good scenes (i had direct interaction with david wenham in one take; frances o'connor touched me on the shoulder in another - ooooh, special!), and i had my hair crimped for the first time. i also caught up with a mate i hadn't seen in two years, which was an absolute bonus. we shot two scenes - one nightclub scene using the alexander theatre foyer, and one cafe scene using wholefoods. there was a lot of waiting around, but it was almost worth it just to watch all the monash hippies saunter past us and into wholefoods, sniggering at our tragic getup, only to come back out seconds later, sheepish and snappy due to mung-bean and tofu depravation. yeah, 'the man' took over your cafe. deal with it!

Wenham red-faced
Herald Sun (Melbourne, Australia)
Jan 16, 2004
MIKE EDMONDS, LUKE DENNEHY, CARLA DANAHER

AFI winner David Wenham and funnyman Mick Molloy were shooting scenes for the Channel 7 telemovie The Brush Off, with Hollywood actor Sam Neill in the director's chair, at Southbank yesterday morning.

The crew collapsed with laughter when Wenham smeared tomato sauce all over his face while trying to eat a sausage roll.
---
Just what does it take to make it as a successful actor?
's DREW TURNEY asks a few people who would definitely know: Aussie icon DAVID WENHAM, actress on the rise SANDRA STOCKLEY, NIDA boss TONY KNIGHT and WAAPA major player ANDREW LEWIS.
(article excerpts)
WHAT LIES BENEATH
There's one essential to being a good actor, and it's no secret. "Unless you've got something innate within you, you ain't going to be an actor," says struggling hopeful turned Australian icon David Wenham. "It's like being a great tennis player. Unless you've got the ability, they can teach you to serve and volley or whatever and you're going to be a fine tennis player but you're not going to be a great tennis player. You have to be born with it and then you're going to pick up the skills to help you along."
THE CULT OF PERSONALITY
Of course, you can become famous through absolutely no application of talent. Just look at any tabloid. But is that what you want?
"But look at the kind of movies they're in," Wenham counters. "Would I like to be in them? Not necessarily. The proliferation of reality shows is a reflection of society; fame and fortune motivates a lot of people. What interests me is the opportunity to work with talented people on projects that stimulate me and to develop characters that fascinate me."
A TRUE UNDERDOG STORY
David Wenham advocates doing everything you can to stay in the game, no matter how employed you are. "Very early in my career I put all the funds I'd made from various other jobs into my own show, which I paid for, produced and co-directed. I did it all myself, and it was such a rewarding experience. It gave me an incredible amount of confidence and also opened up doors."