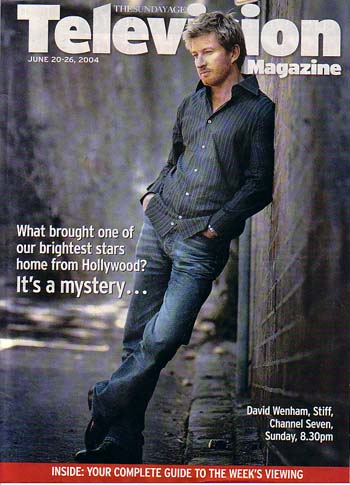 A Bit of Stiff Luck
The Sun-Herald Television Magazine June 20-26, 2004

With a swag of blockbuster movies under his belt, David Wenham could have been excused if he'd decided to stick with Hollywood for the rest of his career. After appearing in Moulin Rogue, two of the Lord of the Rings chapters and the action romp Van Helsing, the temptation to opt for roles that would see him stay on the big screen, with the big names, must have been strong. And it was, he admits - but not strong enough to keep him from jumping at the chance to play one of his favourite characters.
This week, Wenham will bring to life Murray Whelan, star of a series of well-loved Australian crime novels by author Shane Moloney. Through a series of bosses with different political portfolios and an uncanny ability to be present when a crime is committed, Whelan takes readers - and now viewers - through a hilariously twisted look at our political underworld.
The decision to play him was a relatively simple one. "I leapt at the opportunity," Wenham said. "From the very first time I read the books - and I was an avid fan before I was approached about this - I genuinely understood Murray. I like his observations of the world around him and I think I see the world in a very similar way to what Murray does. He's a great Australian character."
In the tradition of Australian characters, he's not exactly an easy one to pigeonhole. A single dad, career-minded and yet perpetually clinging to his job by his fingernails, a hopeful romantic and an amateur sleuth, Murray often comes across as just a likeable bloke trying to do his best in a situation he doesn't quite understand. "In the crime genre, to have the lead character a political adviser - a rather crumpled, shambolic but nevertheless smart single father - just deals with so many facets of the world I find interesting," Wenham said. "The political process fascinates me and each one of the novels, and indeed the movies, is in a totally different world.
In the first film, Stiff, Murray's employer is involved in ethnic affairs and industrial disputes; in the second, The Brush Off, (which will screen on Channel Seven later this year) he's in the slightly more refined world of the arts. But wherever Murray goes there just happens to be a dead body somewhere." This time around, the unfortunate body is that of a Turkish meat worker, whose untimely demise sets Murray searching for a killer and trying once again to salvage his career. Throw in a series of struggles with his ex-wife and dealings with Melbourne's underworld, plus a potential new love, and the result is a hilariously twisted whodunit with a unique Australian flavour.
A lot of that, Wenham said, was due to the "dream team" behind the series. "John (renowned author and satirist John Clarke) was an inspired choice to adapt the books to the screen and then John and Sam Neill directing the first two was a dream," he said. With two of the films now complete and work under way for at least one more (there are five books in the series so far), the prospect of Murray Whelan joining Ten's Blackjack or Nine's Halifax fp as part of the new wave of quality TV-movie franchises looks likely.
That too, said Wenham, was a good reason to take the role. "I think this does distinguish itself in that it doesn't patronise the audience," he said. It's a very smart, intelligent piece and yet it's very accessible...it's a pretty terrific achievement considering the budgetary and time constraints involved. "I'd love to come back as Murray some time in the not too distant future; the other movels are terrific and it would be wonderful to continue that journey."