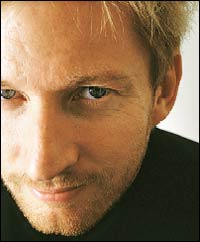 David Wenham, actor and passionate Swans supporter.
What I'd do if I were in charge
By David Wenham
March 14, 2004


Sydney will definitely win the flag this year. How do I know this? Because my sister Maree tells me so.

The only reason the Swans lost the '96 grand final was because Maree washed her scarf the night before, and the only reason the Swans were unsuccessful in last year's preliminary final was because Maree draped her scarf over the TV. So she has promised this year not to wash her scarf, not to drape it on the TV, not to shampoo on game day and never to buy the Footy Record off someone with blond hair, and victory will be ours. Simple!

Acting and football are very similar (the kicking, marking and handballing aspect aside). Both require an exhaustive rehearsal or training period leading to the performance or game day and both occur in a theatre of sorts. And if the director or coach is overly negative in critism it can become a self-fulfilling prophesy. Even the most talented can then appear very ordinary in front of the crowd.

I think the real reason for Sydney's dramatic improvement last year was psychological more than anything else. There was a confidence among the players that didn't seem apparent in the previous couple of seasons. Paul Roos had these blokes believing in themselves. Adam Goodes is a prime example. He stepped up in the ruck, played up forward, in fact everwhere you looked there he was. Brett Kirk, also omnipresent, was entrusted with shutting down the competition midfield, relished the task, tackled like a man possessed and won plenty of the ball.

I have followed the Swans since the move to Sydney in '82, was there through the bad days with 13 other followers in the outer. I was there for the fantastic evening when T. Lockett put the team into its first grand final in 51 years and, of course, I found it compulsory to run on to the SCG to congratulate "Plugger" when he broke Gordon Coventry's all-time goal kicking record.

I feel, however, that this year is the one. Rehearsal is nearly over. Roos will once again have the players believing in themselves. The talent is certainly there led by captain Stuart Maxfield, a newly naturalised Tadhg Kennelly, Michael O'Loughlin performing magic, Adam Schneider doing same (have an inkling so will Luke Ablett), a superfit Jason Ball and of course Barry Hall (would love to mention all players but unfortunately don't have the space).

The Swans need only to play football and Maree needs to keep her promise.

Cheer, cheer the Red and the White.

David Wenham is a renowned Australian actor.