This is a page of little snippets that are too small, difficult, or nonexistent to link to, and/or people have sent them to me, and/or I can't remember where they came from. Enjoy!
---
From The Brisbane News, August 21, 2002 (thanks, MoH!)

High Diver
By Trent Dalton

David Wenham's stunning turn in Molokai pushed the boundaries of his acting craft

It's testament to David Wenham's belief in himself that amid praise for his charismatic SeaChange character Diver Dan, he chose to make his major film debut, playing a stubborn Belgian priest who contracts leprosy.

In Molokai: The Story of Father Damien David gives a stunning performance, playing a man of God who sails to the Hawaiian island of Molokai to comfort lepers exiled there in the late 1800s.

David, 36, says the role required him to call on every acting technique he'd learned as a young veteran of the Melbourne theatre circuit, starring in everything from Hamlet and The Tempest to Cosi and Art.

The movie was filmed in 1999, although behind-the-scenes dramas caused the Australian release to be delayed until now. But in that time, the Marrickville-born actor kept himself busy. There was more Diver Dan and film roles in The Boys, The Bank, Better Than Sex and a cameo as club regular Audrey in Moulin Rouge. Not to mention a role as warrior Faramir in a little New Zealand production opening in December called The Lord of the Rings: The Two Towers.

But today it's time to kick back. It's a Saturday afternoon and David's in Brisbane to give a Q & A session for the opening night of Molokai.

How's your state of mind?

Content. It's a Saturday at 2.30pm, so I'm nice and relaxed.

What's in your wallet right now?

A whole heap of plastic cards. Most of which I never use, but have just in
case.

Can you recite a line of poetry?

"Love sit down beside me, as aid to myself."

What's the toughest thing you've done?

There's a lot of competition, so probably coming up with a correct answer to this question.

What did you dream about last night?

Missing the wake-up alarm this morning. I didn't, thankfully.

Where is the best view in the world?

Molokai Island from the plane flying over.

Who are your heroes?

My parents, Bill and Kath. And the great Australian actor John Hargreaves.

Who do you find the most beautiful person in the world?

My girlfriend Kate.

Can you tell us a joke?

If I thought about it long enough I probably could. Was that a joke just there?

What was your most glorious mistake?

At drama school, pretending I was one year older than I was. Everyone held a
surprise 21st birthday party for me when I was only 20.

What figure of history do you most admire?

Alexander the Great. If you look at the map and see how much land he
conquered it's staggering.

Who is the coolest person in the world?

Nelson Mandela.

When have you lied?

At my 21st birthday party all those years ago.

What's your favourite film moment?

The end of Cinema Paradiso. It's syrupy, but it works.

What CD can't you do without?

Pianist Keith Jarrett's The Koln Concert. He's a very gifted pianist who
improvises his way through concerts.

Any famous last words?

I'll quote Spike Milligan's gravestone: "I told them I was sick."

* Molokai is screening now at the Dendy cinema.

---
From "The Advertiser" Features section, April 21, 2005 (contributed by MeaningofHaste)
Three Dollars; Money talks over lunch
By BEN McEACHEN
Two good mates want to chat about the Australian film industry - and a couple of bucks, writes BEN McEACHEN.

DRESSED casually and doing well to disguise the fact they got up at dawn to
fly to Adelaide on a whirlwind national publicity tour, director Robert Connolly and actor David Wenham are top lunch companions. With fine table manners (Wenham pours water, Connolly inquires abour your occupation) and perpetual conversation, the duo are solid Aussie blokes. Little wonder, then, they were drawn to Elliot Perlman's much awarded novel, Three Dollars.

"We're interested in telling these contemporary adult urban stories," explains Connolly, who worked with Wenham on The Boys (1998) and The Bank (2001). Met with consistent praise and substantial returns, both films starred Wenham. Connolly produced The Boys and made his directorial debut with The Bank. His producing partner, John Maynard, has also worked on all
three films.

These good mates are clear about what they want to make. Hoping Three Dollars will find the audience that got into Lantana, they had no interest in attempting an ocker comedy or directly competing with Hollywood product.

As we learn during table-top discussion, Wenham and Connolly aim to create
better films, not higher profits necessarily.

"I read it the (book) first time when I was single and didn't have a financial worry in the world," says Connolly of Perlman's novel. Three Dollars centres on Eddie, a nice guy facing life's complications, which involve job loss, mortgages, a disappointed wife, Tanya, and recurring childhood sweetheart,
Amanda.

"All I was interested in was whether Eddie ended up sleeping with Amanda. What fascinated me was the single-man approach to the story. When I read it again, it was after The Bank. I was married, I had a kid on the way, I had a mortgage. I thought 'Oh my, there's this whole other emotional, human dimension to this story'. It's a very complex, rich story."

While Connolly talks effortlessly, stubbly Wenham is more reserved. But in
between mouthfuls and supportive looks, he is happy to share his perspective.

"I echo Rob's sentiments entirely," says one of our most popular actors. "I
could also see, from a selfish point of view, Eddie being a wonderful screen
character."

Wenham has heard Eddie described as "decent" and a "hero we need",
attributes which stood out to him in a film world of more "abhorrent" characters.

"He's a good man," Wenham declares strongly before Connolly interjects: "And the world tests him. The film is about taking a good man and testing him in issues of fidelity, as a husband, a father, a money provider for the family."

Three Dollars will also be a solid test of Connolly and Wenham's standing. With a solid track record behind them, they are optimistic about putting an Australian film into a marketplace slowly recovering from home-grown blunders.

"I feel it's important to make Australian films for Australian audiences
first," says Connolly, as Wenham nods strongly.

That attitude frames this lunchtime discussion. With both men keen to continue living and working in Australia, despite Wenham's international success as part of The Lord of the Rings juggernaut, best take this opportunity to quiz them.

Easy stuff first, then: How do we restore our film industry to its rightful glory?

"Make better films," says Connolly simply. "The audience in this country has
thrown down the gauntlet to film-makers and said 'The films aren't good enough;
we're not going to watch them'.

"Everyone who has then thought 'We've got to make more commercial films' - it's been a disaster."

Wenham interrupts: "What is a commercial film?" asks the self-professed "gypsy" actor who has moved nicely between big international productions (Van Helsing ) and small Oz gear (Better Than Sex ) since TV's SeaChange got him noticed. "It's a lucky dip what actually makes a film successful. If we look at our local films that have been commercially successful at the box office, all of them had people in them that weren't famous at the time - Toni Collette in Muriel's Wedding and Paul Mercurio in Strictly Ballroom.

"You couldn't actually say, prior to the film existing, 'we need that and that' and it's going to magically make $20 million at the box office."

Connolly: "Our industry has always been at its best when it has been pioneering, rather than trying to replicate.

"In marketing terms, the Australian film industry should find its point of
difference from America rather than trying to emulate America."

Many of the crew members on Three Dollars had worked on Wenham/Connolly's
two previous films. The pair recommend finding artists who share similar ideas, and then "raising the bar".

But even with earlier success, Wenham's growing fame, and luring expats O
'Connor (A.I. Artificial Intelligence ) and Wynter (TV's 24 ) back to Australia, getting funding for Three Dollars was still a battle. So those behind the film
extol the virtue of a carefully considered promotional campaign, to give their
film its best shot in a market dominated by Hollywood product.

While US films being made on our shores are drawing most attention
in the aftermath of the Eucalyptus disaster, Connolly believes film-makers in Australia are becoming more discerning, and we will see bolder, more ambitious
films.

One such movie should be The Proposition, a dark Australian "western" written by Nick Cave. Starring British actors Ray Winstone and Emily Watson, as well as Guy Pearce and David Gulpilil, Wenham recently completed filming his part in the hotly anticipated drama.

"I'll leave you in suspense," says Wenham, giving nothing away. "Surprise is
the best way to be. I haven't seen it but I think it will distinguish itself as
something we have never seen from this part of the world before - in a
very good way."
---
Snippet from an interview with Robert Connolly in the Queensland "Courier Mail," April 23, byline Rod Chester. (contributed by MeaningofHaste)


"Connolly is a Hitchcock fan, and made references to him in "The Bank." In "Three Dollars," the tribute comes through in an update of the famous "North by Northwest" scene in which Gary Grant is chased by a crop duster plane. When it came to filming Wenham running in front of a helicopter, things nearly went wrong. 'We thought we'd killed him,' Connolly says.

The stunt pilot was supposed to bank off when he came within 10 meters of the actor, Instead, he kept gong to make the shot more realistic. 'David said there was a point when he was running and looking back over his shoulder where he, as Dvid Wenham, not just the character, was going, '"Oh, my God, it's getting really close." '

When the shot was over, the helicopter flew off but the actor remained motionless on the ground. 'David just lay there,' he says. 'There was this silence before everyone started running across the field. He got up, came over to me and said, "OK, your turn." '
Quote from an interview with Toni Collette (posted by Minkey at WW):
How were your scenes with Brett (David Wenham)?

David Wenham is such an amazing actor. I know him. I know Daisy (his nickname), and we had this scene in the hallway where I confront him and there was something he was doing with his eyes where it was almost like he would just look straight through you. I'd spent the whole day with him and I started to cry. I literally had to run away and leave the set, go back to the dressing room for a minute and get myself together because he was freaking me out - as Toni!

When we were in Berlin we would be sitting at a bar waiting for some interview and Daisy would walk up. People who were sitting there freely conversing would suddenly freeze. They were really quite scared of him, and he is the most adorable sweet beautiful man. I really don't know how he contacts the s**t inside him. Its pretty amazing you know. He must have a very, very vivid imagination. I don't want to believe otherwise!
Snippet from the Sun Herald, 4/24/2005:
Wenham wants out

ACTOR David Wenham, a Swans member since the early 1990s, was reportedly most uncomfortable watching Sydney against Adelaide last Sunday from the club's corporate box. Wenham, who was in the box as part of a Swans promotion and was rubbing shoulders with people such as Ian Thorpe, was said to be itching to get back to his regular seat with fans in the grandstand. Wenham has another link with the club as his partner Kate Agnew, a respected yoga instructor, has worked with the team for several years, teaching them flexibility.
---
The Big Blue
(original article posted by Minkey at WW, lovingly transcribed here)
Think sun, surf, and romance, think Diver Dan, so it's inevitable that David Wenham should be the narrator of an ABC documentary on Australians' love affair with the beach
In theory, David Wenham always knew that the beach holds a special place in the Australian psyche. In practice, however, he's still recovering from it.
"I think quite possibly that the whole beach thing in this culture had a lot to do with the success of SeaChange", says Wenham, who played Laura's great love of the series, the unforgettable Diver Dan.
"The beach was a huge part of that character's life, as I think it is for most Australians. We're this population of however many millions, 18 or 19, and the majority of us still cling to the edges of this huge continent.
"But I have to say it surprises me still that SeaChange and Diver are so prevalent in people's minds even now - I mean I finished filming that series two-and-a-half years ago," he laughs.
Diver's image as the ultimate Australian sun-bleached beach lover is responsible for Wenham's latest incarnation, as narrator of an ABC documentary called The Beach, which investigates the cultural potency of the sand and sea in this country.
"I suppose I was asked to do it because I am associated with a particular beach on the southern coast of Australia," says Wenham of the fictional Pearl Bay. "But actually I am a beach person in real life too. I do absolutely love it and some of my favorite times have been by the beach."
The documentary is based on the book The Myth of the Beach by the late writer Geoffrey Dutton, and explores the huge impact the beach has had on Australian culture since it first entered the national consciousness after World War I, and in particular on the country's fiction and art (but not, alas, favourite television shows). The program includes interviews with authors Tim Winton, Les Murray and Gabrielle Carey as well as artist Ken Done and Sydney Dance Company choreographer Graeme Murphy -- and footage of Australians cavorting on beaches ranging from Gallipolli to one of Wenham's favorites, Bondi.
"I'm actually on my way to Bondi now," he says. "It's a beautiful day."
Wenham has just finished work on The Lord of the Rings movie trilogy based on J.R.R. Tolkien's classic books, with fellow cast members including Ian McKellen, Elijah Wood, and Cate Blanchett. He will play the character Faramir, a gentle-natured warrior of Gondor who spends much of his time being ranted at by his deranged father Denethor.
"It was a fantastic experience," Wenham says of his time on the set of the film in New Zealand. "But there was no beach there, though."
---
(from Minkey @ Wenham Wonderland, April 17, 2005)
Two segments from the Spy and Spy 2 from The Sunday Age:
Spy:
Legs 11, David Wenham
AN ACTOR'S life is all about making hay while the sun shines, a credo that rings especially true for straw-haired Seachange graduate David Wenham. Currently starring in Three Dollars, a film about an upstanding family man down to his last pennies, Wenham told Spy he had real-life experience of such a quandary. "When I was at acting college I certainly had $3, probably less," said the redcarpet walker at the film's Melbourne premiere at the Kino Dendy cinema on Tuesday night (pix in Spy 2).
Wenham wrapped his thespian tongue around the numbers as a bingo caller for a few years to make ends meet. "And I did hay carting in country NSW," he told the city-dwelling Spy, who asked whether making that kind of hay had any advantages over the Hollywood kind. "One word: no," came the very definite reply.
Also at the premiere, Spy noted evidence of the common lament by expectant mothers, that they become something of an invisible vessel once with child. Frances O'Connor couldn't make the screening because she's due to give birth any day.
Was that why everyone else's name was up in lights at the cinema entrance while O'Connor's name had slipped down to the underside of the sign?
Spy 2:
Dollars, tears and charity
WHAT: THREE DOLLARSMELBOURNE PREMIERE, KINO DENDY CINEMAS, COLLINS STREET
It's a fleshy, heartache of a film, Three Dollars, from Elliot Perlman's novel of the same name.
After the Melbourne premiere on Tuesday night, we hurried out lest anyone see the fat, wet tears in our eyes (the tears didn't actually fall ... let's clear that up now ... but there was welling).
Nicole Nabout, in a diaphanous creamy-rhubarb Scanlan & Theodore dress, was one of the first of the stars to walk the red carpet, followed by Melbourneborn Mr Perlman. Mr Perlman, who shares his time between New York and Melbourne, appears in the current issue of US Esquire, part of a fashion pictorial featuring "some of the best new writers in America".
How was the shoot for Esquire? "It was fun", a genial Mr Perlman replied. "The photographer (Henry Leutwyler) was great. We were supposed to go out for a drink afterwards but I broke my arm. That's another story."
Then came David Wenham and Sarah Wynter. Ms Wynter left a trail of stardust behind her in a bashfulpink Lisa Ho dress, metallic-silver Christian Louboutin heels and diamond-drop vintage earrings by Jan Logan.
Ms Wynter's fiance, Daniel Peres, flew into Australia yesterday for the movie's premiere in Newcastle. Earlier in the week , Ms Wynter was buying tickets for her home-town premiere when she was politely informed that ? as one of the stars ? she really didn't need to. Her response? "Oh no, I have to. It's for charity."
---
From variety.com, Oct. 24, 2000:
DAVID WENHAM
By Mark Woods
Hometown:
Sydney
Where you might have seen him: As a pyromaniac in Miramax's "Cosi"
Upcoming roles: "The Lord of the Rings," "Moulin Rouge"
What others say about him: "He's made an interesting choice as an actor by being strategic about the roles he wants to play," says producer-director Robert Connolly ("The Boys"). "He's offered a lot of work and only does a fraction of it."
SYDNEY - His strikingly individual looks may not have yet sent Middle America swooning, but 35-year-old theater actor David Wenham is on his way, having become a household name Down Under as Diver Dan, the absentminded love interest of Sigrid Thornton in pubcaster ABC's hit Granada drama "SeaChange."
Audiences Stateside will likely first see Wenham in his Australian Film Institute Award-nominated role in Jonathan Teplitzky's adult comedy "Better Than Sex," which became one of the increasingly rare breed of Aussie films to score a substantial U.S. sale after it was picked up at the Cannes Intl. Film Festival by Goldwyn.
After that will come the release of Baz Luhrmann's much anticipated Fox period piece "Moulin Rouge" and then New Line's "Lord of the Rings" trilogy, which is filming in New Zealand with Wenham in the major role of human lord Faramir. Also on Wenham's international slate is Milcho Nanchesvsky's "Dust," which filmed in New York and Macedonia.
After being encouraged by teachers to act as a constructive outlet for disruptive youthful energies, Wenham earned a theater degree before working his way onto soaps and, eventually, getting work with some of Australia's leading theatrical companies.
These troupes included Neil Armfield's Belvoir Street Theater, whose alumni include Geoffrey Rush and Cate Blanchett. Indeed, working on Belvoir's production of "Cosi" in 1992 led to a role in Miramax's 1995 production of the play with helmer Mark Joffe, while Wenham also had a leading role in Peter Duncan's 1997 Columbia TriStar film "A Little Bit of Soul," opposite Rush and Frances O'Connor.
"The stage is important to me," Wenham says, having last year returned to Sydney boards for Matthew Warchaus' production of "Art." "It helps an actor's work on film as well. Like anything, it's good to have a balanced diet."
His critical bigscreen breakthrough also had its origins on the stage with Rowan Woods' unrelentingly gritty 1997 film "The Boys," in which Wenham played a psychotically violent jailbird, reprising a role he first played in the Griffin Theater Co.'s 1991 production.
---
Lead story at broadwayaustralia.com, Feb. 13, 2005:
Swordsman, poet, philosopher, and that nose - actors count Cyrano de Bergerac among the monumental roles that define careers.

Melbourne Theatre Company are about to stage a production of Cyrano de Bergarec at the Arts Centre Playhouse and have announced that AFI Award-winner David Wenham will star in the wildly romantic story that is laced with swagger, gallantry and sacrifice.

Melbourne Theatre Company Artistic Director Simon Phillips, who will direct this production, says Wenham is the perfect man for the difficult role. "We needed the right Cyrano, a man of opposites, the soldier poet, dangerous and sensitive, nimble in mind as well as body, which narrows the field drastically, pretty much down to David Wenham, perhaps our greatest young character actor," Mr Phillips said.

In swordplay and wordplay, Cyrano de Bergerac has no peer. He is a man's man who can speak as eloquently of battle as he can about love - even though love has eluded him. Cyrano was cursed with a grotesquely large nose, and that, he believes, has kept love at arm's length. Now, he is resigned to experience it vicariously. His feelings for Roxane have forced him to attempt to win her heart - for another man. His gallant friend Christian is handsome enough to catch Roxane's eye and Cyrano will provide Christian with poetry that will capture her heart just before both men depart for war.

The historic play was written by Edmond Rostand, who was born in 1868 into a bourgeois family in Marseille, France. His first plays were Les Romanesques (1894), based on Romeo and Juliet and the basis for The Fantasticks, La Princesse lointaine (also 1894) and La Samarataine (1897). L'Aiglon appeared a few years after Cyrano de Bergerac made him famous. His only other major work, Chanticler (1910), was pronounced a failure and Rostand retired, returning to public life to throw himself into the French effort during World War I. He died shortly after the war ended in 1918, at the age of 50.

Savinien Cyrano de Bergerac was a French dramatist, but by all accounts, not a great one. He is now best known for the many works of fiction that have been created about his life.

Cyrano de Bergerac plays at the Arts Centre Playhouse from Wednesday, February 23. For bookings and information, call 1300 136 166.
---
Posted by greenfairy68 at imdb.com. She attended the HIFF seminar conducted by David on Oct. 29, 2004 in Honolulu. Here's her report:
The moderator would ask a question and David would answer. Kinda went through his first movies and worked their way up to present day.
Personal history: I should mention that David said he was brought up poor but had a happy childhood. Youngest of 7 kids. No one else in show business. It was a multicultural suburb of Sydney with 80 different nationalities, predominantly Greek, Italian and Lebanese. He said the neighborhood is now predominantly Vietnamese. His choice of vocation was always supported by his parents. He told of a little memory of his dad going to, what I interpret it as a library sale, and bringing back two cartons of books on plays and dramas and David just devouring everything. For Xmas, his parents would save up to give him theater tickets.
He applied to NIDA (Ntl Institute of Dramatic Art) but was rejected so went to study at University of Western Sydney which was underfunded in the acting dept. so they had to do everything in a "shed". He said he really learned a lot because there were no fancy resources and they all had to rely heavily upon their imaginations. He was glad he attended that school. He has "no other skills" on which to fall back if the acting thing did not work out. He said he would like to be a gardener if not.
When asked if he would like to direct, he said, almost without hesitation, that he likes everything to be perfect in his films. Not only the acting but the sound, lighting, etc, but he was not about to give an unsolicited opinion to anyone regarding these things so he get frustrated at times. He is a "frustrated director in an actor's body." and yes, "I would LOVE to direct."
Someone asked who was the most important person to the actor, next to the director. He replied that the Third Director (actors, pardon my ignorance) was the most important person because they could send messages from you to the director. Then there is the costumer and the makeup artist. He is so meticulous about makeup and wardrobe. He took the wardrobe person with him to find "new" costumes for his movie "Gettin' Square" because he had in mind how his character should dress and saw nothing in the wardrobe which he felt was appropriate. He got several items from the children's dept. and women's jeans from a thrift store. Then he spoke about the zit he had created on his face for this part and how he and the makeup artist rigged it to "pop" but it was cut from the movie.
When asked about acting techniques, he didn't say he used one exclusively. He said some actors, like Peter O'Toole loved a lot of rehearsal. While some liked to be more spontaneous and do a minimum of rehearsal. He comes from a theatrical background so he does like a bit of rehearsal but doesn't want to kill the spontaneity. Sex and emotional scenes are especially hard to rehearse, he said.
Asked about what he wants a director to do with him on set, his reply was that he needed criticism. Constructive criticism. Doesn't want a director to "talk too much". Just tell him what he wants, i.e. slow the pace or quicken the pace and let him go. Don't give him a 10 page dissertation because it kills the mood. Same with the costumer and makeup person. If there is nothing to fix, don't fidget with him because it is distracting and breaks his concentation.
His main advice to actors was to Listen and Think. In other words, don't always just follow the script. Listen carefully to what your fellow actors are saying and react, think, accordingly.
His films: They started with "The Boys". Asking him to set up the clip and he did and warned us before it started that the language was "strong". In other words, alot of swearing. This was the beginning of the techincal problems. First the sound came on and then it didn't and didn't and didn't. They kept trying for awhile and eventually moved on to another clip. He did say that this movie was "cast" around the house in the movie. It was shot in a real house the shots were very tight and close coz there wasn't much room to move.
Went on to Father "Damien" where he talked about Molokai, the island where this was filmed and the leper colony that still exists, 36 living members. (He went back to visit them during this trip.) He spoke of the difficulty in acting with prostetics on your face. How you have to really exaggerate facial movements to make them show. He did not care for it. But he had to age in the film to 54 years. He was 33 when he filmed it and so was Father Damien when he first came to Hawaii.
He spoke of the Flemish accent he had to learn and had no dialect coach on set and said that was ridiculous and so they got him somebody who just happened to be from Belgium. He said he had a good ear and was able to pick it up pretty quickly. There were several well known actors, Peter O'Toole and I forget who else and they asked him if he felt intimidated. I don't recall what he said but I don't think he did but he did appreciate their abilities.
He was asked how he was able to play older characters or characters very different from himself and he said that is what he like to do best. He enjoys doing someone as far away from his real personality as possible. He feels more comfortable than when its close to home. I think it's easier for him to be more objective this way. He said he is basically a shy person and it's hard for him to make the first move socially.
There is the death bed scene in Damien where the director wanted it to be shot in natural lighting. So he came out of makeup, no rehearsal time because they had to get the lighting before it disappeared. It was a 5 minute scene and they did it in one take!
Then I think they finally got the sound to work for "The Boys" and they made more comments on it.
"Better Than Sex" was next. Evidentally this film is difficult to get ahold of in the US. (I tried here at Tower and Blockbuster, no luck. The commentator mentioned this and said we had to buy it off ebay to see it. Spliffychick recommended this to me as well as "The Boys".) He said, again, this was "90 minutes of bedroom gymnastics". They showed a G rated clip and he looked mighty fine.
Then they jumped to "Getting Square" where he talked about the location of the film at the King's Cross area where he sat and watched all these characters and soaked them in. He is very detailed. He watches how they walk, how drug addicts breathe, how someone's toes turn outwards, etc. He also spent sometime in the prison doing research there.
Finally, they saved LOTR for last. The commentator asked for a show of hands to see how many actors were in the audience. I'd say about half. Then asked for a show of hands how many people had NOT seen LOTR and no one raised their hands.
David said he was one of the last principal characters to show up on set. The others had already been filming for about a year. Sean Bean's scenes had finished 6 mos. earlier so he never even met him before he had to do his part but all Boromir's rushes were available to him so he would know how to react. Did not have much rehearsal before he had to shoot. (Kinda like Viggo, huh? Get off the plane and start whacking off Orc heads!)
Spoke of technology and Gollum and how wonderful Andy Serkis was and this new type of acting to nothing in front of you but little bits of tape so you knew where Gollum's ear was, etc. (I have not heard any actor who likes the green screen.) He did not go into much further detail. I think he's probably been asked all this a quizillion times already)
Oh yeah, when he first reads a script, he can tell within a few pages whether or not this script has potential or not. When he does decide on a part, he takes long walks and talks to himself. I think, taking mental notes, letting those stored up characters in his head come out, thinks alot. He stresses thinking and imagination all the time.
About MY question: "You are in my favorite favorite favorite movie." (He looked puzzled.) (I think he was thinking I was going to say LOTR) "Moulin Rouge." (Big smile.) "Please tell us what it was like to be in that movie?"
He said that he was offered several roles but took the part of Audrey. Unfortunately a lot was cut. (DAMN those editors!!) He said Baz Luhrman was a great director but really super hyper! (He starts shaking his hands like he's really nervous. The audience was laughing.)
He was sporting a strawberry-blondish beard and moustache for the next movie he will be doing. It is an "epic period drama", I think set in the 19th century called The Proposition. ( I can't wait! I love epics and period pieces.) He said the last time he grew a beard and moustache, he was also in Hawaii filming Father Damien. He wore a long sleeved white shirt with green dots here and there. The cuffs were unbuttoned, as were the first two or three buttons down the front; black pants, black shoes and I think a silver watch. His hair was blond and a nice length. He would push his bangs back several times while he was speaking. He also caressed his beard a few times while talking. A habit I notice a lot of men doing when they are growing out their beards. He sat in a director's chair and spoke calmly and professionally with humor and sincerity.
So basically, that's about all I remember or wrote in my notes. He did say with his parting comments that he WOULD be BACK! He wants to do a real workshop, not just a "conversation" with David. He had to rush off because he had to go back to his hotel to pack and catch a plane back to Queensland. Then he said he'd have to spend the night somewhere and catch another plane to some small inthemiddleofnowhere place to begin filming immediately. He said it would take quite a bit of acting to not appear tired! He's been here for 11 days and been part of the film jury, judging films, promoting, etc. I think he was pleased and happy with the results of his stay here. We really appreciate him taking the time to do these events for us.
I learned so much about acting, David, actors in general. It was very interesting and so generous of him to share. There's no date set yet, as far as I know but does anyone want to come to Hawaii for the next one?
Oh yeah, after the show, he disappeared behind the curtain. We went outside and walked around the building and saw him loading up his things into the commentator's car. We waved and said "Thank you!!" and watched him go. He waved back and said goodbye. And he acknowledged the lei which my friend sent backstage. (I forgot mine at home in the fridge!!!)
---
Posted on TORC by shieldmatron on Oct. 21, 2004 (from the Honolulu Advertiser)
HIFF judge arrives still exhilarated from "Molokai" and "Rings" projects

David Wenham is just a few hours off the lengthy flight from Sydney but sounds remarkably fresh and especially excited about his visit to Molokai the next day.

David Wenham
"Gettin' Square": The actor introduces the film 8 p.m. Tuesday at the Hawaii Theatre.
Acting Seminar: Wenham discusses his craft 6 p.m. next Thursday, Doris Duke Theatre, Honolulu Academy of Arts. Free tickets available at box office.


Film Festival
Opening night: Maggie Cheung will introduce her film "Clean" at 8 tonight at the Hawaii Theatre. Tickets are $15.
Details: HIFF runs through Oct. 31. Tickets are $8. Check the Web site hiff.org for a schedule, or call 528-4433.


"I can't wait, I really cannot wait," says Wenham, a judge for the Hawaii International Film Festival. "Living at Kalaupapa for the four or so months doing 'Molokai: The Story of Father Damien' really is one of the most profound experiences of my professional and personal life."

That's saying something, considering the actor's role as Faramir in two of the most popular and profitable films of all time: "The Lord of the Rings: The Return of the King" (2003) and "The Lord of the Rings: The Two Towers" (2002), as well as "Moulin Rouge."

"Of course, that work was incredible because it was a literary masterpiece, and Peter Jackson is one of the greatest directors around," Wenham said.

"Will I ever be involved in something like that again? I seriously doubt it. I put my 'Lord' experience in a special category."

Wenham shifts the chat back to Molokai: "I leaped into the Kalaupapa community with a passion. The best part was getting to talk story with the leprosy patients and make friends. I will always treasure that and feel privileged."

Wenham portrayed Damien in "Molokai," released in 1999. The film also starred Kris Kristofferson, Peter O'Toole and Derek Jacobi.

It's not hard to understand that while the actor has had his share of blockbusters, his creative heart yearns to do independent films.

"'Lord' was all good for me and certainly helped me in getting other work," he said, including this year's "Van Helsing."

Wenham begins work in Queensland on the independent drama "The Proposition" after HIFF. The film is directed by John Hillcoat and also stars John Hurt, Guy Pearce and Emily Watson. Wenham's character is an English gentleman who "happens to be the nastiest man in the film."

"I do a lot of off-the-rails type films," he says. "I am not driven by the dollar, but by projects which stimulate me ... invite me to be completely involved. I need a character to fascinate and intrigue me."

His own favorite -- "Lord" aside -- is a very low-budget film he did in 1998 called "The Boys."

"It dealt with a very tough subject, three brothers who raped and murdered a girl in Australia. The film explored the hows and whys these crimes occur.

"There was no physical violence in the film; it was all psychological. The really great thing is that it offered no solutions, and it made the audience talk about it. If Hollywood made this film, you would see the event."

Wenham's all-time favorite film offers a clue to what he enjoys on screen. It's another indie, "Drifting Clouds." "Nothing really happens for about two hours, then one significant thing occurs at the end which I found very moving to watch."

Wenham, who used to call bingo in Sydney's Marrickville Town Hall, was an insurance clerk before he turned to acting. He rejects any star moniker, despite winning last year's 2003 Australian Film Institute Award for best actor for his comic turn as Johnny Spitieri in "Gettin' Square," to be shown at the Hawaii Theatre at 8 p.m. Tuesday in its U.S. premiere.

"I lead a pretty normal life, so I don't have to take giant steps to stay grounded," he says. "I'm just an actor who's been in some very successful movies. The concept of a star is something I have a hard time defining."

Wenham insists he's a modest guy, despite being voted Australia's sexiest man alive. "That tag came after I was in a short-lived TV series and my character caught the national attention," he says, laughing. "Do I wake up in the morning and look in the mirror admiringly? Absolutely, I say, tongue in cheek.

"Here's a little secret. I was cast in 'The Lord of the Rings' because I resembled my on-screen brother, Sean Bean. We both have big noses."
---
Transcript of interview from Electronic Arts "Return of the King" video game
(Thanks, Cressida!!)
Note: This brief interview with David is included with the game as a special bonus feature for players who have successfully completed all levels of the game. If, like me, you are a complete ninnyhammer at operating a control pad and can't get past Level 1, this is for you.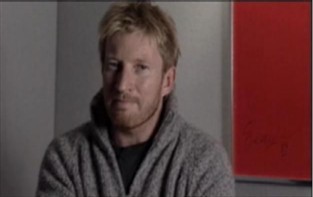 "Faramir, Prince of Gondor, was one of the few men who withstood the power of the ring. But Boromir and Faramir were brothers, and it isn't beyond possibility that Faramir went to Rivendell instead. And if that happened, Faramir could have survived and returned to Gondor. Now we're going to explore this fact by unlocking the character of Faramir. See for yourself what else he might have done during the War of the Ring. Good luck."

(clip of the scene where Faz screams "Nazgul!" in Osgiliath, from TTT)

"Gameplayers should unlock Faramir first, because he's a character who is in possession of multi skills."

(2 second clip of the suicide charge)

"He's a great swordsman; a great archer; he's also a great thinker, one (I think??, couldn't hear this bit properly) should head for Faramir first." (Interjected with clips of the Faramir character fighting in the game)

(Clip of DW holding a control pad playing the game, he shouts "yes!" –
must have killed a bad guy or something)

"Faramir's style of combat in the game – extremely energetic. It's relentless, it's high energy, high voltage action. The game itself has totally captured the excitement in all aspects of the film Return of the King and I don't think you can ask more than that!"
---
Transcript of video interview from Japanese website
In Return of the King, everything escalates. The tension in all storylines is at its absolute peak in the third book and the third film. For Faramir, he's a man who has been under incredible pressure for however long, and in the third film it basically comes to breaking point. He's a man under extreme stress with his relationship with his father--a man who is essentially tainted by having looked into the palantir, and is a man who is on the edge of sanity in a way, and has pushed Faramir into a--into doing things that Faramir realizes aren't necessarily logical. And so he's got...Faramir's attempting to lead forces against the forces of Sauron, but not doing terribly well, and yet his father sends him back out again. So it's a personal struggle.
You know, Boromir is the boisterous soldier, whereas Faramir is...he's not a man in his natural element. Faramir is a thinker. He's a reader. He's somebody who is interested in history and music and lore--L-O-R-E as opposed to L-A-W--and he's been put in a position where he's doing something that's not natural. He's being forced to lead an enormous group of men in very difficult and harsh circumstances.
He's also morally courageous as well, because he makes the decision to retreat from Osgiliath purely for the sake of his men, I would say, more than anything else. Faramir is a person who would gladly give his life for Gondor, for the future of Gondor, and for the people involved as well.
Pete is a great storyteller, and he uses the technology in film to tell those stories. He's fiercely intelligent. He's incredibly creative. He's sensitive. He's modest. He's courageous. He's loyal. He's--all the factors that come out of The Lord of the Rings, he actually embodies, as a director and as a human being.
---
A rough translation of the Italian "Dust" interview with David at Kata Web cinema
Mangled by Altavista's Babelfish translator
Interview with David Wenham
Edited by Camillo De Mark
A cowboy discovering himself
"It is a film very interesting and intriguing, in fact many various styles. It is unique, indeed particular, it is not possible to compare it with any other [film]. While my character yes, the type is more identifiable. A cowboy extremely bad and violent, but that he cannot make himself love. He faces this travel as it was one resource of same, one risen to redemption through adventure".
Beyond every limit
"From my point of view my creed was to have faced this character in a realistic way. The spectator can put from part the own perplexities and ago follow it even if the more extraordinary things and beyond every credibility.
An exotic country
"I arrived in Macedonia a lot before turning in order to acclimatize to me, to enter in the atmosphere. I am literally dived in the film. The landscape is indeed fascinating, inspires, sweeps up, makes also fear you to you to you. It's certainly an exotic Country".
---
Excerpt from a review of Theatre Nepean's 1986 production, which would have been among their first. Judging by the headline, the critic was less than enthused by the show, but found words of praise for four of the student actors. This was found on a
Japanese website
which jouyously exhorts "Be able to perservere, the Daisy!"
NEPEAN'S SONG-AND-DANCE PROLONGS THE AGONY : Sydney Morning Herald 13/12/1986
From the cast Kate Cordukes manages well as Micki Matters, TV anchorwoman; Elizabeth Williams establishes a striking presence as Dr Dorsey-Hunt; David Wenham demonstrates his versatility as the bucolic father-to-be, and John Simpson makes the most of his appearance as Archimedes, the slave trader.
---
Description of "Payback", a radio play starring David Wenham and David Field, which aired in July 1999 on ABC.
July 11
Payback
by Nicholas Parsons
Marty and Les live in a world where gambling and drugs are the norm. Police are the enemy. And this is Australia - you don't dob in your mates. When a suspicion arises that they've been set up by their "old friend" Craig, the obvious option is revenge. But should you always choose the obvious?

Writer and director Nicholas Parsons' stage works include Dead Heart, which became a critically acclaimed feature film directed by Parsons himself and starring Bryan Brown.

Lesley: David Field
Martin: David Wenham
Sound engineer: Steven Tilley
Director: Nicholas Parson
Producer: Anne Wynter