Mark Waldman

Plot Synopsis: In 1975, Indonesia invaded Timor-Leste (East Timor in English), tacitly backed by the US and Australia, who felt it would be easier to negotiate with the Indonesian government for East Timor's undersea oil reserves. On August 30, 1999, East Timor held a referendum to vote for independence from Indonesia. UN peacekeepers were sent to the island to supervise the voting process. The story focuses on three main characters: Julie Fortin (a Canadian volunteer officer), Mark Waldman (an Australian volunteer officer), and Ismenio Soares, an East Timorese translator whose father is on the local militia's "death list". Following the vote, as violence and bloodshed erupt, the UN is forced to break its promise to the East Timorese and evacuate the island. During an attack on a UN convoy, Ismenio and his family disappear. Back home, Mark, racked with guilt over those he left behind, vows to keep the UN's promise, return to East Timor, and help restore justice.

Character: Mark Waldman

Notes: David has been a member of the Australian East Timor Association (Sydney chapter) since the early '90s. From the East Timor News Digest:
Wenham is the kind of actor who collaborates with the character he plays in order to create an inseparable fusion of fact and fiction.
It's increasingly difficult to detect where his characters begin and where Wenham evanesces. And he is terrific in this series, gravely intelligent and, out of respect for his fellow actors one suspects, decently self-effacing for someone so charismatic.
Asked how closely he had followed events in East Timor, the answer is emphatic: "Very. Full stop. Or exclamation mark," he says in a phone interview. "I saw a documentary, John Pilger's Death of a Nation: The Timor Conspiracy, and it affected me and angered me, so I joined the Australia-East Timor Association to get information on what was happening there."
In 2006, just as Answered By Fire was airing in Australia, Timor-Leste plunged into a crisis which nearly ended in a civil war. The democratically elected Prime Minister came under intense pressure and was forced to resign. A UN sponsored team of investigators was sent to Timor-Leste to investigate what had taken place. At least 30 people died and over 100,000 people became displaced. New presidential and parliamentary elections are set for the first half of 2007.


Drool Factor:
Two words: Police uniform.
Screentime:




Nerdometer:

Content:





Waterfall, kissing, sobbing guilt breakdown

Memorable Quotes: "The East Timorese saved our arses in World War Two against the Japanese, and then in 1975 we just stood by and let the Indonesians walk in and take this place. We owe these people, big-time."
Julie Fortin: "What about our face?"
Mark Waldman: "We don't have a face. We're neutral."
Davidity: A
Availability: Region 4 only
---

Eden Fletcher
The
Proposition (2005).
Dir. John Hillcoat. With Guy Pearce, Ray Winstone, Danny Huston, Emily Watson, and John Hurt.

Plot Synopsis
: Blood-soaked kangaroo western, set in the 1880s at the end of the bushranger era. An outlaw gang, the Burns brothers, have been terrorizing a small outback town and are wanted for the murder of a family. When two of the brothers, Mikey and Charlie, are captured in a gunfight, the local lawman, Captain Stanley, makes a proposition to Charlie: if he tracks down and kills the oldest brother, Arthur, then Mikey will be set free. Otherwise, Mikey will hang. This moral dilemma sparks off tragic consequences, as Charlie sets off into the bush to find Arthur. Meanwhile, in an effort to appease the townspeople's desire for revenge, Eden Fletcher, the local landlowner, orders Mikey flogged. Emily Watson turns in a lovely performance as Captain Stanley's wife, a transplanted English rose bewildered at the harshness and remoteness of her new home.
The Proposition
is a lengthy meditation on family bonds, survival, frontier justice, civilization, and ethnic conflicts.
Character
: Eden Fletcher
Notes
: Gore galore: exploding heads, spear through chest, very bloody and excruciating flogging scene. View at own risk. This film does not contain any gay cowboys. (That we're aware of.)
Drool Factor:
(Eden gets an additional bucket for having bathed recently)
Screentime:


Nerdometer:

(hard to assess; Eden manages to be evil AND nerdy)
Content:


Memorable Quotes:
Davidity: C-. David isn't in the film that much. Eden is chillingly loathsome, and the stomach-churning violence makes it hard to relax and savor his presence on screen.
Availability: The Proposition has been making the rounds of art-house festivals in the U.S. and Europe, and is available on Region 4 DVD.
---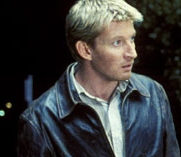 Eddie Harnovey
Three Dollars
(2005).
Dir. Robert Connolly. With Frances O'Connor, Sarah Wynter.

Plot Synopsis
: Three Dollars is the portrait of a decent man's struggle during tough times. Eddie Harnovey, a thirty-eight year old chemical engineer, finds himself out of work one day after refusing to sign off on a batch of contaminated soil samples. He has a wife, a child, and three dollars to his name. And his childhood sweetheart, Amanda, keeps re-appearing in his life every nine-and-a-half years. (Chance meetings and coincidences play a huge role in this film.)
The present-day action is interwoven with flashbacks of Eddie and Tanya's life together: meeting at university, visiting the local record shop, dancing to Joy Division, and other significant moments in their relationship.
"A brilliantly deft and poignant portrait of a man attempting to retain his humanity, his family, and his sense of humor in a corporate world." (according to Publishers Weekly)
Character
: Eddie Harnovey
Notes
:
Drool Factor:
Screentime:





Nerdometer:

Content:



Attacked by helicopter, beaten up by skinheads, amusing dance scene.

Memorable Quotes: "This is how healthy people feel in unhealthy times."
"You like Edam. I like Edam. Everybody likes Edam."
(Eddie, voiceover to his younger self dancing at a nightclub:) "It wasn't until years later that I realized Ian Curtis was epileptic."
"I'm sorry, sweetheart, but when I get home we'll have more children and put all your family in a home. I promise."
"It wasn't always easy being in love with Tanya. The second year at university we experienced difficulties. We stopped greeting each other with a kiss. To kiss hello was too bourgeois. To kiss goodbye was too sentimental. To kiss during sex was too time-consuming, and it also required having sex."
Davidity: A+
Availability: PAL/Region 4 DVD only.
---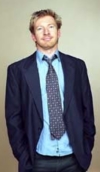 Murray Whelan
Stiff
and
The Brush-Off
(2004).
Dir. John Clarke, Sam Neill. With Julian O'Donnell, Robyn Butler, Sam Neill, Nick Molloy.

Plot Synopsis
: Based on the urban detective novels by Shane Maloney.
Stiff: When the body of a Turkish meat packer is found frozen inside the freezer at the Pacific Pastoral packing plant, Murray, a rumpled advisor to a Labour MP at the Ministry for Ethnic Affairs, finds himself drawn unwillingly into the murder investigation. Meanwhile, his house is crumbling, his marriage is a shambles, and his son, Red, demands attention. Things go downhill from there. (The title has a double meaning: "Stiff" as in corpse, and "Stiff" as in "Stiff luck").
The Brush-Off: Murray, newly transferred to the Ministry of the Arts, becomes entangled in yet another murder mystery when the body of a local artist is found floating in the moat at the National Gallery. A tangled scheme of art forgery and duplicitous investments threatens to torpedo the political ambitions of Murray's boss (and, by extension, Murray's job.) Again, the title has a double meaning: "brush" as in paintbrush, and "brush-off" as in, well, brush-off.

Character: Murray Whelan
Notes: A big fan of Shane Maloney's books, David felt particularly drawn to the role of Murray Whelan, with whom he identifies on many levels. The 90-minute telemovie format allowed him to fully explore the character. 'From my point of view, it gives me a terrific opportunity to play an extremely rich character,' he says. 'The wonderful thing about telemovies, in terms of the quality, is that everyone involved aims high. This has definitely been one of the most enjoyable projects I have ever worked on.'
Visit
Murray's World
, the official Shane Maloney website. Includes still photos from the Murray Whelan series.
Drool Factor:
Screentime:





Nerdometer:

Content:




Haplessly abused by the entire universe, dunked in river, befriends dog, al fresco love scene straight out of "Blair Witch Project"

Memorable Quotes: "Are you talking to me? My ears have just popped."
"You get a free pair of pants with that shirt, Duncan?"
"Hey Red....Shut up, darling."
Davidity: A
Availability: PAL/Region 4 DVD.

---

Carl
Van Helsing
(2004).
Dir. Stephen Sommers. With Hugh Jackman, Kate Beckinsale, Richard Roxburgh.

Plot Synopsis
: Gabriel Van Helsing, a professional monster wrangler, is dispatched to Transylvania by the Vatican to do battle with Dracula and assorted CGI creatures. He is accompanied by Anna Valerious (Beckinsale), and his sidekick, Carl, a monk who invents weapons.
Character
: Carl the Monk. (Actually, he's a friar.)
Notes
: Carl's character is a cross between Q and the fussy C-3PO from "Star Wars". On the one hand, the vandalism to his hair, which is styled in a swooping Julie Andrews/Florence Henderson-circa-1974 bob, is an unforgivable crime against humanity. On the other hand, he steals the movie with funny lines, an endearingly timid scuttle, and a jester outfit. He also gets the movie's only love scene.
Paul Hogan was initially in talks to play Carl, until David's audition tape landed on Stephen Sommer's desk. To look the part, David taped his ears back, got a silly haircut, and hunched himself over.
Drool Factor:
Screentime:



Nerdometer:

Content:




Comic relief, wetness, strangling, one-night stand, moaning, weapons
Memorable Quotes
: "If there's one thing I've learned, it's never be the first to stick your hand in a viscous liquid."

"Why does it smell like wet dog in here?"

Van Helsing: And you're coming with me.
Carl: Hell, no. Damn, I'm not.
Van Helsing: Carl, you're cursing. Badly, but still cursing. Monks can't do that.
Carl: Actually, I'm a friar. I can do whatever I want. Dammit.

"[I'm] a genius with access to unstable chemicals!"

(to Frankenstein's monster) "Where are you going to go? I don't know if you've looked in the mirror lately, but you kind of stick out in a crowd."
"Holy water!"
Davidity: B-
Availability: DVD release date: September 28, 2004
---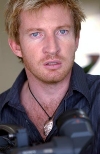 Basilisk Stare dude
Basilisk Stare
(2003).
Dir. Mis Kamieniak. With Jared Turner.

Plot Synopsis
: A jealous husband watches a videotape of his wife's infidelity as it unfolds in an apartment building across the street. The action occurs on a split screen. On the right half of the screen, David is busy fiddling with the controls on the playback equipment and telephoto lens, while creepy electronic music plays. On the left side of the screen, we see what he's watching: his wife cheating on him with another man. Tension is created through close-ups, heightened gestures, and visual clues (the pearls David is holding, for example, are seen earlier being put around his wife's neck). The ending contains a surprising twist.
Character
: The Basilisk Stare guy
Notes
: A 12-minute short with no dialogue, filmed while Mis Kamieniak was still an undergraduate at AFTRS (Australia Film Television and Radio School). David's role is extra challenging because of the tight close-ups, long intervals between cuts, and lack of dialogue. His emotional state is conveyed solely (and skillfully) through facial expression, heavy breathing, lip-biting perspiration, and subtle gestures. It's a riveting...hypnotic....mesmerizing....performance.
In all likelihood, you will need to watch the film a few times to fully notice what is happening on the left-hand side of the screen. It isn't for nothing that the film is titled "Basilisk Stare".
Drool Factor:
Screentime:





Nerdometer:

Content:


Pouting, sweating, fondling of cigarettes

Memorable Quotes: None, unless you count heavy breathing and one loud sniffle.
Davidity: A++ for unwavering blue-eyed, sexycreepy goodness.
Availability: Because it is a short subject, Basilisk Stare is hard to find. In the U.S., it occasionally airs on the Sundance Channel.
---