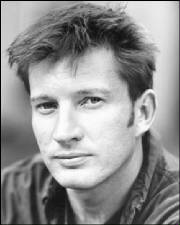 The youngest of seven children, David Wenham was raised in a Catholic family in Marrickville, Australia. Early on, he displayed a knack for performance, putting on puppet shows for his family and entertaining classmates with impressions of Harry Butler and former prime minister Gough Whitlam. His parents fostered his interest in the theatre by giving him subscription tickets for birthday and Christmas presents. He attended Christian Brothers High School in Lewisham, Sydney.
Upon leaving school, he enrolled in the first graduating class at the University of Western Sydney's Theatre Nepean, earning a Bachelor of Performance Arts. From there, he went on to various stage roles, working closely with Neil Armfield at the Belvoir St. Theatre. His first breakthrough came when he reprised his stage role as Brett Sprague in the film version of The Boys, which earned him an AFI Award for Best Actor in a Leading Role. Not long afterwards, he was cast as the laconic fisherman Diver Dan in the immensely popular Australian TV series Seachange, gaining him wider exposure.
Since then, he has gone on to play a wide variety of roles in films such as Moulin Rouge, Molokai, Crocodile Hunter, Dust, Better Than Sex, Lord of the Rings, Van Helsing, 300, Australia, and Public Enemies. Rarely playing the same type of character twice, David is known for his versatility, his integrity, his intelligence, his thoroughness, and his ability to portray emotion with subtlety and economy. He has quickly risen through the ranks to become one of the most popular and sought-after actors in Australia.
David is a longtime Sydney Swans supporter and enjoys reading, walking, and dining out at good restaurants. He is extremely passionate about protecting Australia's cultural and environmental heritage, speaking out on behalf of old-growth forests, the Ningaloo Reef, the Australian film industry, reconciliation and other local issues.
Date of Birth: Sept. 21, 1965
Birthplace: Marrickville, N.S.W., Australia
Siblings: Youngest of 7 (one brother, five sisters)
Partner: Kate Agnew
Children: 2 daughters, Eliza Jane (born 2003) and Millie (born 2008)
Education: Attended Christian Brothers School in Lewisham, and University of Western Sydney's Theatre Nepean
Film & Television
Guardians of Ga'hoole (2010)
Pope Joan (2009) - Gerold
Public Enemies (2009) - Harry Pierpont
Australia (2008) - Neil Fletcher
The Children of Huang Shi (2008) - Barnes
Married Life (2007) - John O'Brien
300 (2007) - Dilios
Answered by Fire (2006) - Mark Waldman
The Proposition (2005) - Eden Fletcher
Three Dollars (2005) - Eddie Harnovey
Stiff and The Brush-Off (2004) - Murray Whelan
Van Helsing: The London Assignment (2004) - Carl (voice)
Van Helsing (2004) - Carl
Lord of the Rings: Return of the King (2003) - Faramir
Basilisk Stare (2003)
Gettin' Square (2003) - Johnny Spit
After the Deluge (2003) - Alex Kirby (TV miniseries)
Lord of the Rings: The Two Towers (2002) - Faramir
Pure (2002) - Lenny
Crocodile Hunter: Collision Course (2002) - Sam Flynn
Dust (2001) - Luke
The Bank (2001) - Jim Doyle
Moulin Rouge (2001) - Audrey
Russian Doll (2001) - Ethan
Better Than Sex (2000) - Josh
Molokai: The Story of Father Damien (1999) - Father Damien
Sea Change (1998) - Diver Dan Della Bosca (TV series)
A Little Bit of Soul (1998) - Richard Shorkinghorn
Dark City (1998) - Schreber's Assistant
The Boys (1998) - Brett Sprague
Simone de Beauvoir's Babies (1997) - Ian (TV miniseries)
Return to Jupiter (1997) - Dr. Chrobak (TV series)
Idiot Box (1996) - Bank Teller with a History
Cosi (1996) - Doug
Blue Heelers - "Happy Families", 1996 (Robbie Doyle); "The Folly of Youth", 1994 (Will Cassidy)
Twisted Tales (1996) - "The Test", George
Roses Are Red (1995) - Brian
One Of Us (1995) - Luke Potter
Gino (1994) - Trevor
Heartland (1994) - Warwick Bone (TV miniseries) (aka "Burned Bridges)
Tran the Man (1994) - Raymond 'Tran' Moss
No Escape (1994) - Hotel Guard #2
A Country Practice - David Cornish (1996), Scott Galbraith (1988)
Greenkeeping (1992) - Trevor
Seeing Red (1992) - Frank No. 2
Police Rescue (1991) - "The Cosmic Lightbeam", Ferret
Come In Spinner (1990) - (TV movie)
The Heroes (1988) - Horrie Young (TV movie)
Poor Man's Orange (1987) - Party Youth (TV miniseries)
Jack Simpson: A Willesee Documentary (1987) - Wounded soldier (uncredited)
Sons and Daughters (1987) (TV series)
Theater
Jerry Springer: The Opera (2009) - Jerry Springer
Songs from the Yellow Bedroom (2006) - Vincent Van Gogh (with the Australian Youth Orchestra at the Adelaide Festival, Adelaide Town Hall)
Cyrano de Bergerac (2005) - Cyrano (Melbourne Theatre Company, Melbourne)
True West (2002) - Lee (Melbourne Theatre Company, Melbourne)
ART - Yvan
Tartuffe (1997) - Cleante (Sydney Theatre Company)
The Tempest (1995) - Alonso (Company B Belvoir, Sydney & Adelaide)
Hamlet (1994-1995) - Laertes (Company B Belvoir, Sydney, Melbourne & Adelaide)
The Splendids - Bob
That Eye, The Sky (1994) - Ort Flak (Burning House Theatre Company)
Blue Remembered Hills (1993) - Willy (O'Punsky's Theatre, Sydney)
Cosi (1992) - Doug (Belvoir St. Theatre Company, Surrey, NSW)
Tale of the Tiger (1992) - Soldier (one-man show) (Sydney Theatre Company)
The Headbutt (1991) - Lenny and Slug (Belvoir St. Theatre Company, Sydney)
Southern Steel (1991) - Landy Swanston (Hunter Valley Theatre Company)
The Boys (1991) - Brett Sprague (Griffin Theatre Company, Sydney)
Equus (1987 - 88) Alan (Forest Theatre Company, Sydney)
The Jesus Clock
Radio
"Payback" (1999) - Martin (voice)
Guest Appearances
"Hypaspace" (2006) - himself
"Van Helsing: Behind The Screams" (2004) - himself
"The Silent Flood" (2002) - Narrator (TV series)
"Rove Live" (2001) - himself
"The Beach" (2000) - Narrator (TV series)
"In The Mind of the Architect" (2000) - Narrator (TV series)
Awards
AFI - "Gettin' Square" (2003)
AFI - "Simone de Beauvoir's Babies" (1997)
Australian Comedy Award - "Gettin' Square" (2003)
Film Critics Circle of Australia - "Gettin Square" (2003)
IF - "Gettin' Square" (2003)
Silver Logie - "Seachange" (1998)
In 2006, David was awarded an Honorary Doctorate from Australian Catholic University.
Fanmail Address
David Wenham
c/o Artists Independent Network
Vanessa Pereira
32 Tavistock Street
London, WC2E 7PB
United Kingdom
Media Work/Charities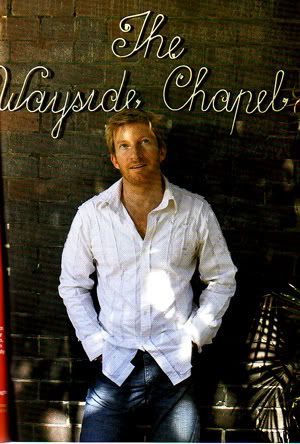 David is a longtime ambassador for
The Wayside Chapel
, a community support and outreach center in Potts Point, Sydney. He has participated in numerous events and charity auctions with the Wayside Chapel, and did the voiceover for their "Please Don't Judge" ad campaign.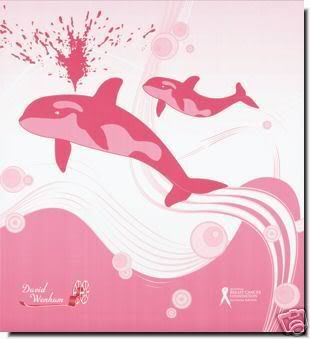 In October 2006, David created a piece of artwork for Mount Franklin's "Feel Good In Springtime" campaign, to benefit the National Breast Cancer Foundation. Regarding the inspiration for the artwork, David said "After I had agreed that it would be a privilege and a pleasure to be part of the Mount Franklin Feel Good in Springtime campaign my following phone conservation was with a friend who was bursting with joy having just seen a couple of whales frolicking in front of her on a beach in Malibu. It was the end of the spring and the beginning of summer in the United States. It was serendipity! This would be my design."
On March 13, 2002, David became an
Ancient Forest Guardian
in Sydney. Organized by Greenpeace, Ancient Forest Guardians are highly respected public figures (actors, musicians, writers, scientists) who agree to serve as advocates and spokespeople for environmental issues. They are nominated by the public.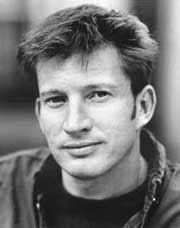 In 2002, David joined Hugo Weaving, Toni Collette and other celebrities on behalf of
Save Ningaloo Reef
to speak out about preserving Ningaloo Reef, a large coral reef off Australia's west coast and one of the last healthy reef ecosystems left in the world. The area, home to a huge number of indigeneous species, is being threatened by development.
David's statement regarding the reef:
Ningaloo Reef is a stunning playground for turtles, whales and hundreds of species of fish. It is a peaceful place. The proposed development is potentially destructive to that harmonious existence. I appeal to all that have a say in the decision making to think ahead. Let future generations have no regrets. Ningaloo Reef is a gift to treasure and respect.
Miscellaneous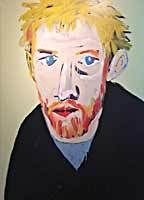 Adam Cullen's unsettling portrait of Brett Sprague, David Wenham's character in The Boys, won the 2000 Archibald prize. Cullen, who is known for his attraction to dark and disturbed subject matter, created the portrait by splashing Dulux house paint over a large canvas. The 1.5m x 1.8m portrait took 4 hours to complete. The artist chose David as a subject because of "the economical way in which he conveys emotional intensity".
David's nickname is Daisy.
Before his acting career took off, David supported himself by selling insurance and calling bingo at Marrickville's town hall, and competing in lawn bowling tournaments.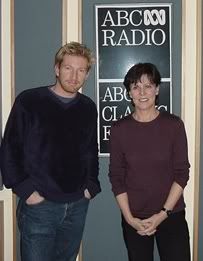 In July 2001, David appeared on Margaret Throsby's radio show on ABC Classic FM to promote "The Bank". Her guests are asked to select their favorite classical pieces. David's playlist:
Alan John Closing Titles from The Bank - Cantillation; Sinfonia Australis / David Stanhope
Working CD "The Bank" 3'25"


J.S. Bach Prelude to Cello Suite No.1 in G BWV1007 - Paul Tortelier, vc
EMI CDC7 2'25"


Enzio Morricone Cinema Paradiso - soundtrack recording
DRG CDSBL 12598 2'59"


Keith Jarrett Heartland - Keith Jarrett, p
(Recorded: Bregenz, May 1981) ECM 1227 6'03"


Sergei Rachmaninov Adagio from Symphony No.2 in E minor op.27 - London Symphony Orchestra / André Previn
EMI 5 66982 2 3'
David also enjoys the music of Keith Jarrett and David Gray.
David Wenham, the actor, is not the same David Wenham who lectures on New Testament Theology at Wycliffe Hall, Oxford University. The latter has authored dozens of books on Christian scripture and theology, including "Parables of Jesus" and "Rediscovering Jesus' Eschatological Discourse". The former lives quietly in Australia, avoiding the public eye whenever possible.