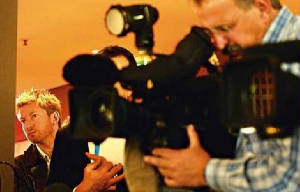 Actor David Wenham listens intently to the details revealed at Labor's policy launch yesterday
Labor struts its artistic promise with $175m
By Lauren Martin
Sept. 15, 2004
Filmmakers predicted job losses, business closures and Australian stories "falling off the radar" without measures like those promised yesterday by Labor.
In a low-key launch at a Surry Hills hotel, with a smattering of filmmakers, including the actor David Wenham, watching, the Opposition pledged to "ease the squeeze" on the ABC and turn around the decline in film and television production with $175 million in new arts funding.
The ABC would get $105 million over four years, while the film industry would get an immediate $70 million injection, followed by a wide-ranging review into structural reform and private investment incentives.
The Opposition communications spokesman, Lindsay Tanner, said the Prime Minister, John Howard, had cut ABC funding. "He's bullied and intimidated it. He's stacked its board." The additional ABC money could beef up a new children's and youth digital channel (and a Behind the News style program to broadcast on it), extend Triple J and NewsRadio services to regional areas, and open a Townsville newsroom.
The policy confirmed Labor's plan for arms-length ABC board appointments, and a combined complaints panel for the ABC and SBS.
For an Australian film industry suffering at the box office, declining productions and concerns about the US free trade agreement, there is a two-pronged plan: money now and a "blueprint" for future growth.
The Film Finance Corporation would receive $50 million next year to fund more, bigger and better films to lure Australians back from Hollywood.
A $10 million fund for low-budget movies at the Australian Film Commission would foster new talent. The commission would get another $10 million for an interactive digital strategy.
The Opposition arts spokeswoman, Senator Kate Lundy, said ensuring the long-term viability of the country's film and television industry would be examined in a new review.
Wenham praised all the initiatives, saying he started his career in low-budget features and ABC shows. "I've seen the decimation of that organisation since my time in the industry."
"We're at the precipice," said the director/producer Robert Connolly, who is working with Wenham for a new feature film based on Elliot Perlman's novel Three Dollars.
Small production houses were considering lay-offs or even closing, he said. "You need a certain level of local production for the industry to sustain itself."
The producer John Maynard said the blueprint was crucial.
"No one's ever looked at the cinema business. They've only ever really looked at production, which is like looking at TV and not considering broadcasters," he said.
The Brush-Off
By Debi Enker
Sept. 2, 2004
(Pic of Murray in the lift with male dancers, same as the cover of the TV tie-in novel. Caption says David Wenham - the one wearing the tie - lurches into all kinds of bother as Labor Party electorial officer Murray Whelan.)
The Brush-Off
Channel Seven, 8.30PM

You would have had to be hibernating to miss the terrific promotions for The Brush-Off that the Seven Network ran incessantly through the Olympics.

Those little gems with director-actor Sam Neill being badgered by the off-screen John Clarke that managed to establish that Neill had directed the telemovie, that David Wenham would again be starring as Murray Whelan, and that the whole shebang would soon be coming to Seven.

The second in a hoped-for series of telemovies based on Shane Maloney's books, The Brush-Off is quite a different caper fromStiff, which screened to an enthusiastic reception in June.

And it's quite appropriate that it should be different because the books are, too.

Not that the screen adaptations are under any obligation to be slavishly faithful to the novels, but here the strategy works, just as it does with the books, transporting Murray to a brightly coloured and trouble-filled new playground.

Stiff introduced Labor Party electoral officer Whelan, the go-to guy for Ethnic Affairs Minister Angelo Agnelli (Mick Molloy).
As one of Murray's fortes is stumbling over crimes and bodies, he's often away from the electoral office fort, which is capably held down by the redoubtable Trish (Deborah Kennedy).

A lot of Stiff was set around Sydney Road, Coburg, and in Newport, offering a particular northern and western view of Melbourne.

The Brush-Off sees Murray's minister reshuffled to a new portfolio: he's now, to his frustration, Minister for Water and the Arts: "Water I understand," Agnelli declares with annoyance to his quietly amused aid. "Water has got to be supplied. You've got taps and water is supplied out of them. What the f--- are the arts?"

The position in the new ministry sees Murray launched into unfamiliar precincts: the art-gallery scene south of the city, the Botanic Gardens.

Suddenly he's sharing lifts with ballerinas and their tutus, being trapped in basements with large inflatable figures designed for theatre performances, and attending gallery functions.

Director Neill adeptly exploits the many opportunities for visual humour, and, as is appropriate to its art-world setting, The Brush-Off, shot by Ellery Ryan, is more vibrantly colourful than Stiff.

It's also more overtly funny than its slyly comic screen predecessor and, to Seven's palpable relief (judging by its on-air promotions), there are also better prospects for romantic entanglements for Murray.

The producers, who include Clarke and Neill, have assembled a spirited supporting cast that reads like a roll-call of terrific local actors whom we don't get to see enough of on screen.

They include Heather Mitchell, Steve Bisley, Justine Clarke, Leah Vandenberg, AndrewS.Gilbert, Robyn Butler, Tracy Mann, Bruce Spence, Julie Forsythe, Robert Grubb, Gerard Kennedy and Alex Menglet.

John Clarke also returns the favour from Neill, who appeared in a couple of scenes in Stiff as a smug and shonky corporate captain.

Here, scriptwriter Clarke appears as a ministerial adviser and contributes a couple of delicious little interludes. Sleuth-like fans of Maloney's books might also spot the author, decked out in a snazzy suit, briefly swanning around behind Murray at an art-galley function.

Kennedy again is spot-on as the canny, capable Trish and Wenham is the perfect Murray. It's hard to imagine any other actor capturing the essence of Maloney's character so well.

Appearances to the contrary, Murray is a smart cookie. His generally dishevelled countenance belies a sharp mind and regularly catches the unwary - especially the snobby, arrogant or corrupt - off-guard.

However, his shrewd sizing-up of some situations doesn't prevent him from lurching into all kinds of bother he might have been clever enough to avoid if he'd only paused to think.

One can can only hope that Seven is busy negotiating for us to see a lot more of Murray.

It would be a crime if they let this golden opportunity for an ongoing local series die.
---
The men of Stiff: David Wenham and Mick Molloy.
You can telemovie
The Age
June 19, 2004
Peter Craven sings the praises of bringing Shane Maloney's work to the small screen.
It sounds a bit too good to be true: John Clarke writing and directing a telemovie from one of Shane Maloney's comic detective stories, starring David Wenham as the deadpan catastrophe Murray Whelan, a Labor Party hack who becomes a reluctant sleuth.
The Murray Whelan series began about 10 years ago when writer Shane Maloney - a one-time manager of the Comedy Festival who had also worked on Melbourne's doomed bid for the Olympics - decided to invent a shambling character who ends up on the trail of murder. Stiff, which introduces Murray Whelan, is mainly set in Sydney Road, Brunswick, and is replete with Turkish characters, including the beautiful Ayisha (Tamara Searle). The plot involves a murder in a meat factory that is owned by a very silky and silver-tailed Sam Neill. Neill will direct the second Maloney telemovie, The Brush-Off, from John Clarke's script.
In Stiff, Whelan is estranged from his high-flying wife, but takes some comfort in his young son, Red, during whose visits murder ensues, houses collapse and everything is enveloped in drollery which nonetheless has time to encompass the celebration of the marvellous Melbourne, which, as Shane Maloney once remarked, is the preordained capital in this country of white-collar crime.
Maloney is not insensitive to his luck in being adapted by his friend John Clarke. "John is a man who reinvents everything he touches. He sends up politicians without ever impersonating them. He presents the organisation of the Games and makes it worse than we could ever have expected. He's not someone who'll settle for the relentlessly plot-driven puzzle."
Certainly not. Clarke has directed Stiff with a deep empathy for Maloney's free association around the detective story form in a style as minimalist as the style of his TV show The Games, and with Wenham's luminously poker-faced Murray Whelan as the centre of the story's consciousness (as he must be).
Clarke was conscious that, in the absence of Murray Whelan's narrating voice, there was only the camera. "If he doesn't say it, the camera must," he says. Clarke likes the "socio-archaeological" aspect of the Murray Whelan stories, the social observation and the texture of society as he perceives it, and here he thinks David Wenham was his greatest asset.
"David has a terrific gift for conveying what he's feeling by the expression on his face. He has a real gift for noticing and for putting this across. He has a wonderful understanding. And David does the comedy as if it isn't there. This is the sort of humour where if people didn't find it funny you'd say, 'Well, it isn't meant to be.' "
Maloney is equally enthusiastic that Wenham's skills as an actor fit the character. "He's one of those actors who has the capacity to make you see the wheels turning."
Maloney appreciates that the man who became famous as Diver Dan in SeaChange is a hot star, but he thinks the casting of the telemovies was terrific, and he admired Wenham's performance in Gettin' Square.
Clarke was delighted by the sensitivity and generosity that Wenham, an admirer of the Murray Whelan books, showed in the scenes with the first-rate ensemble cast Clarke assembled.
There's the marvellous Deborah Kennedy as Trish, the woman who keeps Murray from falling apart in the office, and there are seasoned Melbourne actors like Alan Hopgood and Dennis Moore in crucial roles.
It's enterprising of Channel Seven to put these telemovies on in the traditional Sunday night movie slot, now that movies are mainly watched on DVD and pay TV.
Both Clarke and Maloney like the idea of Australia's literary heritage as something that can be translated, vibrantly, to make first-rate television. Clarke muses that novelist Charles Dickens in his earlier work was essentially an improvising entertainer working for a popular medium. Clarke believes quite passionately that the best things in our culture, popular or artistic, are not there for the few.
He agrees with Lord Reith, the visionary head of the BBC, that Dickens, say, should not exist simply for people who would automatically read Dickens, but that a book can become something that isn't a book but is just as powerful.
Clarke has an intense sense of cultural democracy that is at the same time opposed to any sense of dumbing down. It doesn't worry him that the Murray Whelan books have been seen as light fiction for highbrows, nor is he worried that you might expect the natural audience for Stiff to be the ABC's Sunday night audience.
"Look," he says, "there's a dumb section of me and a smart section of me and I think that is true of every person, of every audience. People who care about nothing but the football are capable of extraordinary feats of concentration and calculation. The job of a film and especially the job of a film like Stiff is to teach you how to watch it."
In his characteristically ruminative way, Clarke starts talking about the way we all visualise novels in terms of our own experience and then, with a lightning jump, he talks about how Hilary Mantel, the English writer, in her powerful memoir Giving Up the Ghost, ensures that her book plays on several levels at once: she invokes her childhood experience, that she is a middle-aged woman remembering it now, and then the expectation that the reader will project his own experience onto hers because childhood is a shared predicament.
One of the exhilarating things about Clarke both as a man who makes television and as a conversationalist is that you know how much complexity is contributing to the mix.
He says he likes the idea of adapting books like Maloney's: first, because they work, and second, because most people have never heard of them so that, as raw material, they are at once tried and true and fresh.
Film and television, he says, should not be frightened of their own literary tradition because it is one of the richest resources they have. Nor should they be put off by apparent difficulty.
"They made a film of The English Patient, for heaven's sake." He's referring to the way Michael Ondaatje's enshrouded novel became the Anthony Minghella/Ralph Fiennes epic.
With Clarke the moodiness and the range of interests feed the central focus. "Comedy doesn't have have a better friend than drama," he says, and then goes on to talk about the literary critic George Steiner explaining why the work of Kafka is funny. It can be funny without being jocular.
Clarke is as equipped as anyone possibly could be to make comedy drama out of those woebegone Murray Whelan stories that soothe the mind like a drug even as they insinuate that politics is a nightmare and family life can be a sad thing. He's a man who likes to contemplate the cusp between the realistic and the fanciful. He also has the greatest respect for the common person's sophistication in the face of artistic work.
When The Games was first shown it was a mystery to a lot of people and Clarke and his team found it something of a mystery to themselves, so they went to Red Hill to do some filming and to contemplate the enigma of what it was they were doing. Only a few shows had gone to air, but one day he met a man in the town who thought he had cottoned on to what was happening in The Games.
"I like that show of yours," he said. "And I'll tell you what it's like: your show is a secret between the people who are making it and the people who are watching it."
John Clarke and his team were delighted. They could never have put it as well themselves.
And Shane Maloney? Well, he's sitting pretty. He likes what's happening with Stiff and The Brush-Off as telemovies and he can contemplate the day when he could franchise Murray Whelan out. Perhaps there'd be a role for his sometime creator as a script editor, fiddling with a plot-line, looking at a snatch of dialogue. His feet up and laughing.
Stiff screens tomorrow night at 8.30pm on Channel Seven. The Brush-Off will screen later in the year. Sophie Cunningham's preview appears on page 18.
---
Free Whelan
The Age
June 17, 2004
As Shane Maloney's mild-mannered political flack, Murray Whelan, comes to life on screen, Debi Enker speaks to the film makers who made it happen.
David Wenham's head is poking through the rusty tin roof of a modest weatherboard house in Newport. It's a hot, cloudless November day in Melbourne and the scene being shot for the telemovie Stiff requires rain. Immediately above Wenham's protruding head, special effects man Peter Stubbs is standing on the sloping roof holding a rain machine, or rather an inventive, lower-budget equivalent: a t-bar of metal pipe with a couple of sprinklers attached to the ends. After a quick consultation with director of photography Laszlo Baranyai and director John Clarke, Stubbs positions himself so that he doesn't cast a shadow over the shot and, on cue, drenches Wenham.
Clarke says that Wenham (SeaChange, Gettin' Square, Van Helsing) is "a brilliant actor: he could read the alphabet well". Here, he's playing Murray Whelan, the hero of a handful of estimable novels by Melbourne writer Shane Maloney and the star of what it is hoped will be a series of telemovies.
The scene represents something of a typical situation in the life of Murray Whelan, Victorian Labor Party flak, go-to guy for Ethnic Affairs minister Angelo Agnelli (Mick Molloy), estranged husband of Wendy (Robyn Butler), father of Red (Julian O'Donnell) and owner of a home that has been perfunctorily renovated. An ostensibly simple task - sticking insulation batts in the roof - has unexpectedly taken a nasty turn and become much more complicated.
Murray is now stuck in a hole in the roof. Even after he's extricated himself, gashing his face in the process, and shoved the fish fingers in the oven for tea, this is still the lull before the storm. Soon, given the prevailing weather conditions, the ramshackle state of his house and marriage, and his messy job, the roof will fall in, literally and metaphorically. And Murray will have inadvertently triggered the events that caused the collapse.
"He's a magnet for chaos but he still floats through his world and his life with a strange ease," observes Wenham, a long-standing fan of Maloney's books who indicated his interest in the TV adaptation as soon as he was approached by Clarke and his fellow producers, Jay Cassells, Stephen Luby, Sam Neill and Mark Ruse. Having folded fliers and accompanied his dad to local Labor Party meetings in the Sydney suburb of Marrickville as a boy, the in-demand actor believes that he shares some common ground with Murray.
Now he also shares a notable accessory: the white plastic shopping bag that Murray carries in the telemovies and which Clarke says Wenham brought to the character. Despite his work for a government minister, Murray's not a briefcase kind of guy. He's not well organised, not especially ambitious and not particularly concerned with appearances. In fact, his scruffy state regularly causes the unwary to underestimate his prowess. For Murray can be a keen reader of people. He's resilient and not easily deterred. He might look like a pushover, but he's virtually indestructible. Behind that mild-mannered exterior lies super-hero-like survivability.
He is also, Wenham notes, a decent bloke: "Murray is a good man and I think that's the best thing that you could possibly say about anybody, that they are a good person. His heart is in the right place, although at some stages his views are rather politically incorrect. But he is an idealist, a man with a conscience and a slightly shambolic character."
But he's a protagonist things happen to: "He doesn't propel the key plot points, he reacts to them," Wenham observes. "He's not a detective, he's not a gumshoe, he's not a police person. In the first novel, he's a low-ranking political adviser for the local member, who just happens to stumble across a dead body and a bit of intrigue. That happens each time, which I think is a wonderful way to get into this style of television."
In Stiff, the body is found in the freezer of a meatworks. Murray's mission, a wild goose chase for his minister, subsequently grows to involve the blue-blood owner of the meatworks, some of its staff, miscellaneous members of the Turkish community and a purple Valiant. Meanwhile he's also coping, not especially gracefully, with the care of his son.
In Maloney's novels, Murray floats, rather than manoeuvres, his way up the Labor Party ranks, steadily improving his standing without harbouring any apparent desire to better his position. Along the way, he's regularly battered about, often underestimated and eventually triumphant, even though his looping path to a resolution sees him spending quite a while wondering what's going on and who's responsible for it.
Clarke, who adapted Stiff and The Brush Off for television, as well as directing Stiff, says that Maloney writes "crime fiction by stealth": there's a death and an investigation, but it's really a pretext to enable the observation of other things. Those things might include the changing social and architectural landscapes of Melbourne, the relations between corporate captains and political players, the machinations of government.
As Murray moves from the shops of Sydney Road to the leafy precincts of the Botanic Gardens and the art gallery, his interior monologues and stray musings fill and flavour Maloney's books with a distinctive comic and sardonic tone. Which makes adapting them for the screen a challenge.
"Shane is a very astute observer and he's got a good eye for history," says Clarke. "In the books, Murray will go into a building and push the lift button and, while we wait for the lift to clang shut four storeys up and tootle down, Shane will give you kind of an archaeological dig of the social history of the building. There are a couple of things happening there. One of them is that you're getting the social history of the building; the other is that you are privy to what's going on in the head of the protagonist. There's a kind of intimacy being established between you as a reader and Murray.
"One of the tasks in an adaptation is to work out how much of the social history of the building you can throw into the film, because it's not action and the action's got to run on the spot while you do that. You need to finesse that intimacy between the reader and the writer by providing a kind of intimacy between the film and its viewers. So you need to be able to read Murray's reactions to people. If Murray's in a room with four people and there's one he doesn't particularly like, we're going to know which one it is quite early because we read Murray. Murray's our road to what to think, like in the book, but it operates in a slightly different way. If you wrote an adaptation of the whole book, it would be five hours. You need to make some editing decisions and work out how the relationships best work."
Despite the fact that so much in Maloney's books is made up of Murray's thoughts, there was a desire to avoid a voice-over narration for the telemovies. "When we first started to talk about it, we thought that it would probably be impossible to do these pieces without having a very large amount of voice-over from Murray," Wenham recalls. "But none of us was keen on having a voice-over. It can often be distracting to the drama. When it works, it's brilliant, but it hardly ever works. It might work to open and close something, but it can be annoying. If you don't need a voice-over to assist you, it's cleaner without."
As Clarke notes, there's no great tradition of adapting novels for TV here: "Television in Australia doesn't frequently, or certainly not habitually, base its programs on novels. In Britain, it's not uncommon. They do quite a lot of contemporary fiction. They do the crime stuff and they do the costume drama. They do a fair bit of the genre stuff that comes off very good writers."
Clarke also has no great history with adaptation. "Most of the stuff that I've written for film and television has not been an adaptation. You make stuff up. This is terrific because you don't have to purchase the block of land and put the foundations in and build your house. You just have to go into Shane's joint and say, 'This green couch, can you put that over there please? And I think that the carpet needs replacing.' It's like interior decorating: the thing is already there.
"But how much you change it is the thing. There are certain scenes in the film, which you would recognise are exactly the way that they are in the book. There are other things in the film that you've never seen before... The novel's not a jail, it's a springboard. You need to do this in a way that's not buggering it up, but you can't do everything that's in there. The pacing needs to be different, and the minute you cast it, it's different."
Clarke says that he adopted an inclusive approach to the adaptation process: "During the writing, I spoke to Shane and I spoke to Jay and Sam and David. I haven't done it on the dark and lonely work principle. I've done it on the 'Please look at my homework as often as you can' principle."
The consultative approach is no surprise. People who have worked with Clarke, on anything from The Games to The Problem with Men, enthuse that he's collaborative and welcoming of ideas, and his projects seem to hum along, fuelled by a productive work ethic and good humour.
Both Stiff and The Brush Off, which was directed by Neill, were made in scant 20-day shoots, a time frame Clarke observes is tight. Feature films might have double that time. Clarke says that the key to getting it done is hiring the right people, such as production designer Chris Kennedy (Dirty Deeds), costume designer Kitty Stuckey (Kath & Kim), editor Wayne Hyett (The Castle), directors of photography Baranyai and Ellery Ryan, first assistant director Annie Maver and composer Jeremy Smith. Clarke reckons that if he employs the right people, he can basically go and have a cup of tea while they do their stuff. Which isn't strictly true, but it does offer an insight into his style: get good people and then give them room to work.
For Wenham, who's in virtually every scene of both telemovies, the speed of production might have created some stress. But he found it stimulating. "I loved it because there was no down-time. Once we were set up, and we knew what the camera was going to do, it was very quick decision-making. There was no time to wander off to the trailer and put on the television and lose touch with the world that you were in before.
"John described it as being like when you were a kid, when you went to a brilliant birthday party and came home exhausted, knowing that that was the best day ever. And that's what it was like shooting: there really was a wonderful energy on the set. From an acting point of view, it was an extremely liberating experience because it was spontaneous. There wasn't a ridiculous amount of time to rehearse. A lot of the time in Stiff, the stuff is Take One."
Wenham also notes that even with the time constraints, both directors allowed their actors latitude. "John and Sam come to directing with an understanding of performance, because they're actors as well. They understand the process of acting. Both of them were very hands-off. They trusted the actors, and when they did come in with performance notes, they were spot-on ... I've worked with a few directors who have had acting backgrounds and I love it."
While the experience of making the first two Murray Whelan telemovies is described as fast and fun, the hope now is that viewers also will find them enjoyable. The idea is that they will form the foundation for a series in the style of Nine's Halifax f.p, and Ten's BlackJack and Small Claims.
"Obviously it's a matter of seeing how the first two go, but that's the theory. We'd like to do more," says Mark Ruse.
Ruse also imagines them stretching beyond Maloney's books. "It takes two years to write a book, but Shane's probably got 20 storylines in his head. There's a rich resource there that can be drawn upon, and Shane is more than happy to supply other storylines, or we might come up with some. They could go on forever."
Behind the scenes, fingers are crossed that Murray Whelan, the Labor Party "spear carrier" of Stiff, will move on to become the honourable member for Melbourne Upper, as he is four books on in Something Fishy, and beyond. The way that Murray's going in Maloney's novels, Steve Bracks better watch his back.
Stiff, the first of the Murray Whelan telemovies, premieres on Sunday on Channel Seven at 8.30pm.
---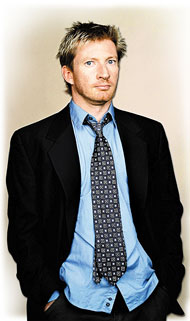 'Stiff cheese, Hollywood'
The Courier-Mail
June 17, 2004

David Wenham is selectively deaf when Hollywood calls. He tells Claire Sutherland why making an Australian telemovie is no comedown.
DAVID Wenham would like to clear one thing up. He's not a Gladwrap-on-the-toilet-seat kind of guy. That kind of prank is lame, unoriginal and frankly, he's better than that.


Word of Wenham's alleged food wrap hijinks was spread by his Van Helsing co-star Kate Beckinsale.
She alleges he and his fellow Australian castmates Hugh Jackman and Richard Roxburgh spent much of the shoot making fools of each other.
"Those interviews are grossly incorrect in terms of the type of practical jokes I'd indulge in," Wenham says.
"Like the Gladwrap on the toilet seat. I don't know who said that, but it's certainly not my type of practical joke."
While Wenham, 38, found himself in the Czech Republic with good mates and a budget for Van Helsing that could buy and sell most of his Australian films five times over, his latest, more modest film had just as much potential for practical jokery.
With John Clarke directing and Mick Molloy co-starring, the Channel 7 telemovie Stiff is just the sort of gritty Australian film Wenham is happy to do instead of desperately chasing Hollywood action.
Based on Shane Maloney's Murray Whelan novel of the same name, Stiff trots out a Who's Who of local Labor Party identities, adding colour to the tale of Wenham's hapless Labor Party staffer Whelan.
Barry Jones, Joan Kirner, John Button and even Victorian Premier Steve Bracks make cameo appearances.
Wenham is an associate producer as well as star of the movie and its follow-up The Brush Off.
Stiff comes after Wenham well and truly dipped his toe into Hollywood waters. He starred in the phenomenally successful Lord of the Rings movies and then in the big-budget Van Helsing.
So it would be reasonable to expect Stiff and The Brush Off, with lightning-fast shooting schedules and gritty Melbourne locations, to feel like a comedown.
But Wenham doesn't see TV as film's poor cousin.
"I don't actually, and never have," he says. "I think it's a brilliant medium because it can access so many people and terrific things are made on television that wouldn't necessarily work on the big screen, like Kath and Kim, The Office and The Sopranos.
"I really love this medium and never feel that I'm working on an inferior project," he says.
But plenty of people in the United States do. Wenham recalls a time when he turned down a US picture to appear in a Melbourne Theatre Company production.
"I said, 'No, I've agreed to do this play.' The brochure had been out six months and nobody involved in that film could understand that he was going to do that play instead of just pulling out and going over and doing the film.
That's why he lives in Sydney with his partner, actor Kate Agnew, and their baby daughter Eliza Jane, not Los Angeles.
"It's a different world over there. A totally different business. They can't see outside that existence whatsoever. Hollywood and American films is world domination, 90 per cent of the world market, so anything else is very small fish in their eyes.
"I think you have to treasure those little things when they come along."
Wenham had the odd small TV role (Police Rescue, Blue Heelers, A Country Practice) before his astonishingly menacing performance as Brett Sprague in The Boys won him national attention. He followed it by playing Diver Dan on ABC TV's popular SeaChange and a handful of Australian movies that won him decent reviews.
From the murderous Sprague in The Boys, Wenham has played a priest (Molokai: The Story of Father Damien), a mathematician with a world-changing invention (The Bank) and a crim in leopardskin budgie-smugglers in Gettin' Square.
His range is seemingly limitless, but he has no clear explanation of why.
"I find it slightly awkward talking about acting because I find it a difficult thing to deconstruct," he says.
Stiff is not the first telemovie he has done since an international career beckoned. He also made Channel 10's After the Deluge.
But for now he is uncommitted to anything, and seems to relish the idea of time at home, rather than being panic-stricken at the lack of work on the horizon.
---
Wenham's world ... The hunky actor is back on the small screen.
The Herald Sun - June 16, 2004
Wenham back to slay 'em
By Marcus Casey


DAVID Wenham is talking boots. Not just any boots, but a pair of sleek black leather ones with a fake snakeskin pattern.

His fellow actor, Sam Neill, is rather impressed, especially when Wenham casually lets on they were tailored by a couple of trendy UK cobblers when he was last over that way.
Wenham's latest character, on the other hand, is a crumpled, $30 nonleatherupper shoe kind of guy.
Murray Whelan is the star of a two telemovie series, the first of which, Stiff, airs on Sunday.
Yet despite their radically different footwear, Wenham feels he's walked more than a mile in Murray's shoes.
The actor identifies with Whelan, a justdivorced Victorian political advisor who stumbles upon murder mysteries, more than any other character he has played.
"I do empathise with Murray," says Wenham.
"He's possibly the closest character to me I have ever played. I came from a background not dissimilar to him."
The films were written by John Clarke, who directed Stiffand plays a role in The Brush Off.
Neill directed The Brush Off, has a role in the other and all three were co-producers of the relatively low budget project based on a novelseries by Shane Maloney.
Both are black-humoured murder mysteries with a political and personal edge.
In Stiff, Murray is just divorced, his home's roof is buggered, his son is visiting for the week, he hasn't been lucky in the sheila department for ages, his ministerial boss (played by Mick Molloy) is a bastard and someone keeps trying to kill him.
His suits are of the St Vinnies kind, the old car creaks, the briefcase is a plastic bag - yet he has a battered sense of optimism which keeps him going.
It's yet another role for Wenham in a decade-long career defined by carefully chosen characters in projects big, small and otherwise.
John Clarke says the films are a collaborative effort among long-time colleagues who rallied around the project more out of love than money.
But he'd never met Wenham.
"You get to an age in this business where you find you do know quite a few people around the place or know people who know them," he says.
"You know who you like and what work they've done, so there's a general drifting of people into a project like this.
"I expected to find David extremely intelligent, a very, very good actor and extremely good company - which he is because I know a lot of people who regard him in a very high way."
Clarke particularly admired Wenham's theatrical characterisation in Stiff.
"He has a wonderful gift for doing things that are telling but quite little," he says. "He had a real instinct for doing very small things and seemed to really understand Murray.
"Murray has a job and a suit and we were organising his character's look.
David said 'I don't know that Murray would have a briefcase', and I agreed.
"He said 'I think he's the sort of bloke who would carry his stuff around in a plastic bag'."
Which is anathema to directors as plastic bags make loads of noise.
"He said 'I'll make it work, don't worry'," says Clarke. "I said 'How?' And he said 'Because I carry all my stuff around in a plastic bag'. It's a lovely touch. It wasn't in the book or script it was David."
It says loads about Wenham that he's as satisfied by a $2 million project as his other recent project, the $220-million plus blockbuster Van Helsing where the catering bill alone dwarfed the telemovie budget.
Both Neill and Wenham - stars in films grossing more than $2 billion (including Jurassic Park and Lord Of The Rings respectively) don't mind doing rich or poor.
"There's no fundamental difference between the two, which is story-telling," Wenham says. "These were shot extremely quickly in a couple of days and as an actor I loved the momentum which built up during shooting.
"So I don't really draw a line between the two. Some projects appeal much more to me than others. This appealed to me enormously - and I don't decide based on budget anyway."
Murray is the last we'll see of Wenham on screen for quite some time. He's off to recharge the life-batteries that all good actors rely on. "I do feel a bit tired now but it's healthy to take time out, it helps your perspective and the way you approach work as well," he says.
"I also love living a normal life, because I can observe it and if and when I get the opportunity to portray a character, I have an inkling of what a normal life is so I can actually portray it."
---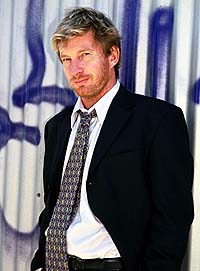 Savvy sleuth . . . David Wenham as Murray Whelan.
Clever dicks
The Sydney Morning Herald
June 15, 2004

John Clarke has a simple recipe for intelligent drama: witty dialogue, intriguing characters and a twisting plot. Richard Jinman reports.
'Why would you make TV that appeals to the thick side of people?" asks John Clarke. "There's already plenty of that." The New Zealand-born actor and author would probably sound incredulous if his flat, nasal voice were given to expressing such emotions. It's left to his eyes to punctuate his conversation and the idea of making dumb TV enlarges them into exclamation marks.
Like many of us, the creator of the ABC's wickedly funny Olympics satire The Games has had a gutful of reality TV. The good news is that Clarke, 55, is taking a shot at raising TV's IQ via two telemovies that positively bristle with wit, intrigue and great acting.
He's adapted Stiff and The Brush-Off - crime novels by the Melbourne writer Shane Maloney - into two 90-minute telemovies. Starring David Wenham as Murray Whelan, the slightly dishevelled adviser to a minister in a Victorian Labor government, the films are a savvy cocktail of well-drawn characters, smart dialogue and twisting plotlines.
On paper, it sounds like classic ABC fare, but the movies won't be shown on the national broadcaster. Channel Seven, in search of a telemovie franchise that was "a little offbeat", stumped up $5.6 million to make the movies. They were filmed on location in Melbourne during two fast-paced 20-day shoots.
Clarke, who is a familiar face on the ABC's The 7.30 Report due to his satirical "interviews" with Bryan Dawe, has no concerns about his foray into commercial TV.
"It mustn't be assumed that commercial TV lurks in some kind of underworld," he says. "I think people are much smarter than they're given credit for. People have been watching TV for 50 years and they're very, very good at critiquing and understanding it."
Wenham signed on to play Whelan from the outset. The Sydney actor, now an international movie star thanks to roles in Lord of the Rings and Van Helsing, loved the books. He'd also had a taste of the political world that forms the backdrop to Maloney's stories. As a child, he licked envelopes in the electoral office of Labor Party stalwart Fred Daly, a friend of his father.
Having Wenham attached to the project made the movies an easy sell. As Clarke puts it: "A TV station that doesn't want David Wenham being brilliant on their channel would require a bus ticket home."
Wenham's performance is a subtle triumph. Faced with a collapsed marriage, a disintegrating house, shared custody of his young son and an uncertain employment future (not to mention several dead bodies), Whelan emerges as a sardonic but charming everyman, a fundamentally decent bloke who has retained his principles in the face of grubby party politics.
Clarke is clearly in awe of his leading man. "Murray is not a cool dude," he says. "He's a sensitive, stumbling human being - a mixture of goodwill, intelligence and incompetence. But there's nothing malevolent about him. David's performance is a delicious study of so many little things. It's very subtle and it's completely seamless."
Wenham invested many of his own idiosyncracies into the character. Murray's preference for carrying his things in a plastic bag rather than a briefcase is just one example.
The role is particularly important, Clarke says, because a good whodunit requires the audience to see the world through the hero's eyes. "In some ways, the central character is the plot," he says. "The Maltese Falcon doesn't work as a plot. It works because of the central character. The audience knows the hero is the one they need to warm their hands on. So if Murray doesn't like someone, we don't like them. If he's cold, we put on a jumper."
Wenham anchors both telemovies, but he's supported by an illustrious cast. Sam Neill, Clarke's co-producer and longtime friend (they met as university students in Wellington), plays a shifty captain of industry in Stiff. Mick Molloy turns political expediency into an artform as Labor MP Angelo Agnelli and Deborah Kennedy - who played Clarke's wife in the 1991 movie Death in Brunswick - is Trish, the tough-as-boots office manager who holds the fort while Murray goes sleuthing. Clarke himself has a small role in The Brush-Off as Ken Sproule, a wickedly cynical ministerial adviser.
Clarke says it was a thrill watching Wenham, Neill and Molloy going head-to-head in one of Stiff's early scenes. "Sam has a delicious way of turning and looking at David," he says. "His character is clearly horrified by the idea of having this skunk, who used to work at a union, in his office. He's going to have a shower as soon as this guy leaves."
Was Molloy, a relative newcomer to movie acting, intimidated by his co-stars? "Mick said he was very conscious he was getting into the ring with some serious heavyweights," Clarke says. "But he's very intelligent.
Their different styles worked together."
The two telemovies share the same core cast but look quite different. Stiff, directed by Clarke, is the first chapter. It introduces us to Murray and plunges him into a mystery sparked by the discovery of a dead body at a meat-packing plant. Shot on and around Sydney Road in Melbourne's northern suburbs, the drab tapestry of tatty offices and mundane streetscapes provides a look Clarke calls "grungy".
Neill directed The Brush-Off. Set in Melbourne's art world and populated by the city's movers and shakers, it's a hard-edged, glossy-looking film shot at locations such as the Australian Centre for Contemporary Art and the National Gallery of Victoria.
Different as they are, both films provide a powerful sense of place. Melbourne emerges as distinct and atmospheric as Raymond Chandler's San Francisco, a phenomenon Clarke attributes to Maloney's vivid writing. "To read [one of his novels] is to go on a kind of archeological dig of the social history of Melbourne," he says.
Both telemovies have their fair share of action. Like any good gumshoe, Whelan gets chased, roughed up and almost killed. But fans of The Games will also relish the intricate and very funny representations of petty bureaucracy, party politics and power games at the big end of town.
Clarke insists his fascination with the mechanics of power does not stem from an interest in politics per se. "Shane's [Maloney] knowledge of politics is rich and deep; mine is skittish and shallow," he says. "The Games was about the organising of the Olympics but on another level it's an office comedy about human affairs and how we manage them. It's not an attempt to be forensically accurate - it's a venue for writing about human psychology and behaviour."
In the end, it's all about good characters, Clarke says. It's why the BBC's adaptations of Jane Austen and Charles Dickens work so well. The same could be said of The Sopranos, the series he nominates when asked which contemporary TV programs he admires.
Clarke doesn't know if he'll get to make more Murray Whelan telemovies. There are five books in the series and at least two more can be adapted, he says. John Holmes, Seven's head of drama, says the network will need to gauge the audience response to Stiff and The Brush-Off before it makes a decision, but it is keen to establish a franchise.
Clarke doesn't have much time for commercial TV's obsession with defining its audience. The notion that only a certain type of person will watch his movies clearly appals him.
"I'm a typical viewer and I'm both smart and stupid," says the bibliophile, who once wrote a book imagining the world's great thinkers as tennis players. "I think 20 per cent of me is smart, 20 per cent is dumb and the rest is somewhere in between."
Stiff premieres on Seven on Sunday at 8.30pm.
---
Ring masters
December 1 2002
The Sun-Herald

David Wenham, who plays a key role in the second and third parts of Lord Of The Rings, is revelling in Tolkien's fantasy world, he tells Christine Sams.
David Wenham was expecting fellowship when he arrived on the set of The Lord Of The Rings in New Zealand, but things were a little intimidating.
"It was daunting when I first arrived because they had been shooting for over a year on principal photography, so I was sort of the new boy on the block," he said. "It was really like being the new boy at school and that was rather intimidating at first."
Of course, it didn't help that many of the key cast members were dressed in full battle gear, with menacing wigs and armour, but Wenham was able to let his guard down.
"It didn't take very long before the passion and the absolutely driving enthusiasm of the crew became infectious," he said. "I just got swept along with it."
Millions of fans around the world are gearing up to be swept away by Peter Jackson's second installment of The Lord Of The Rings - still named The Two Towers, despite a number of complaints following the September 11 attacks.

The second film in Jackson's $450million trilogy promises to deliver even more of the visual effects, storylines and other-worldly characters that enthralled global audiences last year.
It also contains two other Australian actors in high-profile roles.
Wenham will appear in the second and third films as Faramir, the brother of Boromir (played in the first film by Sean Bean), who died at the end.
Miranda Otto scored a leading role as Eowyn, the warrior princess, and Hugo Weaving returns as Elrond.
For Wenham, it's surreal talking about a role he filmed two years ago, but he is slowly coming to grips with The Lord Of The Rings juggernaut. Despite the hype surrounding the project, he said he was unprepared for just how big the trilogy would become.
"I didn't think it would be as big as what it has become, I must admit," Wenham said. "But when I was cast in the role of Faramir, I must say I was incredulous. I really couldn't believe it initially, but then I just took it on board, and saw myself as an extremely lucky person to be involved in that capacity.
"I hadn't read Lord Of The Rings [by JRR Tolkien], so I was going into the project as a huge fan of Peter Jackson's work, as opposed to a huge fan of the book," Wenham said.
"I can't describe myself as a Tolkien scholar at all. I did as much research as I could. But the amount of knowledge some people possess about this world, I must say, I do find absolutely mind-boggling."
Passionate Tolkien fans wouldn't want to hear it, but Wenham described some of their obsessiveness with Middle-earth as scary.
"I've had a little look [at LOTR websites and chatrooms], and I must say, I find that quite scary. You have to separate yourself in a way, otherwise it does become rather frightening."
But fans would envy Wenham's insight into Jackson's film-making and the real-life habits of the hobbits, including Elijah Wood as Frodo Baggins.
"I did most of my stuff with Elijah and Sean Astin, who played Frodo and Sam, plus Andy Serkis who plays Gollum," Wenham said.
"If there is a central protagonist of the movie, it is Frodo, and Elijah does carry a burden nearly as heavy as the Ring - he does carry that film. But oh my God, how he carries it.
"He really is such an impressive guy, he's an old soul in a way. But of course he's also extremely youthful and so much fun to be around."
Like all the other actors who have worked with Jackson in the trilogy, Wenham was transformed by the experience.
"It wasn't hard at all to suspend your belief within that world, the sets that were created were absolutely phenomenal," he said.
"Growing up, I had never read the book, so the fantasy world wasn't something I experienced. But as an adult, I'm revelling in it."
The Australian premiere of The Lord Of The Rings: The Two Towers is on December 19. It will be released nationally on December 26.